Standing on stage at Nokia World, Stephen Elop pushed Nokia Music, Nokia Drive and ESPN to the press and the public. As the Lumia 800 reaches the public this week, the story is slightly different. We have the first iterations of Nokia Music and Nokia Drive, and the addition of Nokia Maps as the third bit of mapping software on the application list (joining the Bing-powered Maps), alongside them we have a sports app, but it's not ESPN, it's WRC Live (that's World Rally Championship, non sports fans!) The "Nokia" named apps are all fully working, but there are some gaps in functionality which will be added in through Windows Phone Marketplace updates.
But the most noticeable difference in software is going to be Nokia Music.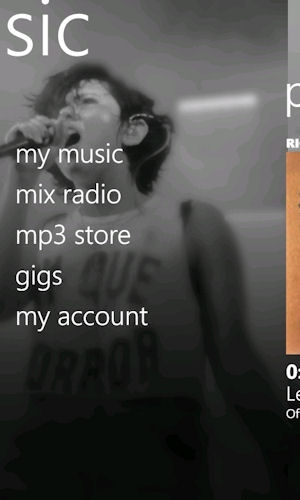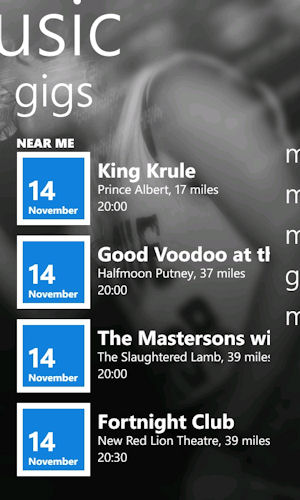 I've no doubt the Nokia Music application is going to be one of the attractive features of the Lumia 800 (and the 710) on the retail store shelves. It should help make the Nokia smartphones an easy sell - after all, the bullet point is that it has free music.

Before we get to the free music part, I want to give a quick mention to Gig Finder. It's been integrated into the Nokia Music app as one of the top level screens, so is just a swipe away when you open up the app. Gig Finder takes your location and looks around your local area for upcoming live music. It's a great (albeit niche) service that's served me well, and I'm glad to see it (a) in a commercial product and (b) running on Windows Phone. That's one less "will this be ported?" question I have to worry about.
But of course the main event in Nokia Music is the Mix Radio functionality. It's more than a personal internet radio station, but that's the easiest way to describe it. The advertising pitch of a free music service needing no sign-up is factually correct. The disclaimer being that Nokia will pay for the radio licence out of its own pocket, and every Windows Phone device asks you to sign in with a Live ID when you register the phone.
But the user experience is you pick it up, you choose a mix, and you play. No cost, no sign-up, nothing getting in the way, it just works.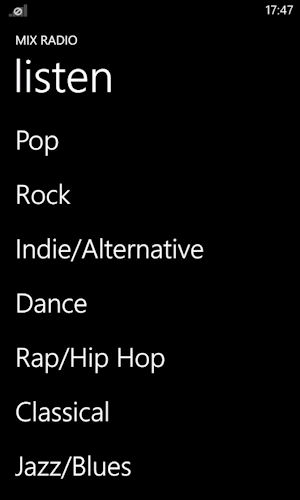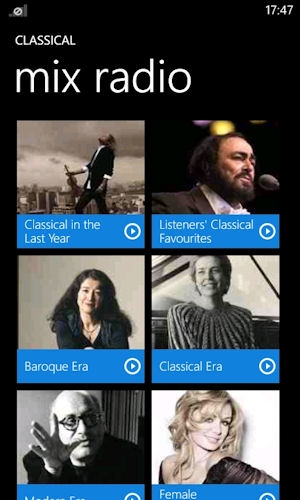 In this first iteration, you can pick your Mix Radio station from a number of pre-programmed mixes, and these should be broad enough to satisfy most listening palettes (I've been listening to the Orchestral/Soundtracks mix). Two features announced on stage, at Nokia World, weren't available in the pre-retail units sent to the press, but are now available in the update to the application in the Marketplace, and they really open up Mix Radio.

The first of these features is the ability to personalise the music mixes, in two different ways - by seeding a mix with a few artists, or allowing Nokia Music to profile your music collection.
This involves the download of a small PC or Mac client that will scan a selected folder on your desktop, logging the results of that analysis to your Nokia account. This music profile can then be accessed on your smartphone and you'll get a bar chart of your favourite genres of music. These match the broad categories on the Mixes page, although it's not clear how much of the generated mix channel is simply genre based, or extrapolated from the music in your profile.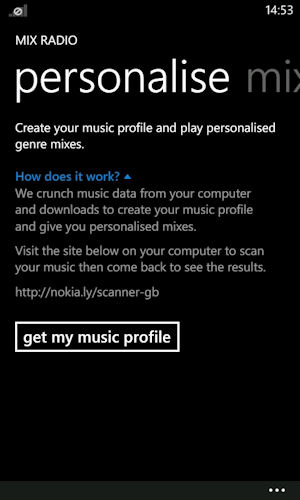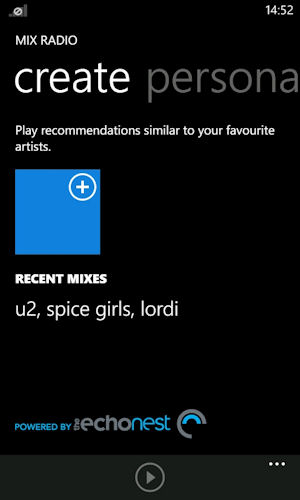 You also have another option for a mix that's closer to your heart, and that's the Create option. Here you can name up to three artists, singers or performers, and a mix will be put together that is based around your selection.
So let's seed it with Judas Priest, Iron Maiden and Alice Cooper. The first few tracks on that mix were I Wanna Rock, by Twisted Sister; Number of the Beast, by Iron Maiden; Cum on Feel the Noize, by Quiet Riot; and Public Enemy No 1, by Megadeth. That's a not a bad selection, I could happily plant my foot on the amplifier for that selection. Hand it the last three winners of the Eurovision Song Contest (Lena Meyer-Landrut, Alexander Rybak, and Dima Bilan) and it had a little hiccup - obviously (sarcasm mode ON) the best song to pick for Eurovision would be Robbie Williams singing Angels. Thankfully the next track was by Ruslana... (she won for Ukraine in 2004)... but third we have a track from Lena... Lena the Spanish pop balladeer, not the German Eurovision winner, whose portrait appears on the wallpaper. The recent selections of artists you use to seed these tracks are kept in a list to allow you to jump quickly back to a previous mix.
Tonally, the music on these mixes all flow together and feel like they would belong on the same compilation album, but some of the decisions are the result of a computer algorithm.. The system, powered by Echo Nest, is not perfect, but it does make for an interesting mix to listen to, which I guess is the point. Unlike the Smart DJ option for Zune, your listening won't be limited to what is in your collection, but what's in Nokia's collection... which is around fifteen million tracks.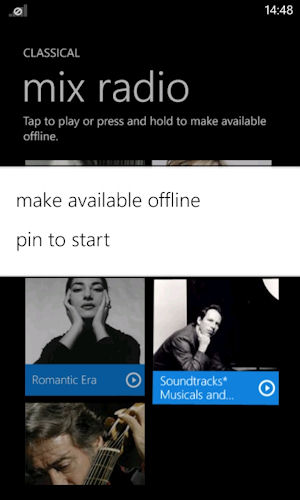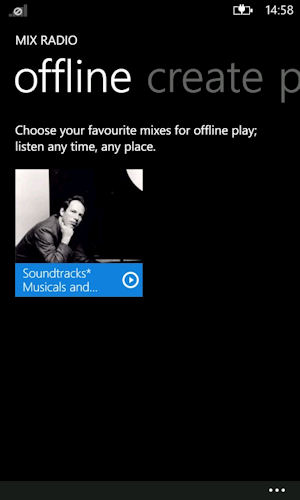 The second feature is the ability to download a number of the mix channels so you can listen to them offline. Stuck on the London Underground? Flying over the Atlantic? Taking a day trip into the countryside with no mobile signal? You'll still have your Mix Radio stations with you while other streaming radio clients will give up the connectivity ghost. You can have up to four Mix Radio channels on your smartphone at any one time, and each of them will have around three and a half hours of music to listen through.

Let's be clear here, you are not downloading each track to your phone so you can listen to it whenever you want to. You still have to follow the radio-like licence that Nokia have for these tracks, you can only skip a handful of tracks every hour per mix, you can't see what the next track coming up will be, and when you pause, you are pausing the whole mix and might not be taken back to the track you paused. It's also unfortunate that you cannot yet download personalised mixes, those are limited to online listening only. While I understand the technical (and legal) reasons behind this decision, some users might feel a bit short-changed on this. In their minds they might not see the difference between the packaged curated mix, and the one they have seeded and personalised themselves.
Even with these limitations, offline usage is still attractive and makes Music Mix stand out from the crowd.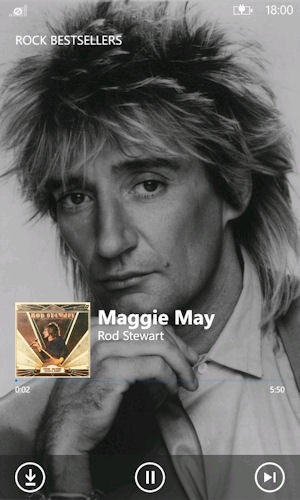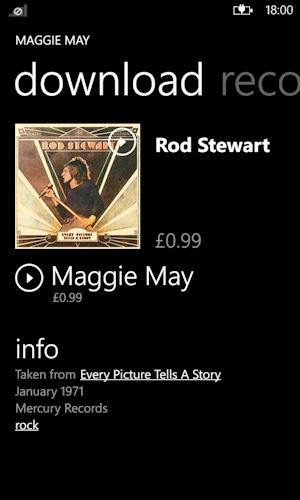 When playing a Music Mix there's an option to "download this track", via the left-hand-side icon on the toolbar. This links not to the Windows Marketplace, but to Nokia's MP3 store (which is also accessible from the top level menu). It's a seamless process and, aside from providing Nokia with a revenue stream, is a natural fit for the music discovery, which Music Mix promotes. I would guess Nokia, in time, may be able to drive significant sales through this channel, which does raise some interesting questions about how and what music might get promoted through Music Mix in the future.
At this point, let's point out there are other music options on Windows Phone that might be compared to Musix Mix. Zune Pass provides unlimited music downloads for £8.99 a month. Third party applications like Spotify, LastFM and Slacker Radio provide additional options. Zune Pass, given its pricing, is really a premium offering and the same can be said of Spotify. LastFM and Slacker Radio are closer to Music Mix, but both require a subscription payment to get a similar level of service and are geographically more restricted. But, perhaps most importantly, none of these potential competitors have the same immediacy as Music Mix.
So, for me, there's no comparable experience to Mix Radio for the initial user of a Nokia Windows Phone. That's a good argument right there for its inclusion and promotion. But it also opens up music in far more territories. Nokia Music is available in far more countries than the Zune Pass (which, as of today, has 6 regions, compared to Nokia Music's 38). The question remains whether the US will get Mix Radio when Nokia reaches the new world - that's a question to file away till a later date (try around CES 2012, I think!)
Right now, Mix Radio is a really neat idea, but one that needs a personal touch - the music on offer all feels rather mainstream, although with fifteen million tracks available, I suspect more musical exploration will lead to more tracks being unearthed to the listener. Even with these quirks, the Lumia 800 is a stronger device with Mix Radio than without it, I suspect it will sell a lot of phones simply on the strength of "free music, no sign-up", and I'm pretty sure that we'll see a lot more channels become available - a Christmas channel can't be that far away!
The core strength is this - if Mix Radio was a standalone application, would I be wanting it on my Windows Phone? Yes, I would. Does that mean it helps make the case for a Nokia Windows Phone as opposed to another Windows Phone? Yes it does. And that must surely count as a sucess for Nokia.