Let's start with the answers to the biggest questions from those new to Windows Phone. You do not need an Xbox to use Xbox Live; and the second is that it is free to to join the Xbox Live social network.
With those out of the way, let's see what there is under the Live Tile.

In a nutshell, a social network for gamers.
It might be a buzzword now, but put simply, Xbox Live is a social network space for gamers to gather in. Launched in 2002 to fit in with the original Xbox home console, it continues to be updated, taking in the Xbox 360, it now moves into the mobile space on Windows Phone devices, and is expected to be one of the core features in Windows 8 when that new platform arrives (and there's little doubt that it will be integrated into whatever the third Xbox console is called).
As mentioned above, it is free for anyone to use. Although a premium membership, Xbox Live Gold, is available for around $50, Windows Phone users will find that there is no need for the fee to be paid (one exception, you need to be Gold to send messages over the network to other users).

Existing users of the Xbox Live service can simply log in with their existing ID (which may or may not be the same as the primary Windows Live ID used on the phone). If you're new to the Xbox Live network, then your Windows Live ID will be associated with Xbox Live, and you'll be registered seamlessly in the background. Now the fun can start.
The first thing you'll want to do is sort out your profile and avatar. There's not much to compromise - remember this is geared to gaming, not selling targeted advertising. You can enter a name to be known by (and people will search on this, so have something people will know you by if you want to be found), a motto (I went with "Fire first, quip later", bonus points if you can spot the inspiration), a location and a short 500 character biography.
You can safely ignore the other options while you start up.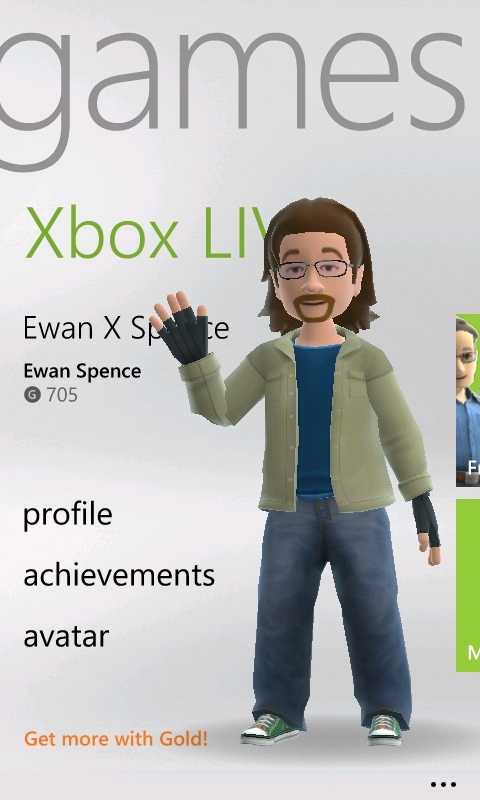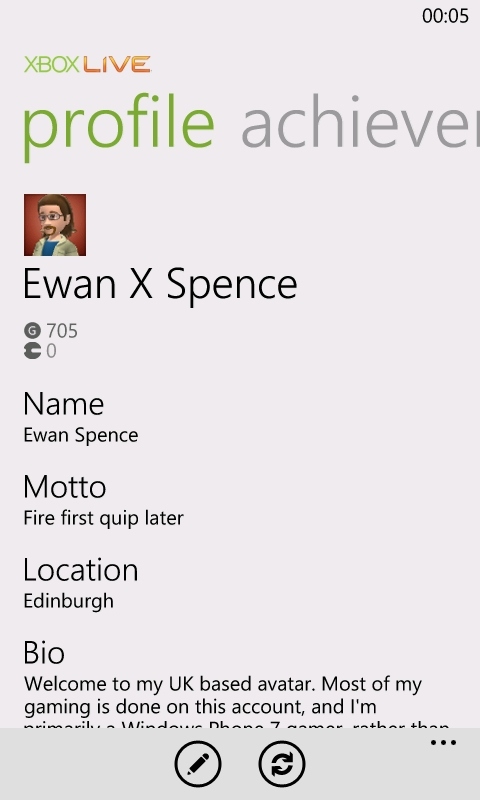 You've also got an avatar to customise, and I've wasted hours on this. Choosing just the the right nose and hairstyle to represent you, making wardrobe decisions, and adding in the occasional accessory, are all here. This is how people will see you in the world of Xbox, so take your time. Luckily you can edit yourself as often as you like (and if you feel the need, you can buy additional items for your Avatar - still can't find a decent kilt though).
Finally, it's time to find your friends. If you know their gamer tag (the short name used to identify people on the network in a game) or their real name, then searching is a breeze from the third pane of the profile screen.
There are games, and there are Xbox Live games
It's important to remember that Microsoft has pushed every Windows Phone game to appear, not on the start screen, but under the Xbox Live icon. This gives the social network great visibility, and keeps the number of apps on the start screen under control. (I guess most people will carry 10-20 gaming titles on their Windows Phone). But it does leave indie developers at a bit of a loose end. The "Xbox Live" branded games have extra functionality, will appear at the top of Marketplace lists and your app list under the Xbox Live icons, and while other games are in a pane to the side, or listed below, there's the potential for confusion on the part of the user. So make sure to look around and check the indie game scene as well!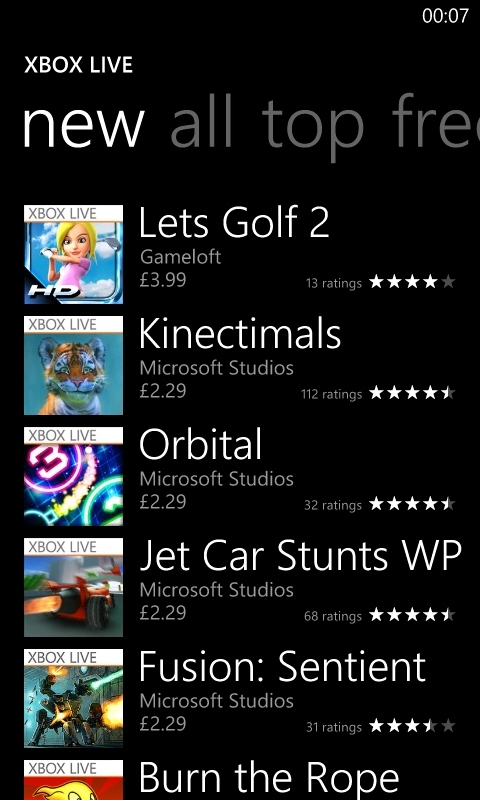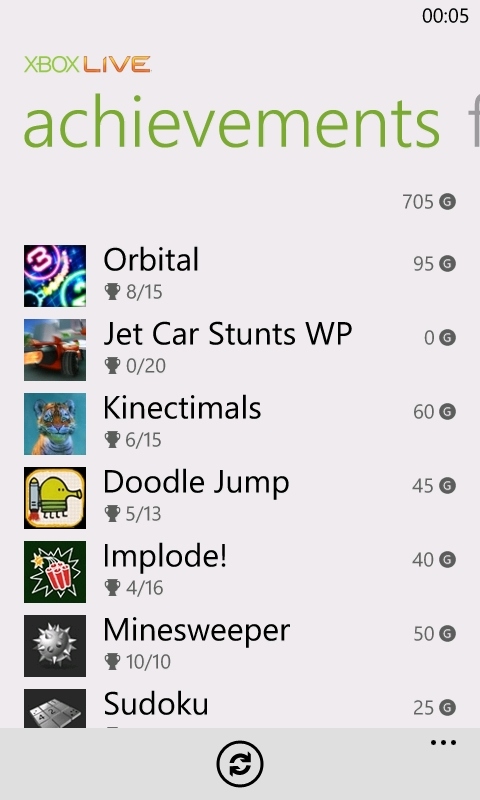 On with the Xbox Live games. There are two things that I find really attractive about these. The first is that every Xbox Live gave has a free trial. Find it in the store and you can "try" every game. These demo versions are usually more than enough to give you an idea of what a game is about. Harbour Master lets you score 25 points before stopping the game, Kinectimals restricts some of the items you can buy from a store, Doodle Jump gives you a limited height to jump up to before the nudge to buy the game.
The second is regularity. With only a few exceptions, there has been a new Xbox Live branded game every week. Now the user base know to expect this - the confidence in knowing there is a high quality game to enjoy every seven days, and another is due along in a week if you don't like that one, is one of the hidden strengths in the Xbox Live brand, and in Windows Phone itself.
Plus, Let's Golf 2 aside, the settled price point of £2.29 here in the UK over the range adds to the feeling of stability and confidence in the gamers. If they trust the system, they will use it. If they use it, they'll share it. If they share it, then more people buy Windows Phones. Who buy more games... the circle of Xbox.
Tell the world you're the best
The Xbox Live games have another trick up their sleeve - the gamer points and achievements systems. It goes something like this - every Xbox game has challenges as part of the game, called 'achievements'. These could be as simple as "hit the Bullseye three times in one game" if it was a darts game, or something more complicated, such as "score a cumulative 1,000,000 points". Hit an achievement and you score some gamer points. The vast majority of Xbox Live games have 200 points (the free titles of Minesweeper and Sudoku are the exception, with just 50 points on offer).
And your gamer points (your "g") is visible on your profile. How good a gamer are you? Well, the whole world can see.
More importantly, your friends can see. It's a simple matter to call up someone in your friends list and compare not just your overall gamer score, but scores from individual games, to see where you trounce your boss (that would be in Minesweeper, Rafe).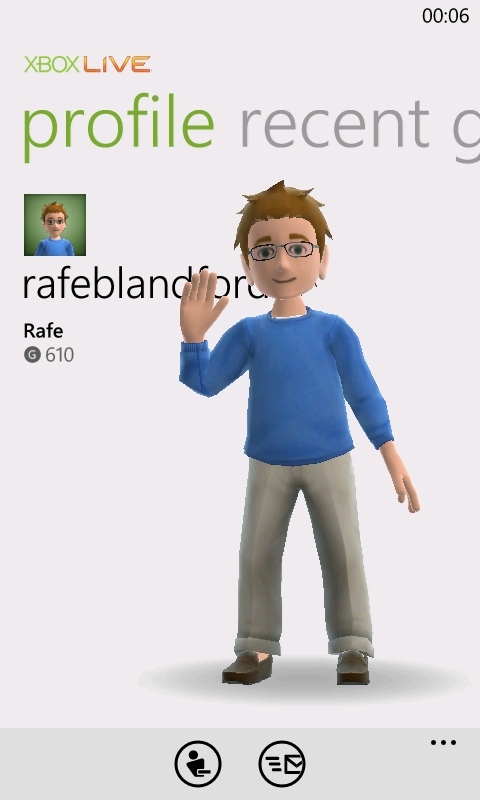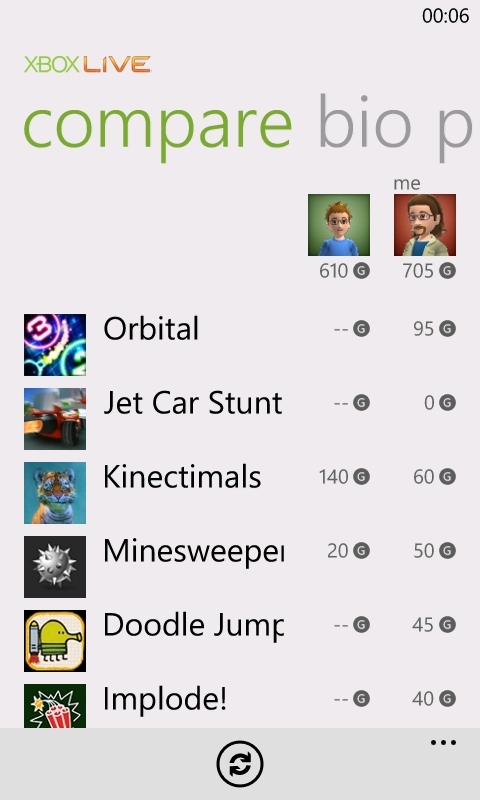 For all the talk of co-operative gameplay, there is too much latency on a mobile handset to make this generally acceptable. I'm sure this will improve, but for the moment Xbox Live's challenge system provides the personal touch to your gaming experience.
The other area that is going to get more visible is connecting up your mobile games, via the Xbox Live network, to games running on an Xbox 360 home console - Kinectimals is the first of these, allowing you to transfer your pets between the two devices. Connected experiences could be one of the gaming trends we see more of in 2012, with the Wii U and its tablet-like controller, and the Sony PS3's initial forays with the PSP extended with its new portable console, the PS Vita.
Xbox Live on Window Phone is an important part of the ecosystem. Much like Game Center on iOS, it provides a home for gamers, but by isolating all the games in a handset, it makes for a much more immersive experience, and one where you feel like you are on a machine that's designed for gaming. It's easy to use, and, while giving it the same name as the social network is a bit confusing (really Microsoft, what was wrong with Xbox Mobile?), it's one of the core strengths of the platform.
...and if you want to find me in the network, hit the search function and I'll see you online.