I want to address very briefly the use of "PC only" software to drive Windows Phone as a relatively good thing... relative to the rest of the market, that is! We are in a situation where iOS is routed through iTunes, and Windows Phone isn't any different. Android does have the ability to mount via USB, but even smartphones like the Galaxy range come with a dedicated client (Kies) that you're supposed to use, so this is not necessarily an unusual or philosophically wrong choice by Microsoft.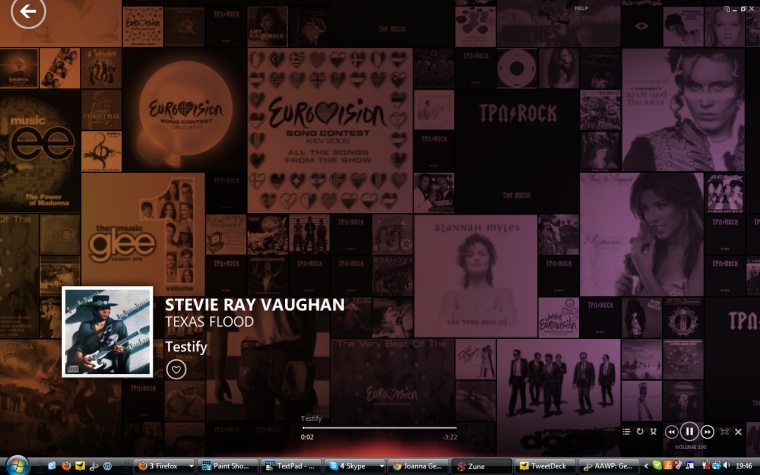 Anyway, we're here to look at the Zune Desktop and what it offers the user. By going for a dedicated application, and not just reusing bits of Windows Media Player, Outlook or PC Sync, Microsoft has made an experience that is pretty smooth for the user. Zune will handle: music and video organization (on the PC and the Windows Phone); the purchase of music and video from the Marketplace; supporting podcasts; syncing pictures and video recorded by the user on the phone; and browsing applications in the Marketplace.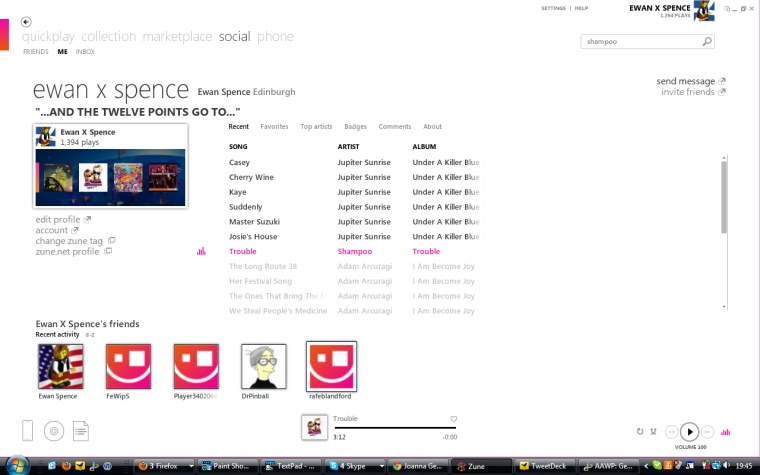 It also allows you to manage your friends list under the social tab. This unifies the friends you have on your Xbox Live account with those you have marked as friends on the Zune Music network. You can search by name or tag in here, and they'll be sent a friend invite. Of course, it's a very light social network, so there's not a huge amount of interaction here - that all happens in Xbox Live on the phone, but it's nice to have. Maybe this will be slowly expanded over time?

The other thing to note is that Zune Desktop happily works with multiple devices. They each have their own "record" for syncing, so there's no conflict, and all the images are kept in separate directories.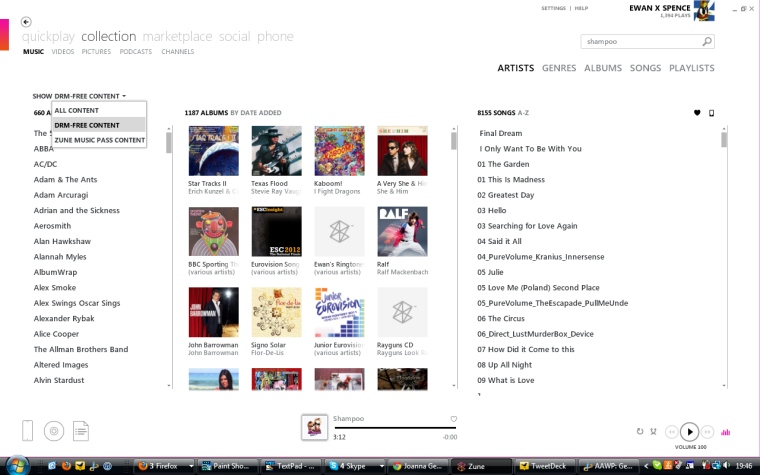 I've been using Zune on my PC for two years or so now (my Zune HD media player also uses the Zune software, and of course for a long time that was all the software was used for), and I have to say that the Zune PC experience for music playback is one of the best ones I have seen. It also moves as far away as possible from "a spreadsheet of music" that some desktop software uses. I especially like the mini-player that can tuck itself away in the corner of the screen while you work, and the full screen visualiser driven by your album artwork.

It also lives quite happily with iTunes on the same PC. I still use iTunes as the main storage for my music, and Zune PC is set up to look at the iTunes directory to find new music (rather than my whole PC). In practice this means dragging music into iTunes, sorting the metadata, and when I switch to Zune PC, it's picked up as new media, ready to sync to my Windows Phone.
Where this diverges is when you pick up DRM content from the Marketplace. This goes into a separate directory on your PC (which you can rename yourself). In the music view, you can toggle between all content, DRM free only, and DRM content downloaded by the Zune Pass.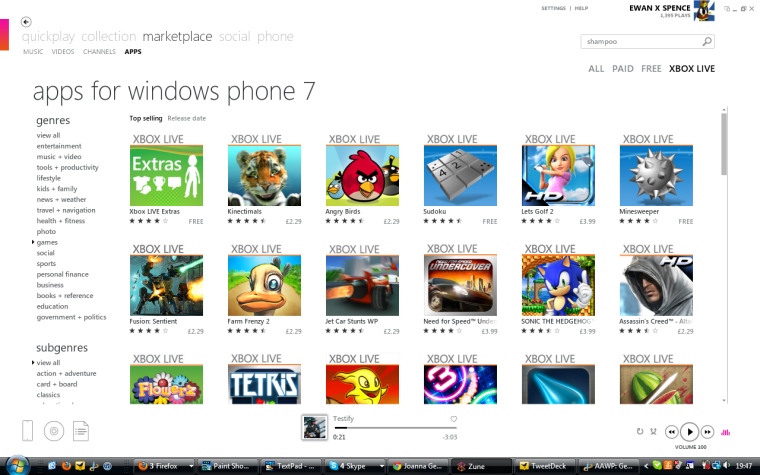 Here's where Windows Phone really excels. iOS has the iTunes Store, and Windows Phone has the Marketplace. In here, you can pick up music, videos, applications and (depending on what region you are in) browse a podcast directory.
What's slightly awkward is that you don't buy media in a "currency" as such, but you buy Microsoft credits, which are then used to buy your media. It's an awkward intermediate step, and one that hides away the true price of what you are buying. I'd far rather they switch to showing prices in a local currency.
Why the credits are there I don't know, because when I go to buy an application in the desktop or I buy music in the Windows Phone Marketplace app I pay direct in my credit card's primary currency. Madness.
But there's one thing that in Zune that other platforms need third party software for. Zune Pass.
For £8.99 a month (£89.90 for the year, or similar cost in your local currency) you can download almost the entire catalogue in the music Marketplace (note there are some labels and artists who have opted out). This is a subscription service that works. At least it works for me, and I think the monthly charge is a small price to pay for the latest releases and older classics. There are a number of deals in place with minor labels, so I'm finding a lot of obscure indie bands are part of the system.
It's only available in a limited number of regions, but if it is an option, it's well worth looking at. It's a convenient and fast way to load up on music for your PC and Windows Phone, and the good news is that you can download music directly to your handset if you are out and about.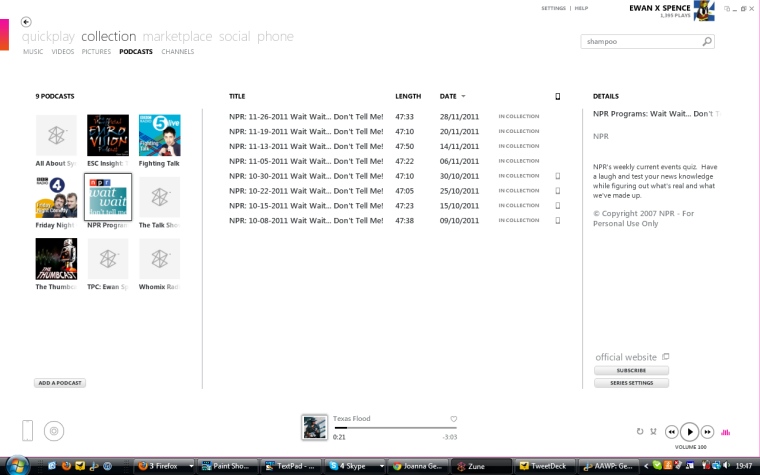 One of the flaws (or quirks of design, depending on what you want to call it) is that not every feature in Zune Desktop is available around the world. For example, US users have a podcast section in the Marketplace, while that's not available elsewhere. You can bypass this by adding RSS feed addresses directly into the system, but be aware that not all Zune Desktop options are available to everyone. While I can understand musical limitations around the world, something like a list of podcasts doesn't feel like the sort of thing that needs to be geo-locked.
Of course, what you really want to do with Zune is get all this lovely content off your PC and into your phone. Hook up over USB and then you can either right click and choose "Sync with device name" and watch whatever files you have selected be moved over onto your Windows Phone so you can find them in the right application, or drag the files to the icon on the lower left of the screen.
When you hook up your phone, it will sync itself to Zune Desktop as well. This could be as a simple matter as making sure any newly taken photos or videos are copied over to your hard drive. Beyond that, music playlists are synced when you connect your phone as part of the sync at connection time, or you can right click and select sync to force this to happen at any time.
You do have some control over the sync process, and, while I would recommend leaving it in "auto" mode, the "manual" option makes the process more of a copy rather than a sync - so content deleted from Zune Desktop (such as a podcast episode) is not automatically deleted from the associated Windows Phone. There is also a sync "all" mode if you want everything kept up to date, but with the limited storage on the current smartphones, use this carefully!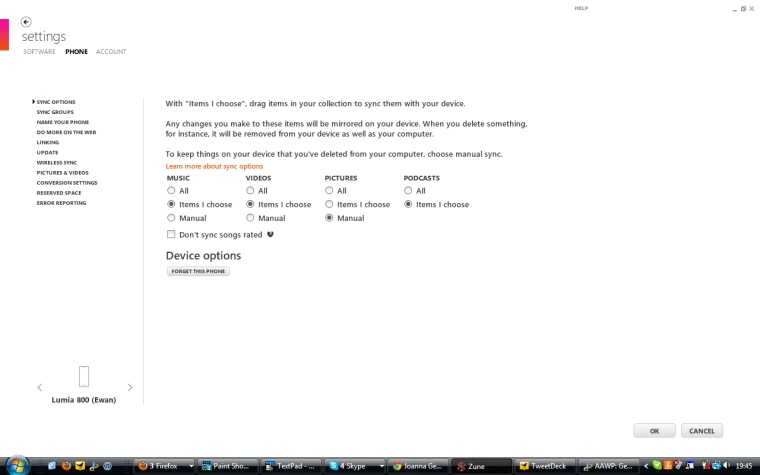 Podcasts are one of the main areas of syncing, and each show can have different settings in terms of presentation order and the number of episodes to move over to your handset. It's worth having a fiddle around to find out which combination works best for you - I've settled on newest first, and sync over unplayed episodes to give you a starting point.
There's no real pain in transferring in either direction, it just works.
And if the cable hook up is too much of a hassle for you, then switch on wi-fi sync. Have your Zune Desktop client running on a computer connected to a known wi-fi network, and when you pop your Windows Phone on charge, boom, it checks for the wi-fi network, and if it spots it, starts the sync process over the air with no more intervention needed. It's very nice, and you should set it up to see it work at least once. This is a simple process, just head into the device settings on Zune Desktop and choose Wireless sync. You'll be asked to choose which wi-fi network to use (via the SSID name)... and that's it, just pop your phone on charge and after a few minutes - sync!

Finally, the Zune Desktop software will be needed when you want to upgrade the firmware on your Windows Phone. When an update arrives, you get a push message on your smartphone to hook up to Zune Desktop and get the update. It's a long process, but having done it twice now it's solid, performing a backup of all your data first before reworking the firmware and then restoring your information.
Zune Desktop is an important part of the ecosystem, and one that shouldn't be ignored. It stands up well as a media player, fits in and plays nicely with the rest of the media on your computer, and makes the transfer and management of media on your Windows Phone as easy as I've seen it done across every other mobile platform. Windows users have to use it no matter what, but for me it is a joy to use, and is a hidden strength of Windows Phone.