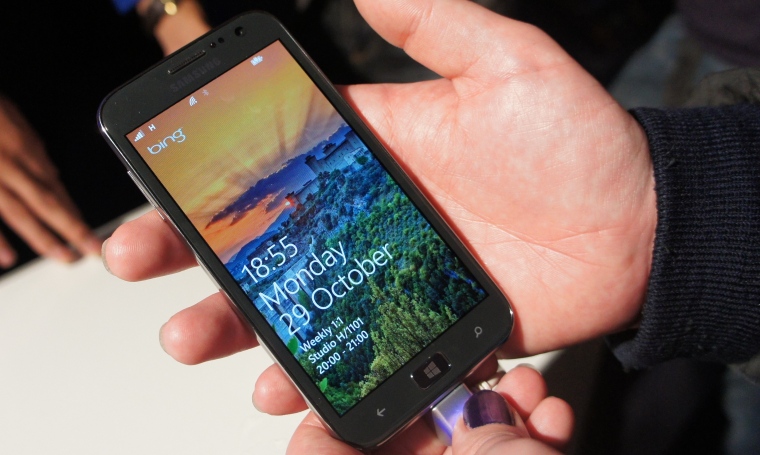 That's probably a good place to start. The outward design of the ATIV S is... shall we say that it's very heavily inspired by the Galaxy S3? Given that the design of the S3 is one of the better ones out there, it's not a bad starting point for a new Windows Phone handset. It has the advantage of fitting well in the hand, and feeling comfortably light. Whether it's a bit of a cheat or not can be discussed at a later date. There are a few design and materials differences, for example, the ATIV S has a more masculine feel, thanks to its use of faux-metal plastic, but it's fair to say it lacks the visual distinctiveness of HTC's and Nokia's products.
Windows Phone 8 on the handset is snappy and responsive, with menus, tiles, and scrolling all happening smoothly. Given Windows Phone 8 does ask for a faster processor than the previous generation of device, any sign of slow-down would not be promising, but thankfully everything is handled well. The Windows Phone UI isn't any faster than it was before (though it's pushing a lot more pixels, given the higher resolution 720p screen), and, as before, there's enough animation to keep everything interesting and active.
The display itself is an AMOLED screen, compared to the LCD screens fitted to the Nokia and HTC flagships. Given the number of people who put a focus on the visual display when purchasing a device, this could be an important consideration for some, especially given the Windows Phone UI's (default) heavy usage of black.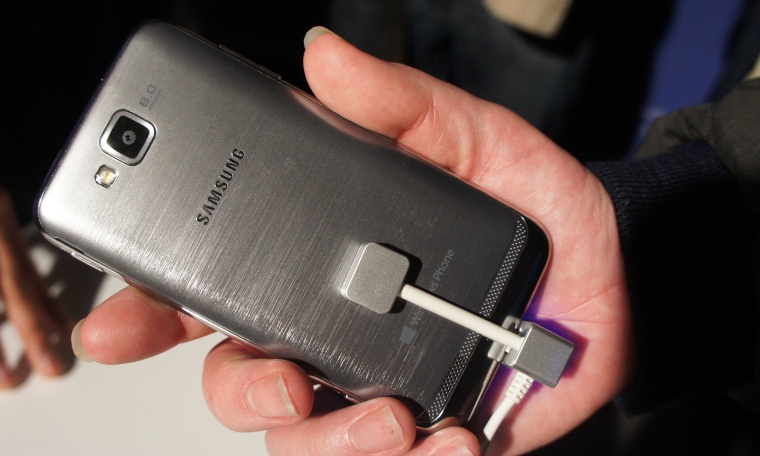 One addition that the ATIV S has over the other Windows Phone 8 flagship handsets is the inclusion of microSD card support for extended storage. Research indicates that the majority of people slam in a big card to their smartphone and leave it there, but this feature is one prized by many of the geekerati. It will be interesting to see how having an SD card works in practice and how removable and usable it is in practice.
One area of concern is the camera. With only an f2.6 aperture, the smaller lens of the camera may have trouble matching that on the HTC 8X, and I'd expect the PureView branded Nokia Lumia 920 to take the superior photo. The new camera filter software in Windows Phone 8, the so called 'lenses' that you can apply as you take an image, allows for a number of customised camera modes. Samsung has two of their own lenses, "beauty" and "panorama". We'll carry out a full assessment of the device's camera performance when we have more time with the handset, but it's fair to say we don't expect any major surprises.
In terms of power, the ATIV S is the biggest of the bunch. The 2300mAh battery should allow the smartphone to last longer than any of the HTC or Nokia Lumia handsets, and will be an attractive selling point to people who prize battery life and endurance. And it's removeable, facilitating troubleshooting and providing a way to restore full battery capacity after a year of life by simply slotting in a new cell.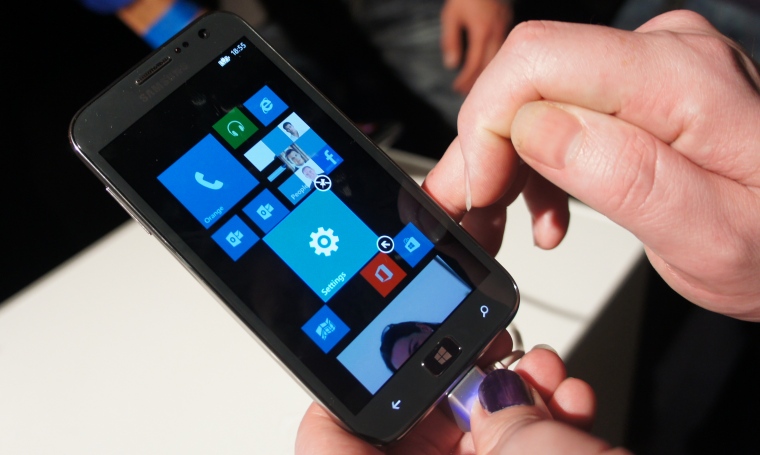 Samsung have their regular suite of Windows Phone applications running under the new OS. ChatOn (Samsung's proprietary but multi-platformed IM client), Family Story (social network for small groups), and AllShare (a DLNA media client to stream media from the handset and control other DLNA devices on your home network) are welcome additions. But the balance of extra apps on the ATIV S are less than stunning, with the most noticeable absence being the lack of a sat-nav app, especially in the light of HTC's bundling of its revitalised Locations and Nokia's Drive.
This does have the interesting effect of making the ATIV S handset functionally the closest to being a stock Windows Phone 8 handset out there. Shorn of the extra applications and features that both Nokia and HTC are promoting their handsets with, Samsung are delivering a pure Windows Phone experience with no little tweaks or wrinkles at the edge. This says a lot about Samsung's attitude towards Windows Phone, and is in marked contrast to the apps and services it has added to its Android devices.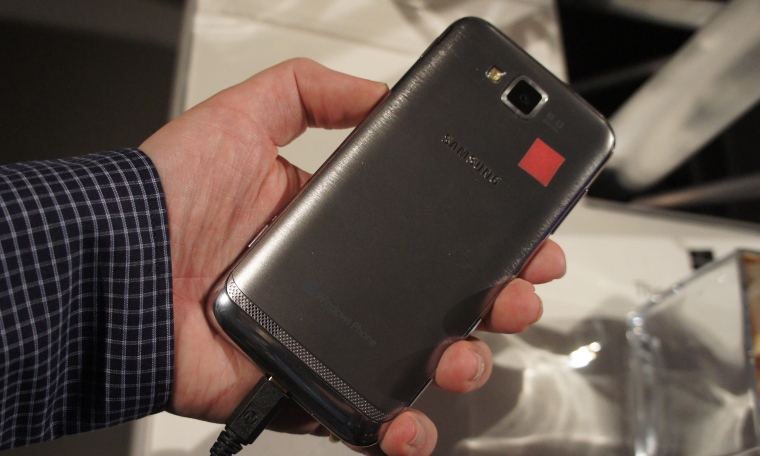 They're also delivering it in a sturdy piece of hardware, which is more than up to the task of doing everything asked of it. When holding and using the handset for just a short time, the word that springs to mind is "competent". Everything is good enough, and while the handset does not stand out, if someone does pick up this handset, I don't think there is any area that would leave them disappointed. I'm not sure there's an area that would blow them away, either.
On first impressions, the Samsung ATIV S is not going to be the Windows Phone 8 handset that everybody will be fighting for, but it will be one that will not disappoint you, if your office IT manager hands you one as your work phone. It may be the least-talked-about Windows Phone 8 device at the moment, but it has an important place in the ecosystem. We've not had as long with the ATIV S, but we're looking forward to reviewing the handset in the next few weeks to find out just how much of a contender it actually is.