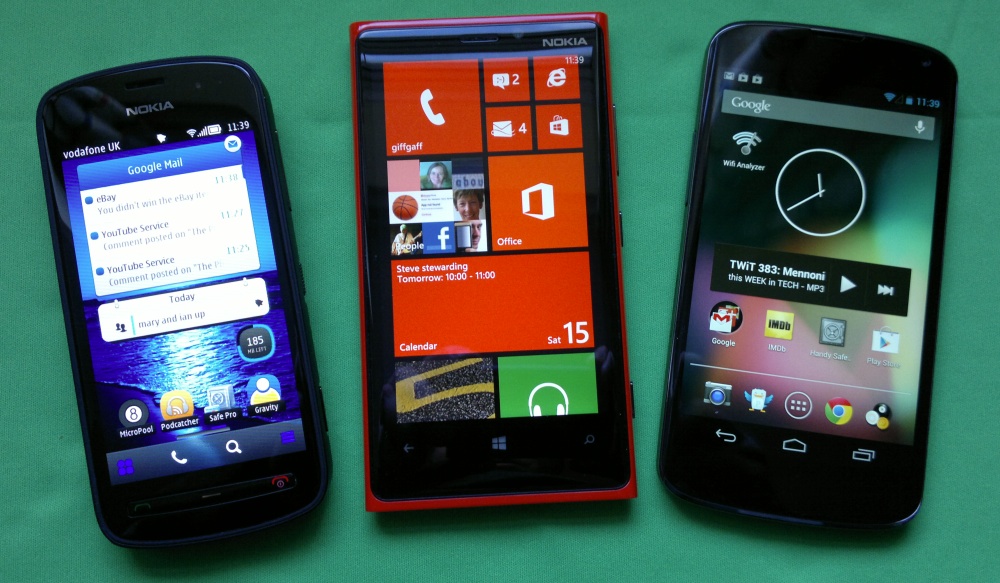 Why these three devices? Rather than simply compare the biggest selling, or the best regarded, or the highest specified three smartphones, I wanted a cross-section, the best that each platform/ecosystem had to offer. Besides which, two devices from the same ecosystem would likely be just far too similar, whereas the three below are very different in many ways....
The Nokia 808 PureView is, unquestionably, the best Symbian smartphone made - the Nexus 4 is the 'purest' and fastest Android phone made, etc. The Lumia 920 just pips the HTC 8X for the honour of representing Windows Phone 8 by virtue of the next-gen camera, though admittedly there wasn't much in it.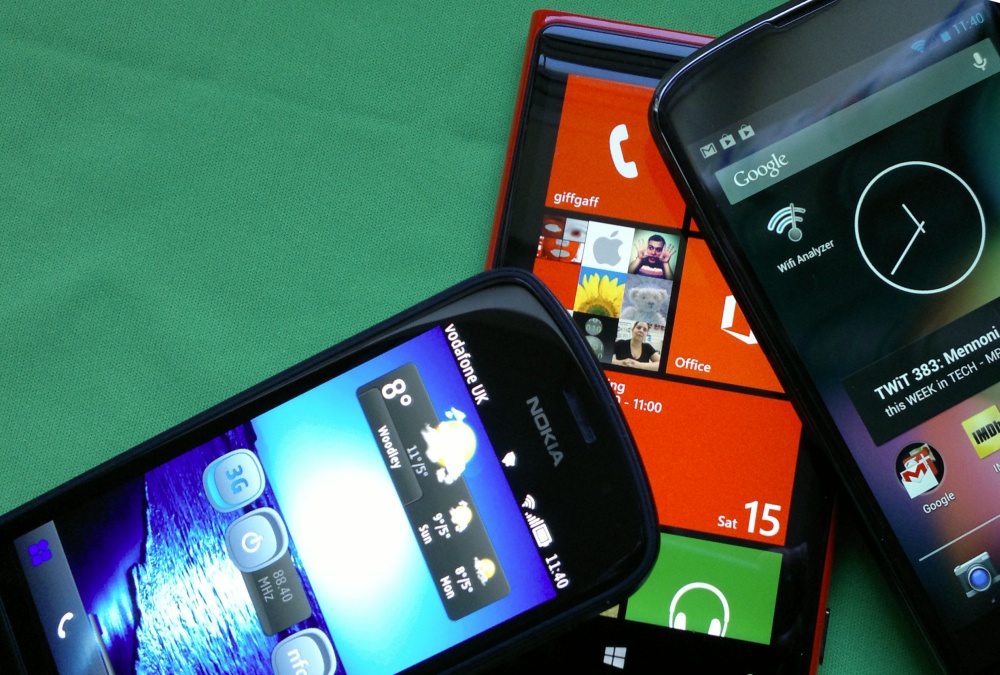 As usual, the table is part reference, part subjective opinion. And where obviously appropriate (some criteria are 100% subjective!), I've allocated a row winner (or winners, plural, where I can't split two devices), in green.
Layout note: This being a somewhat large table, you may need to view it on a 10" tablet, laptop or desktop screen, in order to view the full tabular version.
Nokia 808
Nokia Lumia 920
Google Nexus 4
First sold
May 2012
November 2012
November 2012
OS (as at Dec 2012)
Nokia Belle FP2
Windows Phone 8
Android 4.2.1
Form factor, materials
Solid plastic body, full-face Gorilla glass capacitive touchscreen, very robust in the months I've used it, still looks like new. Weight is 170g
Polycarbonate shell, convex Gorilla Glass front, very robust so far and plenty of YouTube evidence to support this, with the shell colour baked into the material, etc. Weight is 185g
Almost identical dimensions, but with rounded corners and lighter, full face Gorilla glass, not terribly robust due to glass back, but feels high quality in the hand. Weight is 139g
Dimensions
124 x 60 x 14 mm
130 x 71 x 11 mm
134 x 69 x 9 mm
Connectivity
Pentaband 3.5G, Wi-Fi b/g/n, Bluetooth 3.0, 'USB on the go' (to USB disks/accessories), wifi tethering built-in via Joikuspot Light, but requires an app upgrade to get full functionality, Near Field Communications (NFC)
Quad band 3.5G, pentaband LTE, Wi-Fi b/g/n, Bluetooth 4.0, integral wifi tethering, NFC
Pentaband 3.5G, Wi-Fi b/g/n, Bluetooth 4.0, integral wifi tethering without needing third party software, NFC
Input mechanisms
Adequate virtual qwerty landscape keyboard with multitouch support under Belle FP2, with writing aids, plus qwerty or numeric 'T9' predictive input in portrait mode. Compatible with most Bluetooth and USB keyboards.
Excellent predictive virtual multitouch keyboard in portrait and landscape mode.
Excellent multi-touch virtual qwerty keyboard in both portrait and landscape modes (where appropriate), with writing aids and even Swype like gestures recognised. Compatible with most Bluetooth keyboards. Google Now allows some voice input and interrogation.
Display
4.0" (360 x 640 pixels) AMOLED with ClearBlack Display polarisers, true RGB pixels, excellent in bright sunlight
4.5" (768 x 1280 pixels) IPS LCD display with ClearBlack Display polarisers, true RGB, excellent in sunlight
4.7" (768 x 1280 pixels) IPS LCD, RGB pixel layout, barely readable in bright sunlight
Interface
(Symbian) Nokia Belle FP2, kinetic scrolling everywhere, multi-touch where needed, six homescreens of live widgets, whole interface works in portrait or landscape mode.
Windows Phone 8, kinetic swiping and multitouch everywhere that's needed, portrait mode tile layout homescreen plus linear application list. Some applications support landscape mode.
Android 4, kinetic and multi-touch, of course. Five homescreens of live, often interactive widgets. Most applications work in landscape mode, but homescreen and app menu is resolutely portrait only.
Speed
Good, 1.3GHz ARM 11 with 512MB RAM and a graphics processor to help out with effects, transitions and multimedia, plus a dedicated PureView camera GPU. Full multitasking with no limits, everything can run at the same time in the background if needed.
Excellent, dual core 1.5GHz Krait processor, very responsive UI all round and super rendering speed. Multitasking isn't full, but as with iOS, enough background threads are allowed that the user probably won't notice any issue. Gotchas for most people will be occasional 'updating...' messages in (for example) the People hub and the way wi-fi turns off far too often (soon to be fixed).
Generally excellent, with a quad-core 1.5GHz Spandragon S4 processor. If there's one thing the Nexus 4 excels at, it's speed! As with Symbian, there's full, no holds multitasking.
Memory capacity (storage) and flexibility

Up to 512MB of C: (system) disk, plus 16GB mass memory and flexible microSD expansion, e.g. adding an extra 32GB. Apps can be installed on any disk. Plugging in the phone to any desktop computer allows mass memory and microSD to be mounted and treated like any other disk. Plus generic USB disk support via 'USB on the go', adding up to 128GB extra.

32GB internal storage, non-expandable, mounts as a disk and MTP device under Windows 7 and Windows 8, but not for Macs and other desktop OS.
8/16GB (depending on variant) of integral storage (MTP-mountable on a desktop), non-expandable.
Camera (stills)

Superlative 38 megapixel sensor, though usually running in 5mp 'PureView' mode for stills, offering zero digital noise with hardware-driven oversampling and 'perfect' pixels with lossless 3x digital zoom. Huge 1/1.2" sensor and Carl Zeiss optics. Exposed camera glass. Proper shutter button.

Genuine Xenon flash and tuned camera hardware make for foolproof evening/social shots.


Good 8 megapixel stills from a BSI 1/3" sensor with 'PureView phase 2' optical stabilisation on the whole camera assembly, adjusting at 500 times a second. Advanced image processor and LED flash. Dedicated camera button and a variety of camera 'extras' built-in.

Good 8 megapixel photos, 1/3.2" sensor, LED flash. There's Google's new 'finger-centric' Camera UI, including a variety of extra scene modes, with both HDR mode and 'PhotoSphere' panoramas built-in. No camera shutter button.

Camera (video)
Excellent 1080p video capture, with intelligent (non-lossy) 3x digital zoom, thanks to the 41 megapixel raw sensor; audio capture in stereo and with pro-quality digital mikes and 'RichRecording' software and electronics, capable of handling a very wide volume range.
Excellent 1080p capture with the same optical stabilisation working to eliminate camcorder hand shake. 'RichRecording' included, but only in mono.
Excellent 1080p capture, with continuous auto-focus and good audio capture at normal volumes, in stereo.
GPS and navigation
Good GPS, backed up by Nokia Wi-fi location, with Nokia Maps 3.9 worldwide free sat-nav. Maps can be fully pre-loaded by continent, country or area.
Good GPS, backed up by Nokia Wi-fi location, with Nokia Drive worldwide free sat-nav. Maps can be fully pre-loaded by continent, country or area.
Good GPS, with Google Maps Navigation and (somewhat robotic) voice guidance. Maps can now be pre-cached for small areas, but the system is very limited and these caches aren't used for routing at all.
Audio out
Loud, high quality mono speaker, 3.5mm jack, A2DP, FM transmitter to car radio, plus Dolby Digital Surround Sound (through HDMI port), DLNA via built-in Nokia Play To system.
Loudish mid-frequency mono speaker, average quality, A2DP, 3.5mm jack, DLNA.
Average mono speaker, harsh tone, 3.5mm jack, A2DP, DLNA.
Multimedia playback
Video playback is terrific on the AMOLED screen, with a wide range of codecs supported from local or remote files. YouTube playback in high quality is now possible via the mobile YouTube web site.
Video playback is very good on the high res CBD IPS screen, and videos can at last be sideloaded without needing transcoding (provided you have a desktop running Windows 7 or 8). Many, many streaming video applications are also available for the platform. Several YouTube clients exist, plus the mobile web site also works very well.
Video playback is good on the big HD screen, though colours are muted compared to the other two handsets here. Most MP4 files play fine, though there's no DivX (etc) support. Android also means that a native YouTube client is built-in.
Web browsing
Symbian Web, functional without ever really impressing, though it's faster on the 808 than on any previous Symbian handset. Multiple windows possible. Many people replace Web with Opera Mini or Opera Mobile.
Very high resolution and a super-fast browser make for an excellent browsing experience, zooming, panning, reflow all possible. Multiple windows possible.
Stunning rendering speed. Chrome comes as standard and is very good, with text reflow, etc. At 768p resolution, many sites also don't even need zooming or panning if your eyes are good enough. Multiple windows possible.
Email
All purpose Mail client provides 'push' facilities for (one) Mail for Exchange (account), Hotmail, Gmail, Yahoo! mail, generic IMAP and many others - works well on the whole but some slight performance annoyances and odd rendering hiccups when particularly 'rich' emails come in.
As with the iPhone, a strong built-in generic email application with support for some Gmail and Outlook.com (Hotmail) features, and multiple (e.g.) Mail for Exchange accounts.
The odd pairing of Gmail and a generic email client persists, as is usual for Android, but it all works well and at very good speed here, bandwidth permitting. The Gmail client/experience, in particular, is stunning.
Other application highlights out of the box
Quickoffice viewers, plus the Microsoft Office Mobile editing suite/cloud integration, Dictionary, Zip manager, Photo editor, Video editor, Nokia Social Networking (Twitter and Facebook)
Office Mobile, including One Note, Nokia City Lens, Nokia Music, TuneIn Radio, Nokia Reading, plus standard Windows Phone apps and social features
The Quickoffice viewers are onboard, plus the usual Android core applications, including Google Drive.
Application store and ecosystem
Nokia Store client, hundreds* of high quality native Symbian applications are compatible. There's an automatic update system, supporting multiple apps, but installs are somewhat intrusive and slow where the Qt Smart Installer is involved.
The Windows Phone Store is pretty well stocked these days, thousands* of high quality applications, with only a few high profile omissions. Moreover, multitasking limitations for apps under Windows Phone 8 are now largely a thing of the past, properly compiled apps can use background threads and agents, as needed. App installs are of average speed and happen one at a time, but you can queue them up with one tap to happen in the background.
Google Play (the new name for the Android Market...!), and access to many tens of thousands* of high quality native applications. Applications can be automatically or manually updated.
Battery capacity and flexibility/longevity
1320mAh, replaceable when needed, microUSB charging, casual use under Symbian on the 808 should last 2 days.
2000mAh, sealed in, microUSB or Qi wireless charging, casual use under Windows Phone on the 920 should last 1.5 days
2100mAh, sealed in, microUSB or Qi wireless charging, casual use under Android 4.2.1 here should last 1.5 days.
Ongoing firmware support and OS updates
The grand-daddy in terms of OS among this bunch, twelve year old Symbian's long term prospects are of course time-limited now. Belle Feature Pack 2 brought quite a facelift but is probably the last major update. Support and minor app upgrades will continue though, for up to another two years. OS modules and components can be upgraded, over the air, as-and-when using the 'Sw update tool' in the device, or via Nokia Suite under Windows.
Microsoft have deep pockets, so should ensure Windows Phone 8 stays fully resourced in terms of updates through 2013 and 2014, plus Nokia have a good track record too, with many built-in applications unique to their marque. Updates are mainly applied over the air, as needed.
Prospects excellent, the Nexus 4 will get Android updates until at least the end of 2014, I expect. Very future proof.
* yes, yes, overall numbers in each store are much higher, but I'm estimating the number of genuine high quality applications/games. Not novelties or copycats or junk.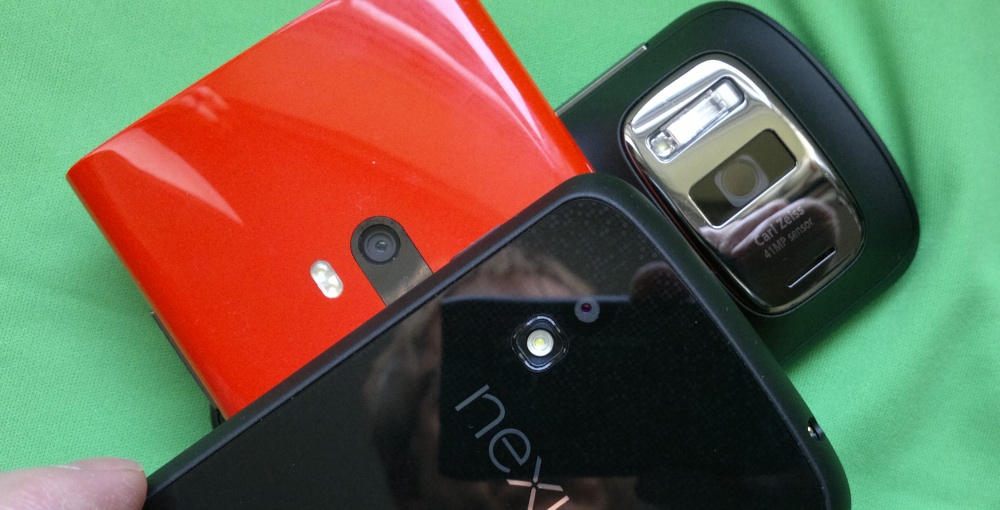 This is where I say that the 'greens' scoring isn't always reliable, but it does hopefully help when trying to compare top devices against each other. I should also explain my methodology here. Having compiled all the content of the cells in the table, I then go through from top to bottom deciding, head-to-head, which device(s) should be assigned a win (or joint win). Having gone through on a row by row basis, I then add up the green cells - I categorically never try to 'fix' this, I like to be surprised by the statistics as much as the next man.
And, if you've added them up as well, you'll find that all three phones scored six category 'wins'. I'm sure there will be cries of foul play, but I swear that this wasn't premeditated. When you think about it, a three way tie was perhaps inevitable, since the three devices and their platforms have very different strengths.
What about takeaways from the table and from the tie?
The fact that the Nokia 808 PureView can still hold its head up against the best of the rest is significant. I'm constantly amazed by the fact that no devices on other platforms even try to match the prowess of the great Symbian-powered camera phones. Sensors are kept small, Xenon flashes are rules out, all in the name of slimness. The 808 puts function before absolute form and as a result knocks the camera and media side of things out of the park.
The fact that the Nokia Lumia 920 can tie against its own Symbian powerhouse cousin and the current darling of the Android world is significant too, it shows that, despite not (yet) being perfect, Windows Phone 8 is getting 'there', especially when allied to some classy hardware.
Finally, the fact that the Nexus 4 can tie against two very strong contender, despite being outgunned in terms of built-in applications and most specifications, shows the importance of a powerful processor, UI and ecosystem.
The winner here is the user, of course. Not because there's a 'easy' winner, but because there isn't. None of these devices are remotely perfect, yet they each have attractions that will appeal to different types of smartphone user.
Comments welcome as usual!
Published on All About Symbian and All About Windows Phone, 17th December 2012