For a meaningful test, I should perhaps also explain that I used half a dozen PDFs varying in size and complexity, selected to offer a variety of challenges to the applications, so hopefully each got a good workout.
It should also be noted that I haven't covered caveats to do with receiving and filing/storing PDFs in the first place, since that's a subject for another article, dealing with meta-file systems, OneDrive, microSD cards, and so on(!) Suffice it to say that once you've received a PDF file the OS will launch any application you have installed which claims to handle this file type. Or, if you have multiple applications, as I had, will give you the choice at file-open time.
The only Microsoft-coded application here and updated various times over the last few years. As you might expect from a first party application it's quick in operation, taking only 3 seconds to load in the whole of David Wood's epic 800 page Smartphones and Beyond, and only another five seconds to find all matches of a particular search string in the text.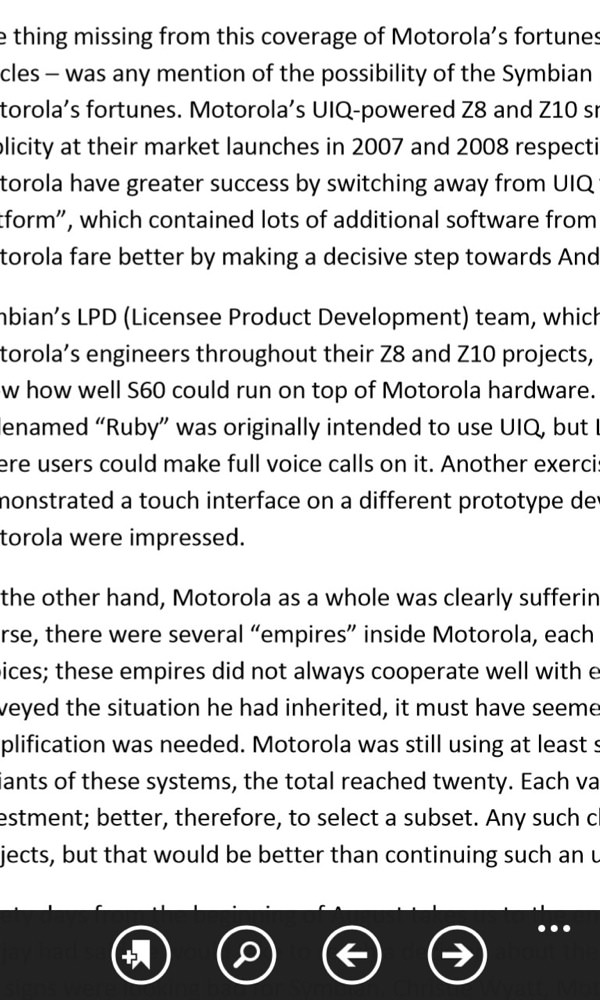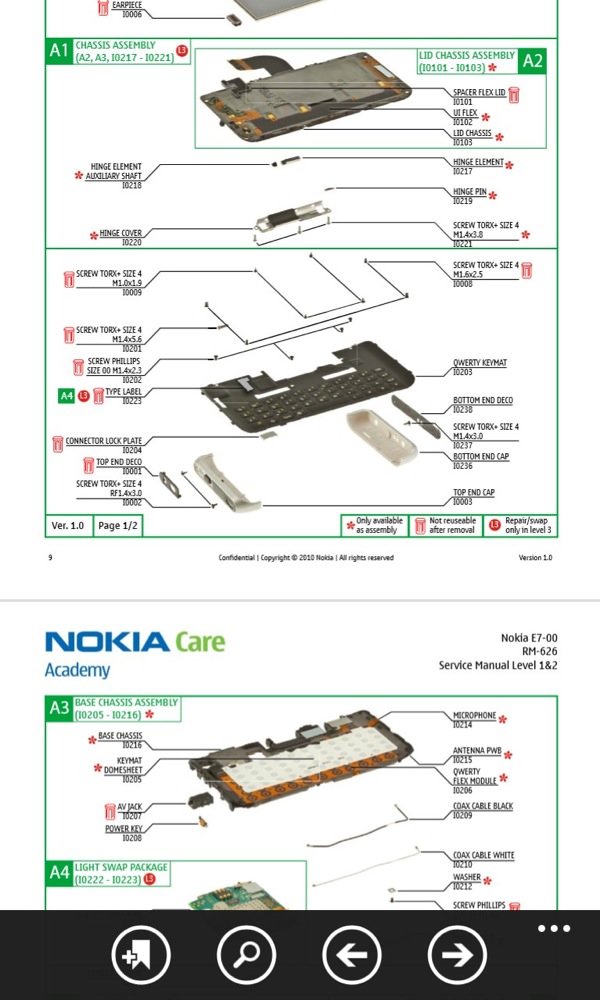 Viewing and navigation is slightly limited, to page nudge controls, a 'jump to page' function and just the standard graphical and 'single page' views. So you're ultimately restricted by the fonts used in the document - where lines can't be shown fully, rotating the phone into landscape gives more space and usually helps. Rather oddly, there's also a 'rotate left' function on the menu, made doubly odd because this doesn't really add anything to visibility and by not being matched with a companion 'rotate right'!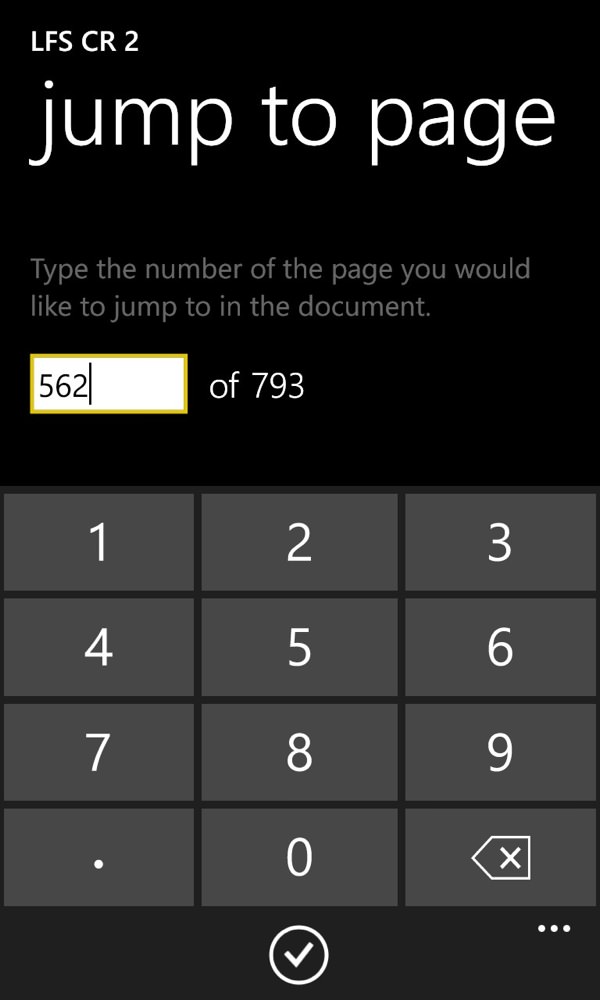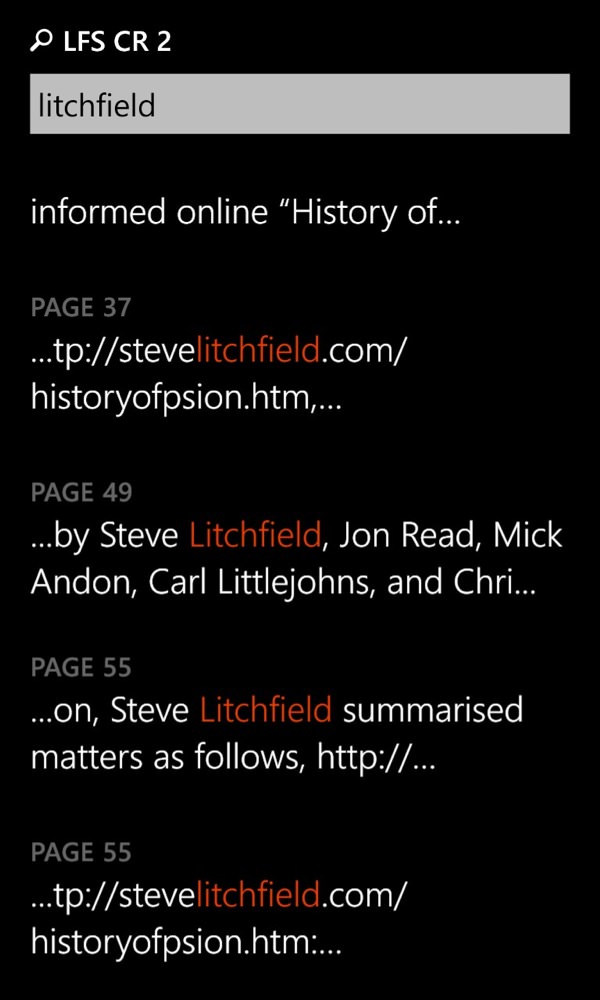 Overall though, quick and functional.
Quick to load, though also confusing, first putting up a worrying 'Is it ok to send back details on what you're looking at to Adobe?' prompt (answer 'no'!) and then, on the second (and subsequent) time you view a file asking if it's 'ok to replace the current file?' Presumably because there's some sort of internal file copying and caching, but off-putting to say the least.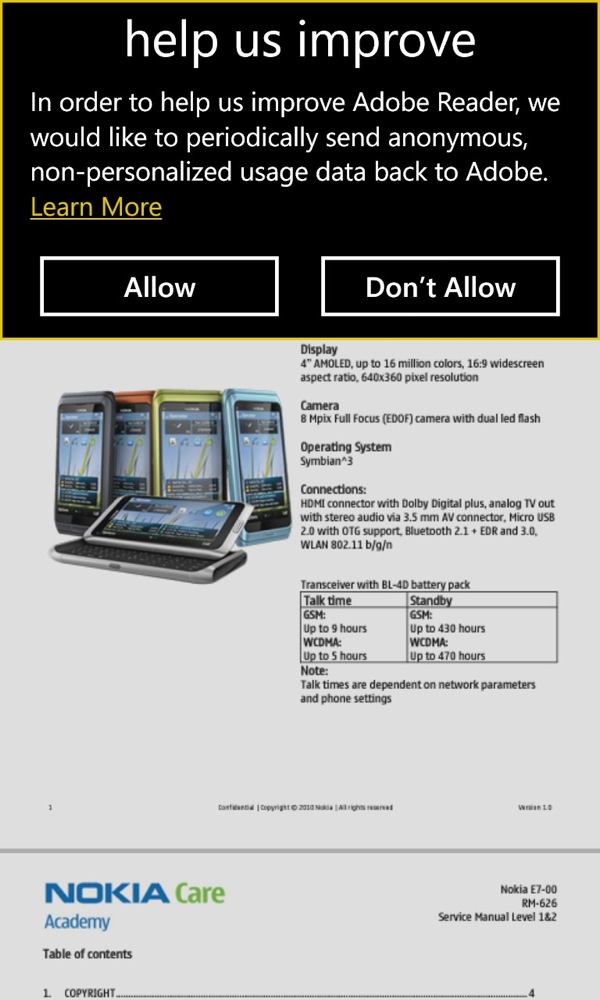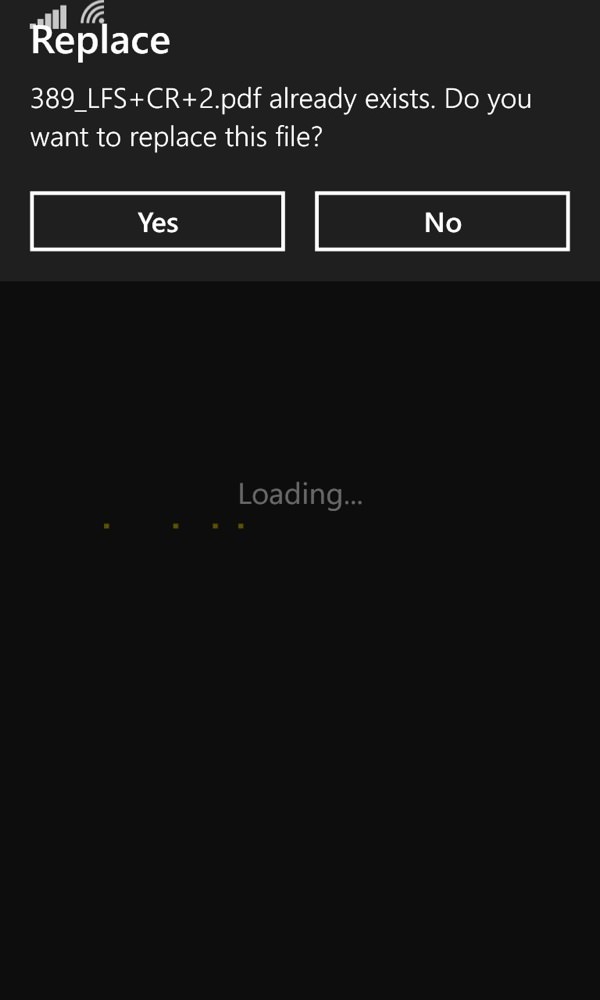 Navigation is easy with a pop-up slider at the bottom of the screen, and multi-touch zoom extends to very large font levels, though there's no help in terms of reflow again, plus re-rendering after each zoom operation had a visible delay. Searching is interminably and unusably slow, taking a full 40 seconds to find even the first of six matches of my search string in the David Wood book.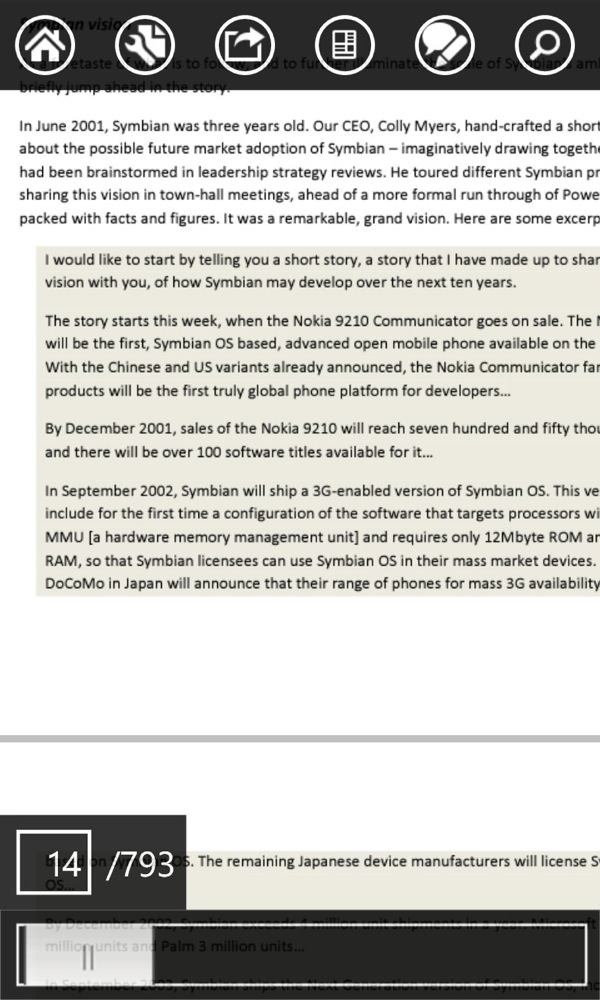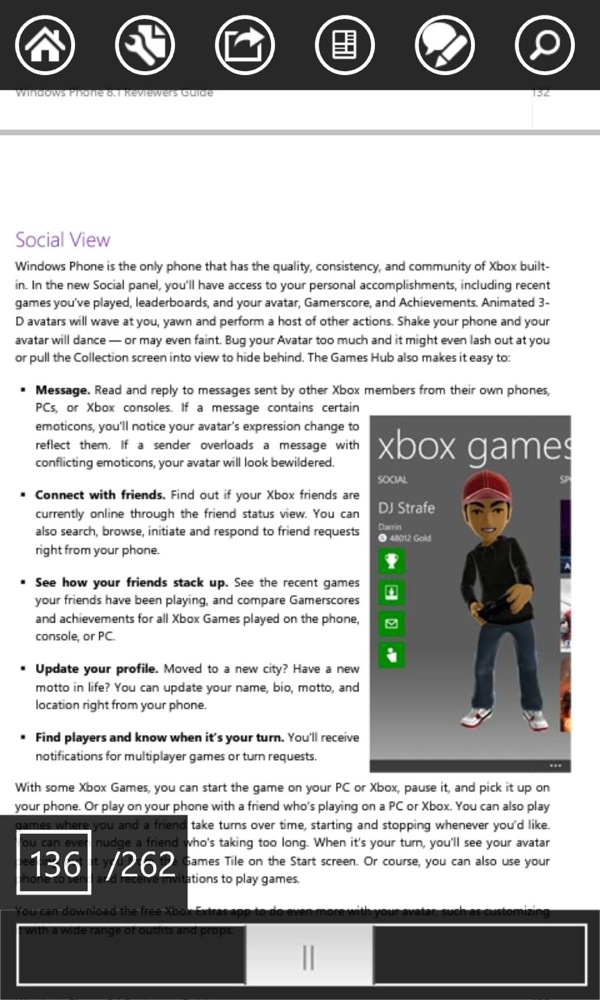 There's an 'export' facility to Office files, but only using a subscription-only 'Adobe Services' online. It's not expensive, but it's something of a hassle, so you really have to want to do this. Finally, there are basic editing and annotating facilities, perhaps something I can come back to in a separate review.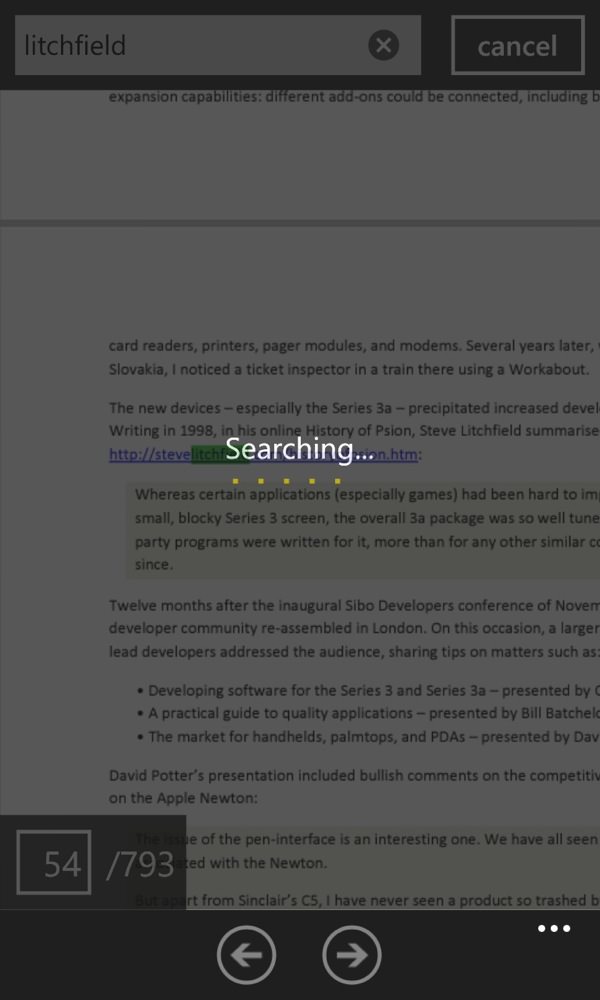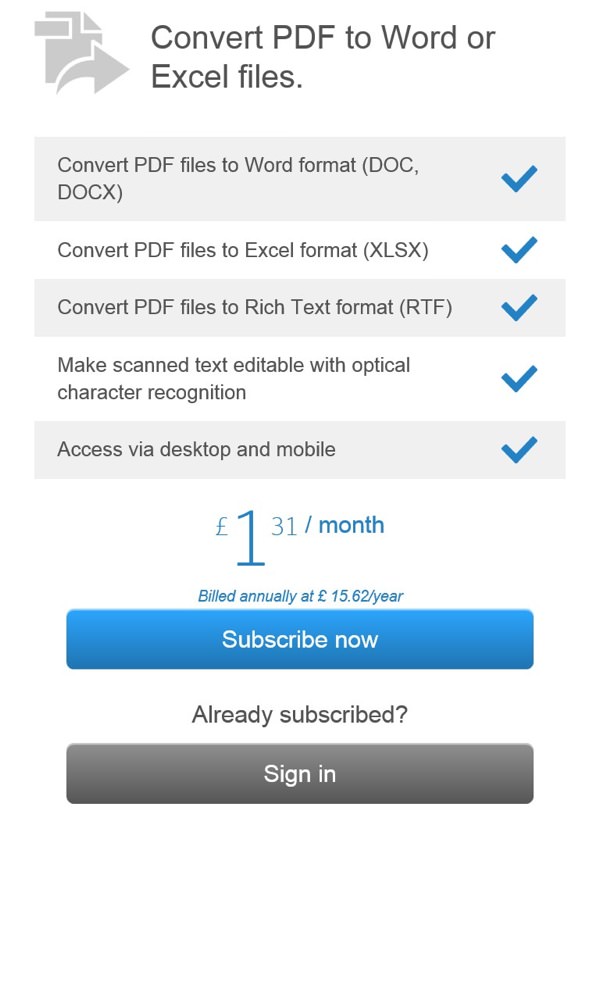 Arguably more limiting in navigation and capabilities than PDF Reader, in that there's no 'continuous' (i.e. keep swiping upwards) mode, OneReader has a similar no-frills approach. Again, loading a document is very fast. Two features do stand out though - firstly, you can invert document colours, i.e. switch to white text on black backdrop, which could be a big power saver with a long document on AMOLED-screened phones like the Lumia 930 and 1020,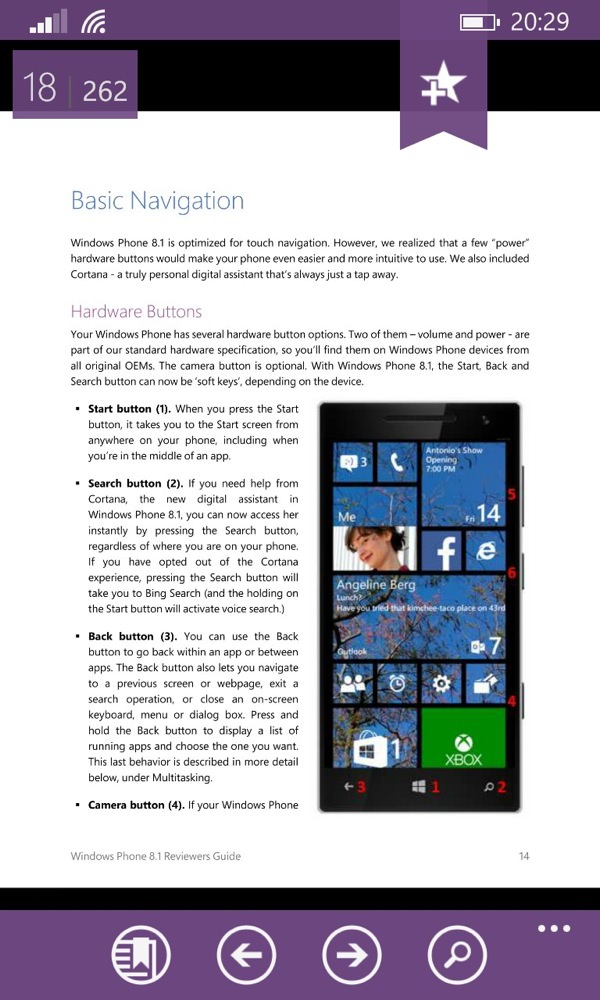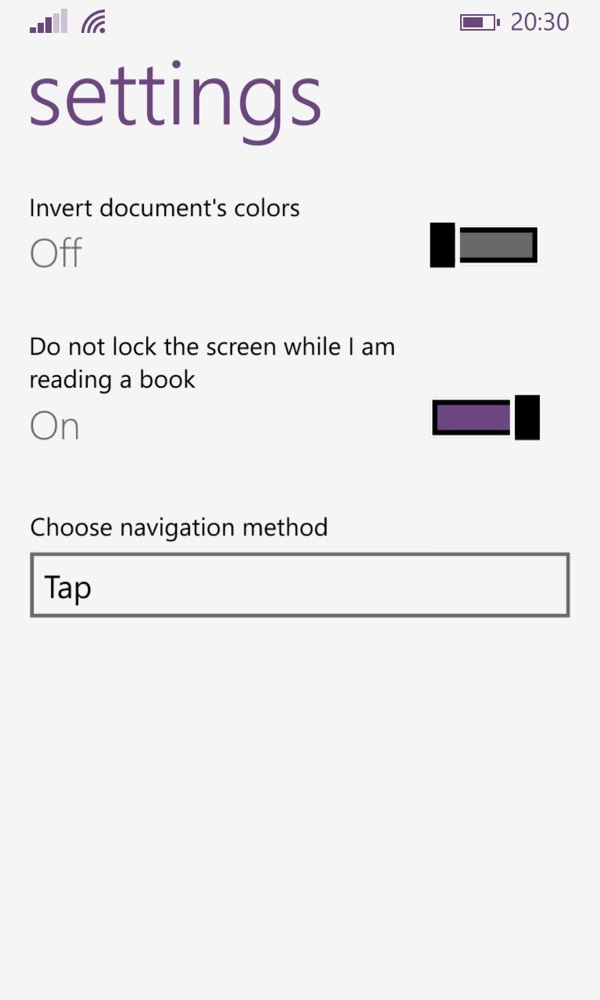 Secondly, searching for text is both quick and clever, showing each match in context, i.e. highlighted and with text all around it, with nudge controls to jump to the next or previous match. Very nice.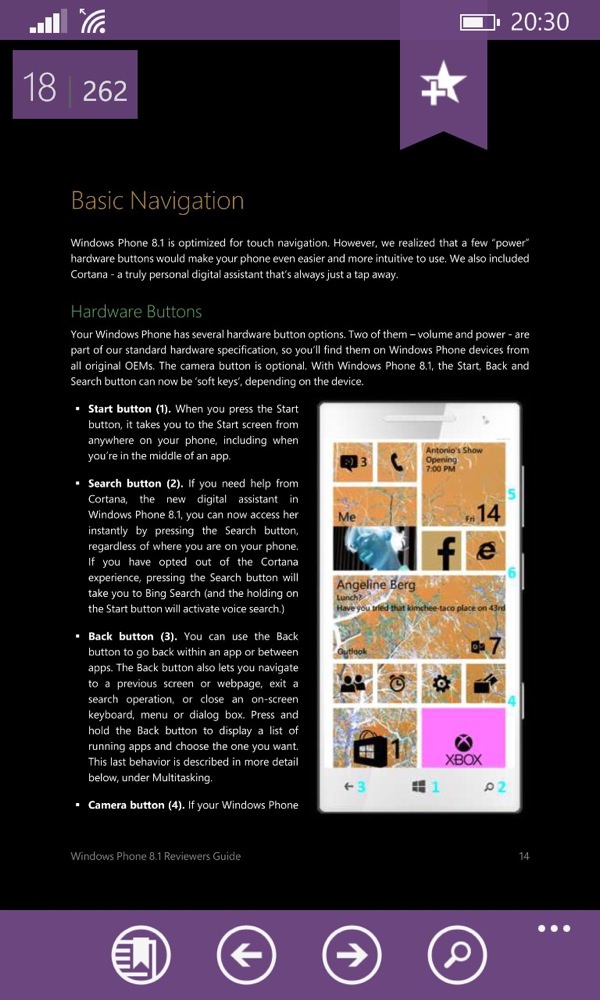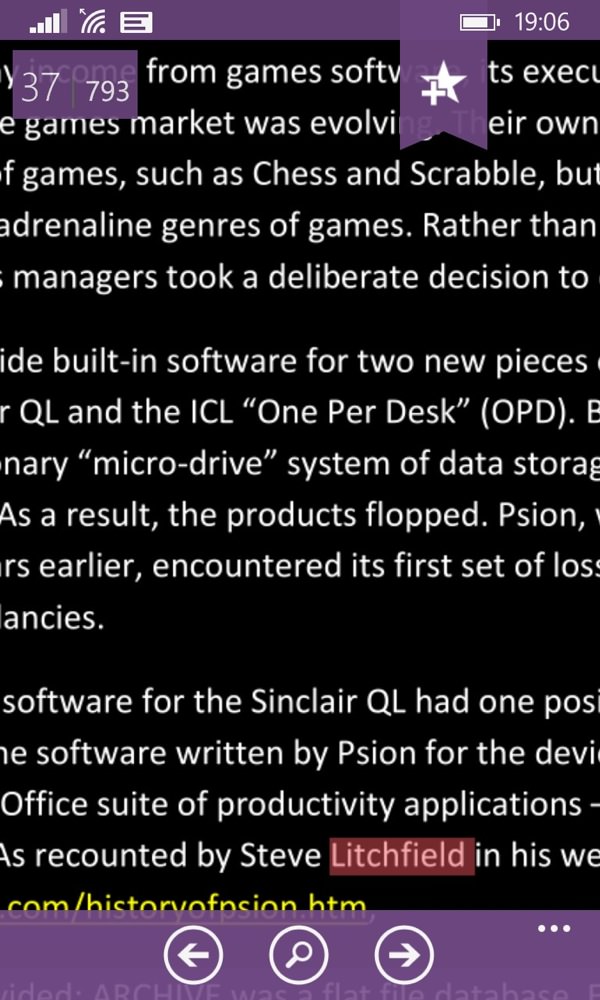 I had this on my shortlist because it claimed to display PDF files, but clearly this didn't like being on the same smartphone as a number of other PDF readers! Choosing to open a PDF file in this caused the 'Incoming' message, followed by a file dialog and the same choice of PDF readers that I'd started with. In other words, I was in a loop!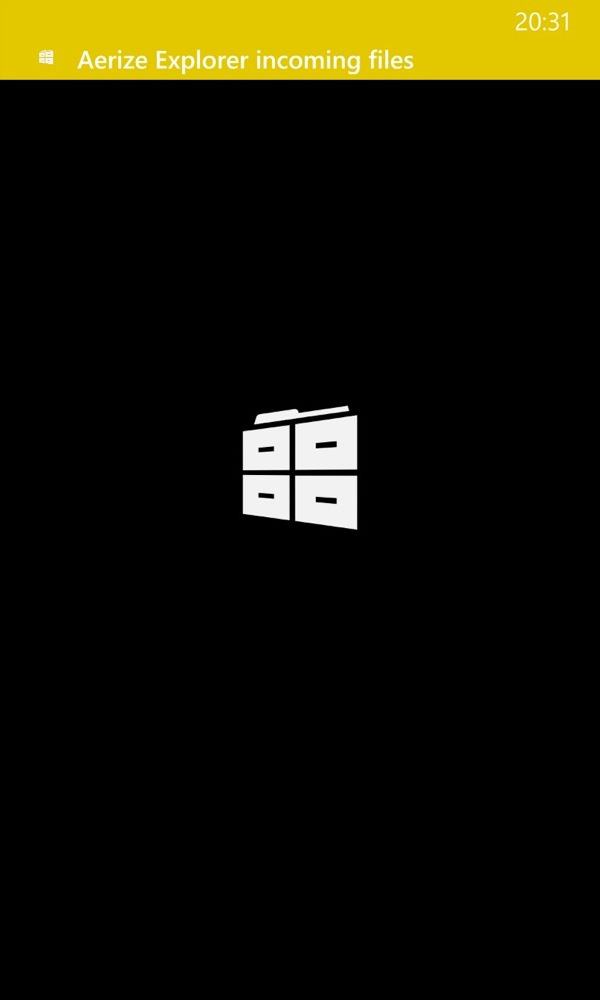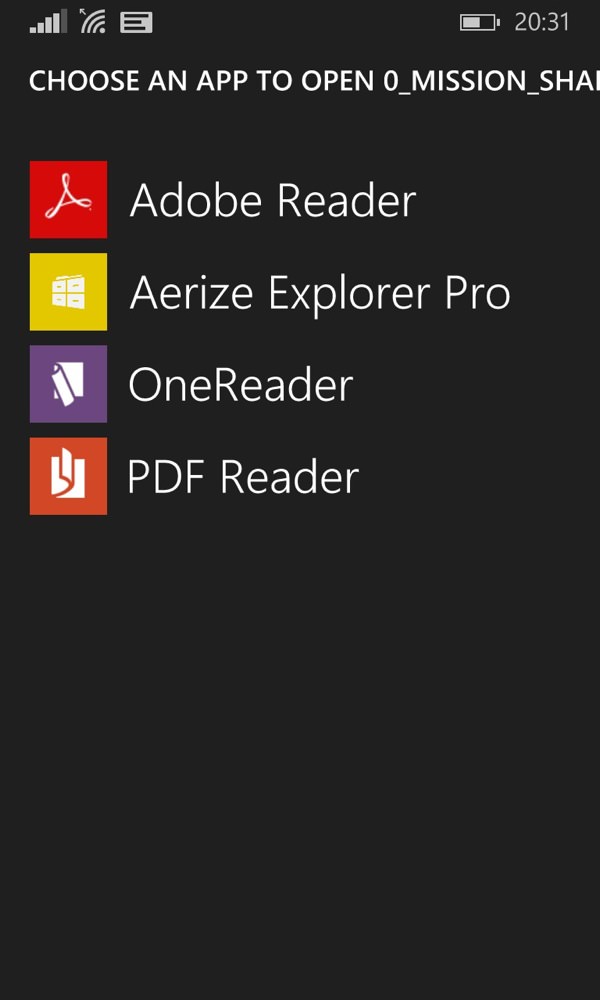 I'm sure that Aerize Explorer Pro does the job when it's all that's available, but I quickly dismissed it from the choices here.
Something of a lateral thinking approach, Nokia Reading is centred around book reading, but does offer a PDF reading function via importing files from OneDrive. The download process was very quick and then it was into each file.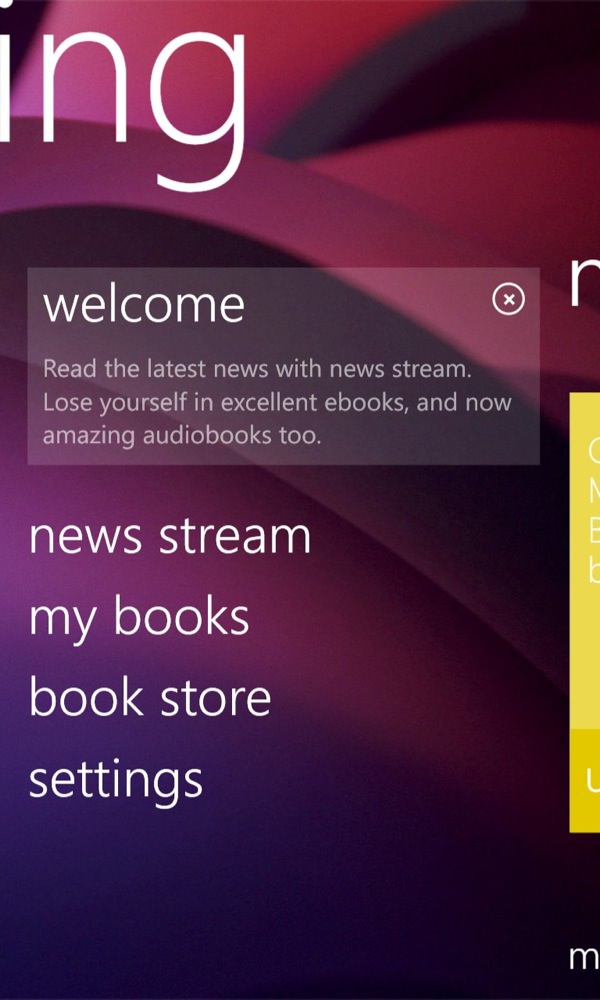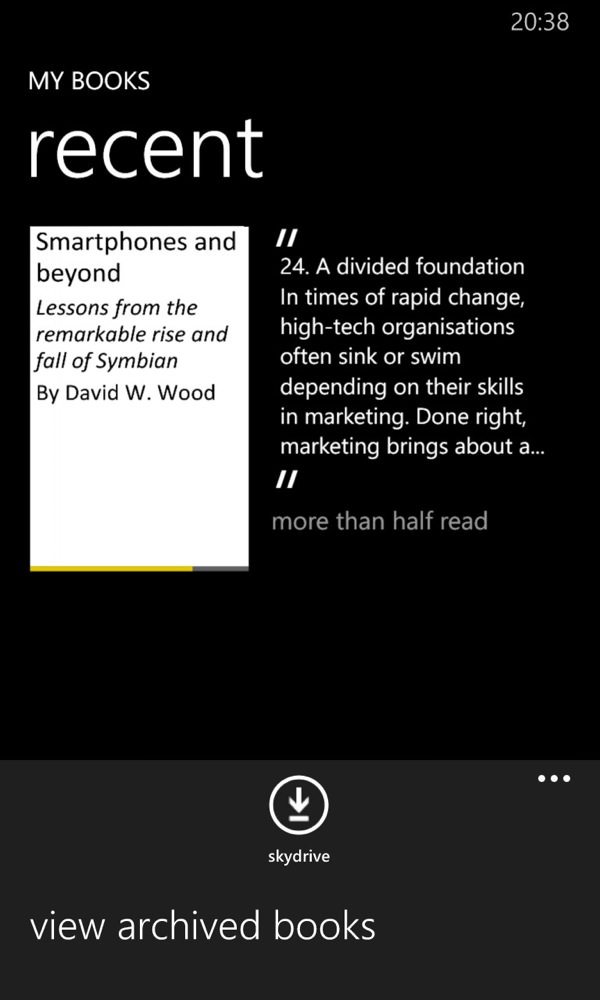 The 'my books' section has just one control, to import ebooks and PDFs from SkyDrive (OneDrive)...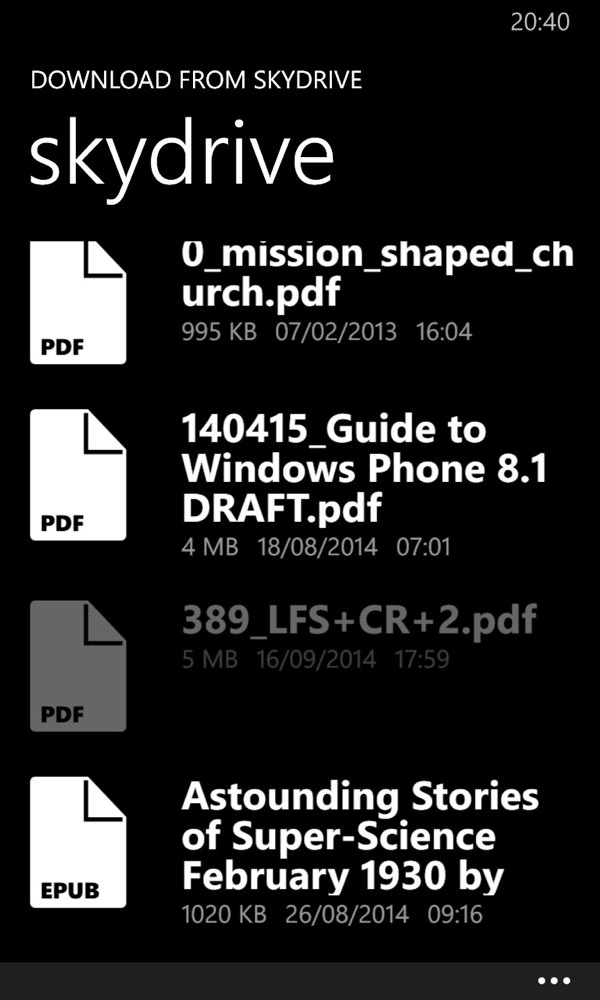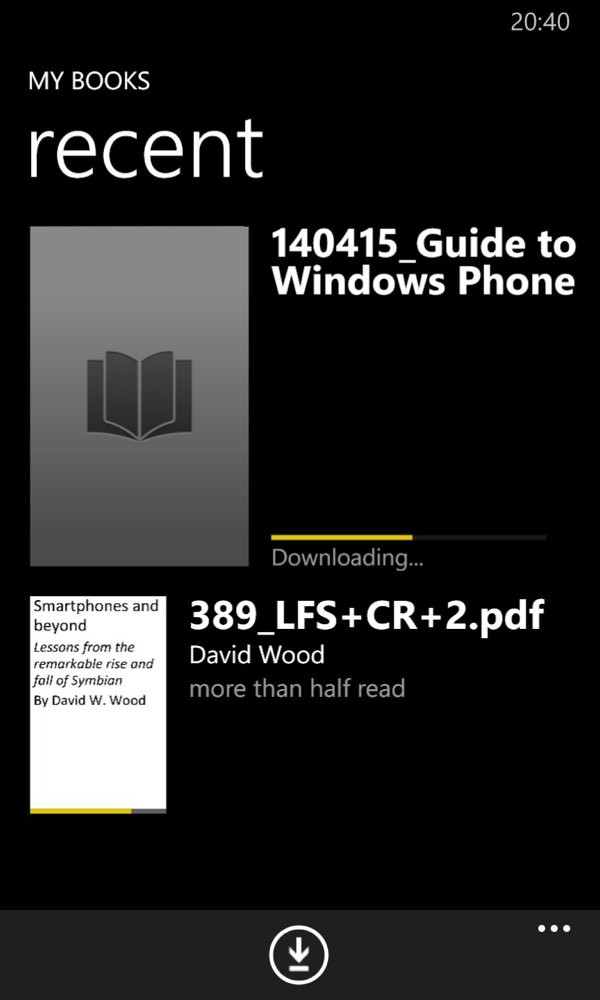 Unlike the other PDF readers here, the emphasis is mainly on raw text, with the text in each Acrobat file being rendered/reflowed according to your screen size/resolution and chosen font size. This has the huge advantage that no line is ever 'too long' and that you can just read... and read....
The disadvantage is that you're not seeing the designed PDF document in the way the writer/publisher intended. Images are included in Nokia Reading, but they're inserted, interstitially, between rendered pages, at roughly the right point in the text.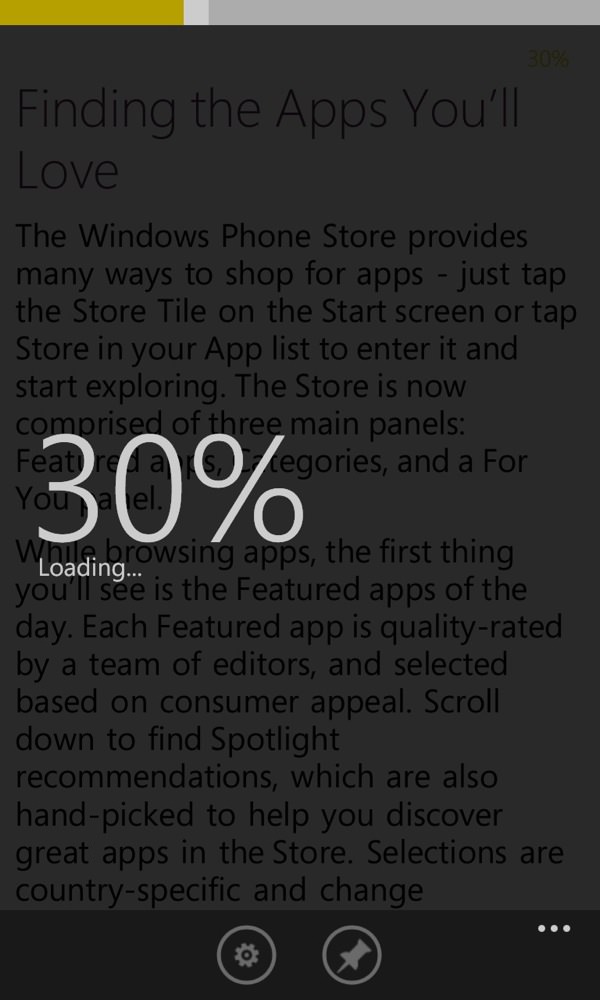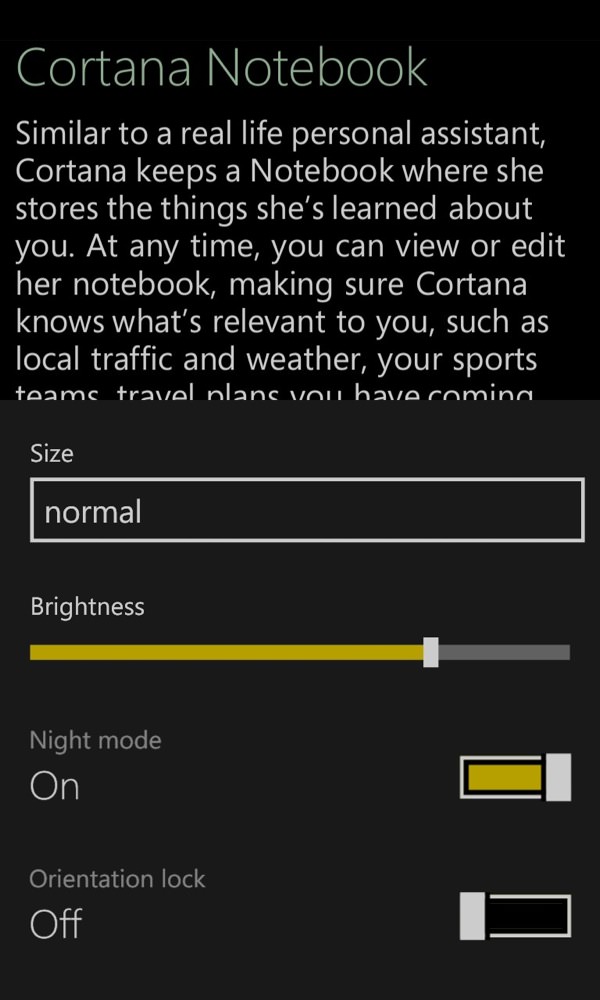 One obvious positive is that you can use the same application to read ebooks and other public domain documents in the usual way.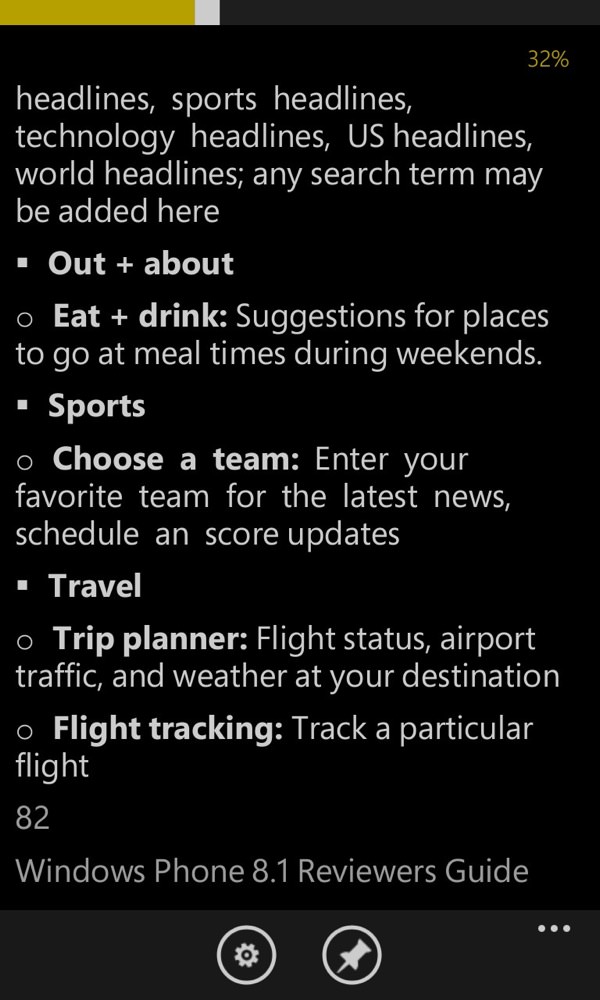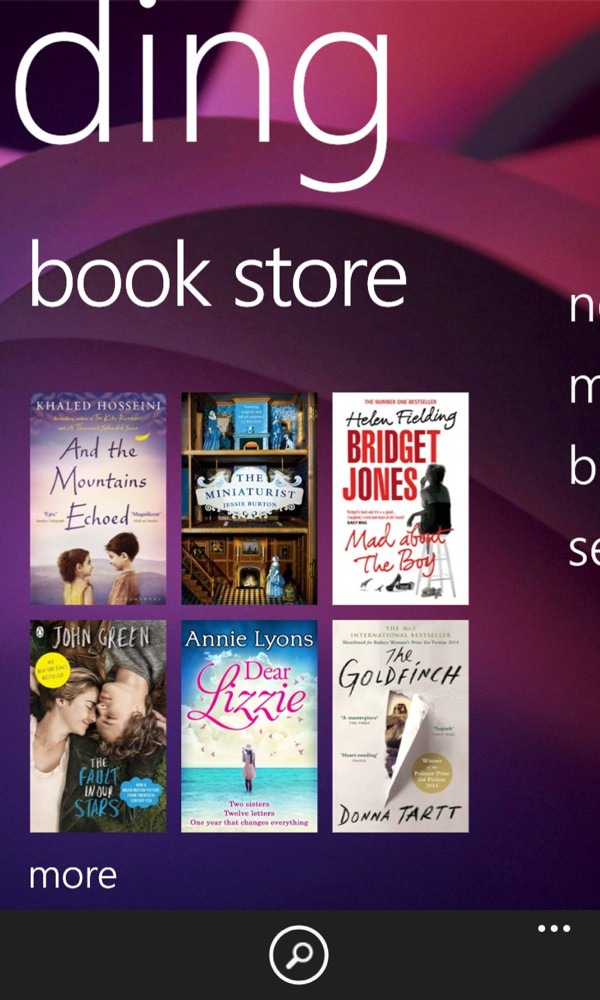 Verdict
One thing that occurred to me during testing was how fast modern smartphones and their applications are. I remember testing PDF readers a decade ago on PDAs and the first smartphones, when loading even short PDFs would take several seconds and longer ones up to a minute, while hundred page PDFs would crash the PDA with 'out of memory' errors. No such problems here, even though I'd picked test documents that I thought would cause issues, they simply came up and rendered exactly as expected, virtually instantly in most cases. All the solutions here also remember exactly where you got to, on a per-document basis, which is something else I wasn't expecting.
In terms of clarity and simplicity, function without drama, I'd go for PDF Reader as the pick here - and yes, it's the one that Microsoft will push with the platform, so that's all well and good. Though for heavy-text-based Acrobat documents (like the Symbian ebook featured here), importing it into the Nokia Reading file system offers an easier (on the eyes) and less tiring reading experience.