You should find Podcasts in the applications list on your phone - if not, check you have the latest firmware (i.e. check for updates), since Podcasts should be in everything from Windows Phone 8.1 onwards.
I covered Podcasts before, when it appeared, from the perspective of a podcast enthusiast looking to import podcasts form elsewhere and then replicate the experience from other clients, but here I want to approach the application from the pespective of the newcomer. And it's well worth noting that the podcast search function, so lacking when Podcasts first appeared, is now a hundred times better, which should also help new users and alleviate any pain from the lack of a feed importer.
Here then are my top 5 tips to get the most from Podcasts.
1. Save space, only keep latest episodes
Before doing anything, pop into 'settings' on the main menu and then on 'default series settings'. Make sure that 'Episodes to keep' is set to '1' - this means that Podcasts will happily remove old episodic content for all podcasts you then subscribe to, saving you clean-up time later (though you can have a clearout manually too - see below).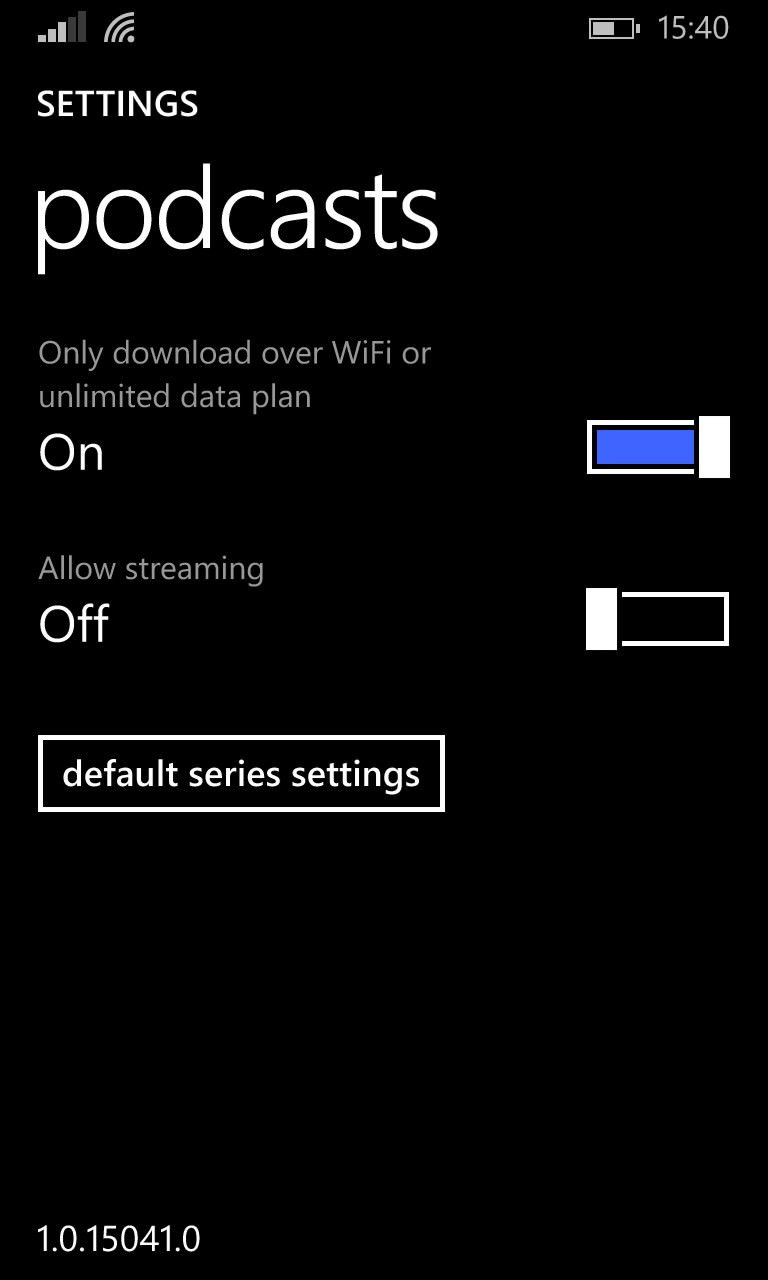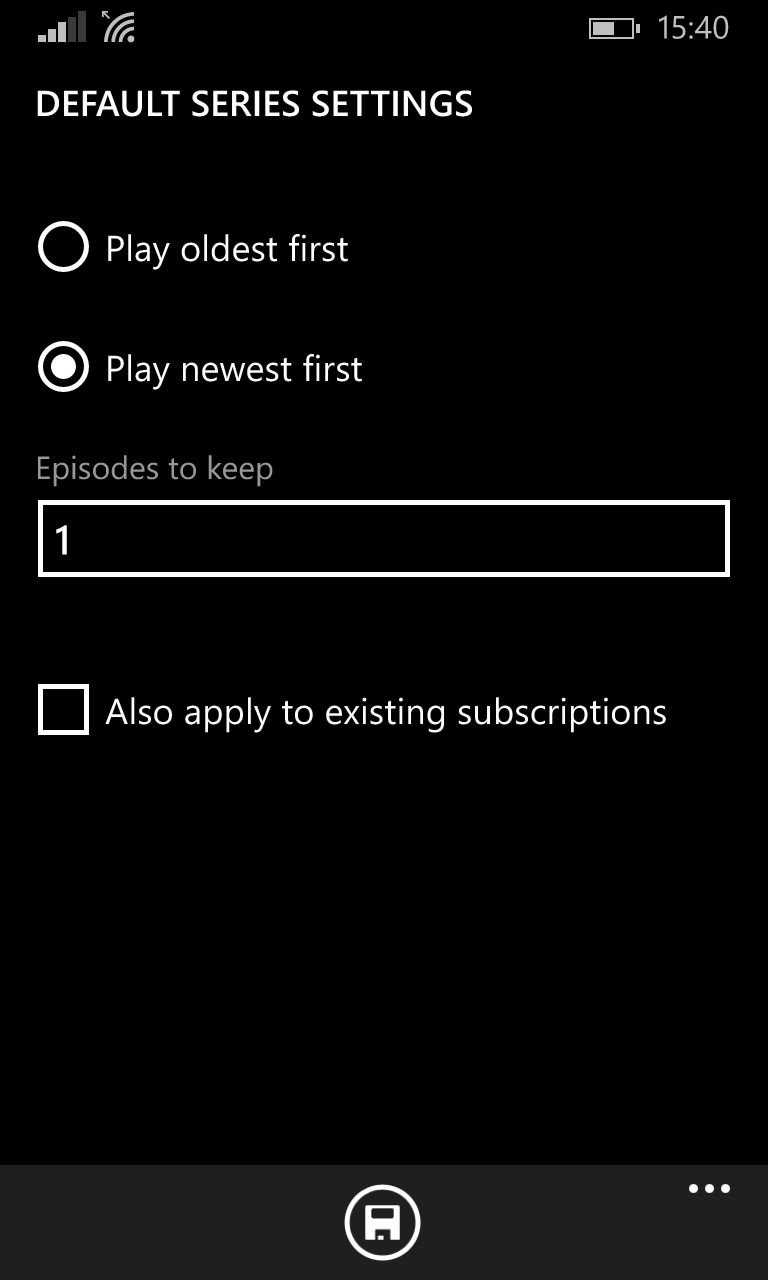 2. Don't import, search!
This is something of a forced tip because Podcasts doesn't HAVE an import facility, but if there are favourite podcasts of yours then use the 'Get podcasts' search box, just type a word or two and you're there. If you have used another application before (on this or another platform) then having to search for the podcasts you want all over again is a tiny bit of a chore but I did find the experience cathartic, since I've ended up with just the shows I really want, whereas my .OPML and other podcast feed backups had got a bit stale, with some shows I wasn't interested in anymore.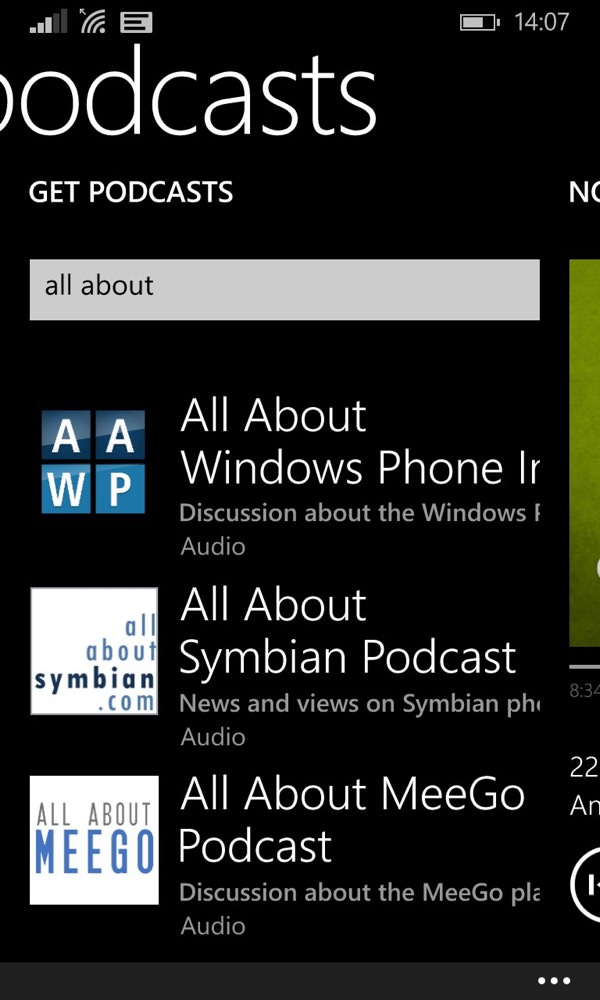 It's also worth noting that if you've used Podcasts on another Windows Phone then your Microsoft account includes the right hooks and backups for your list of subscriptions to just 'appear' when you first start the application (and synced thereafter, if you have multiple devices). So you may not have to do much searching after all!
3. Take five minutes to set everything as 'played'.
Once you have your set of favourite shows take another five minutes (yes, yes, more time, but it'll be worth it) to go into each show, swipe right to its episodes, then 'select all' and 'mark as played'. Until you've done this, the main podcast listing will show the number of episodes in the show's XML/RSS feed and with all as 'new' (to you). So mark them all as listened, which takes about 15 seconds per podcast - unfortunately there's no overall 'mark everything as played' function here. Bite the bullet and just do it.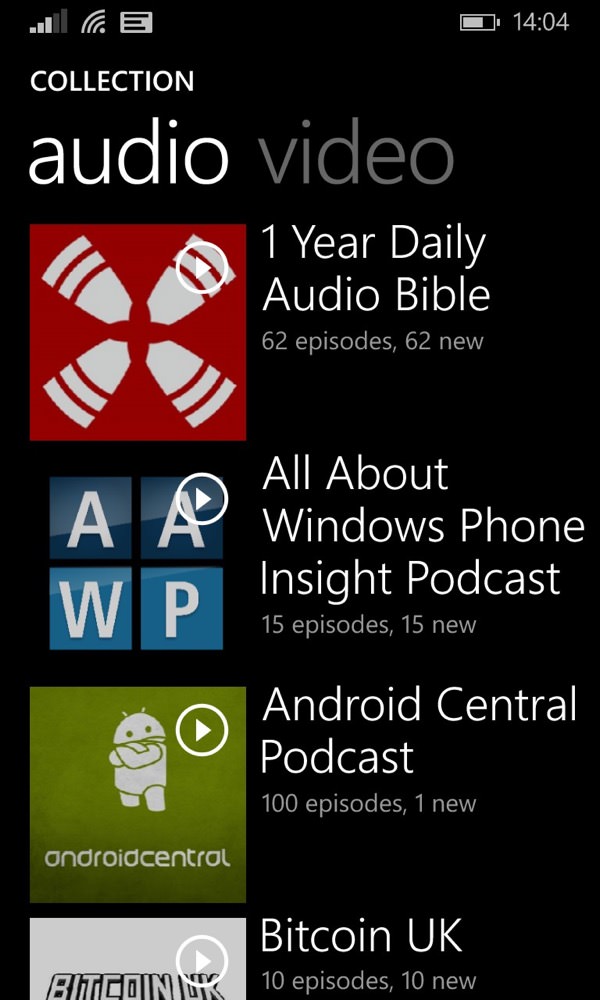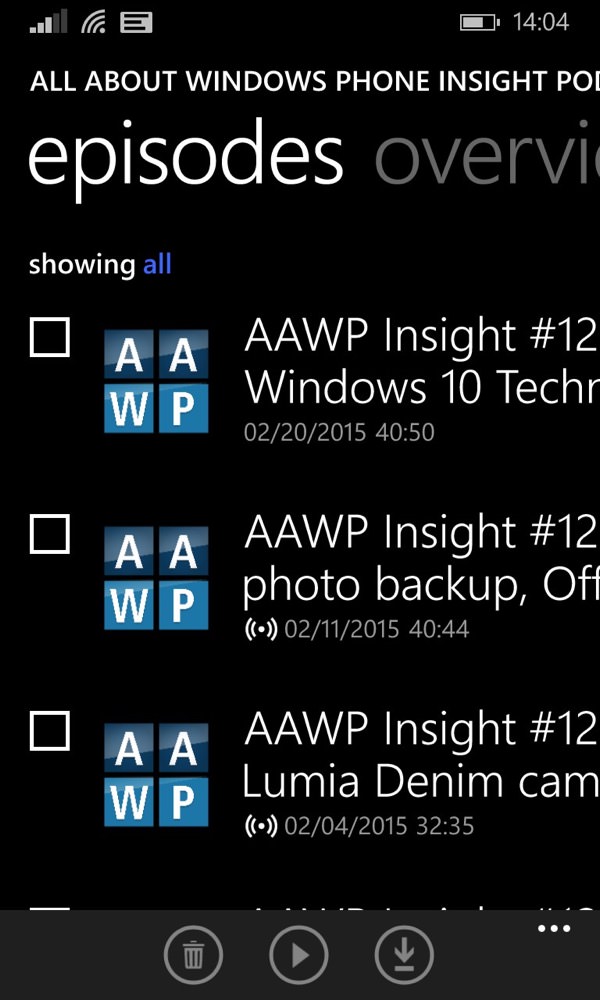 So much that's 'new' - dive into each podcast and open up 'select'...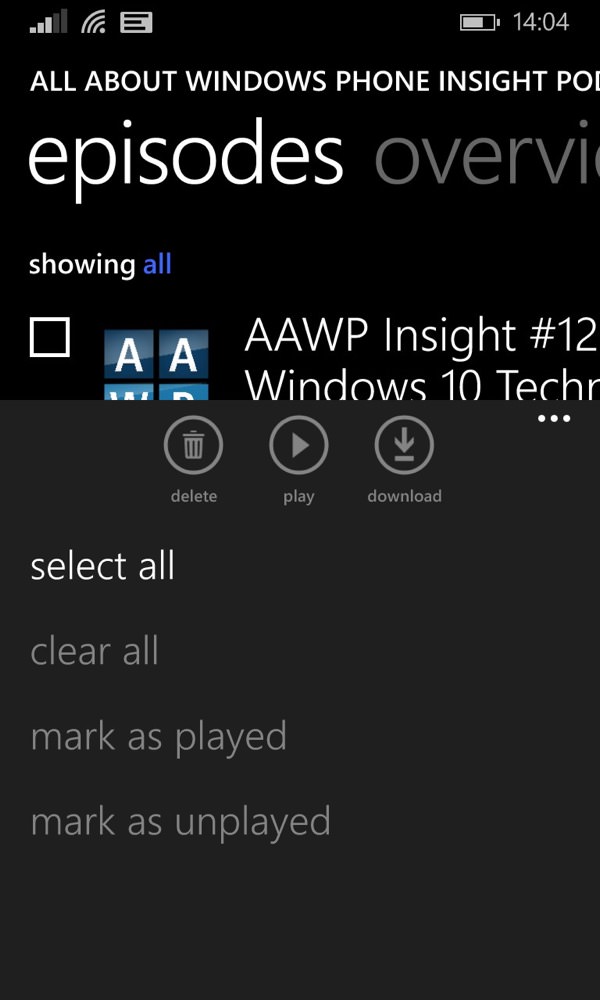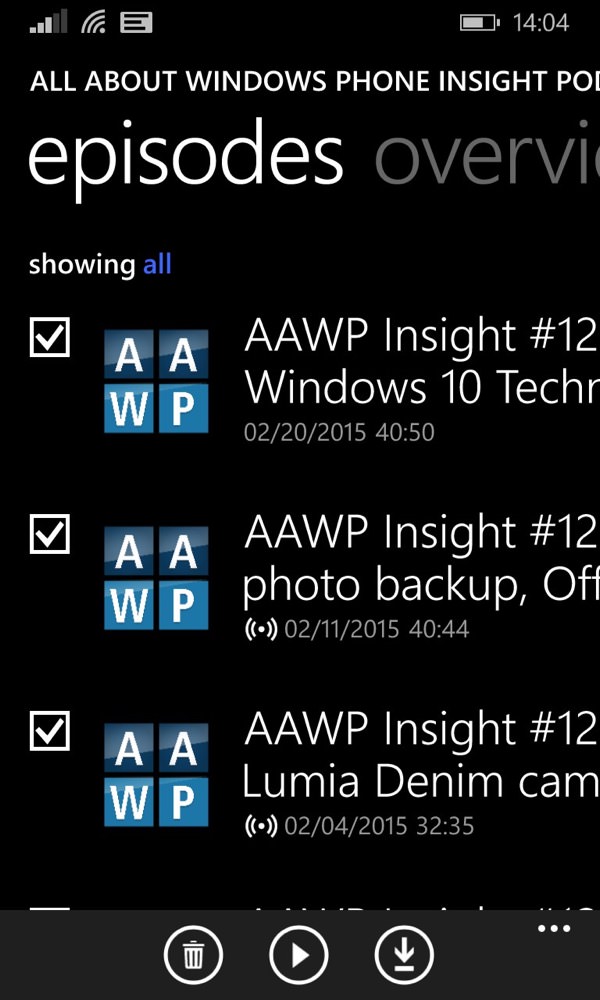 Use the menu again to 'select all'...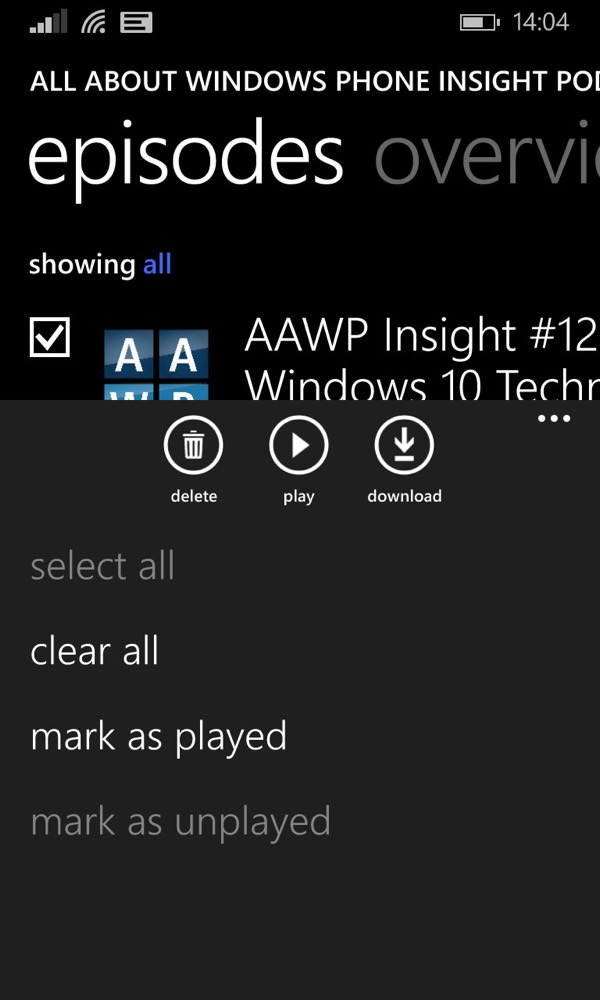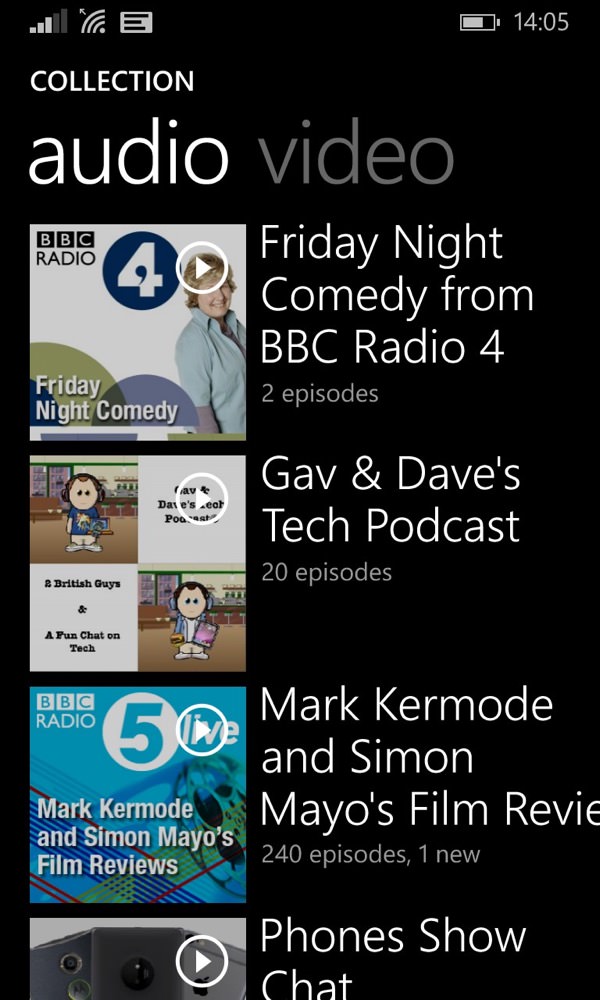 ...then the menu for a third time to 'mark as played'; (right) seeing what's genuinely 'new'...
Later, in the 'audio' (or 'video') 'collections pane, you can then see any new episodes clearly (e.g. '1 new').
4. Don't worry about how to get to the app
I've experimented with various combinations of tapping on a Start screen shortcut to Podcasts, versus using the multitasking (long press on 'Back' button) carousel, and there seems to be no discernible difference. Now, most of the time, the currently playing podcast will be available on Windows Phone's audio player controls (i.e. press a volume button to see these pop-up), but if not or if you need to change shows then Start screen shortcuts or the carousel or the entry in the main applications list are all perfectly valid and equally good ways to get back to Podcasts.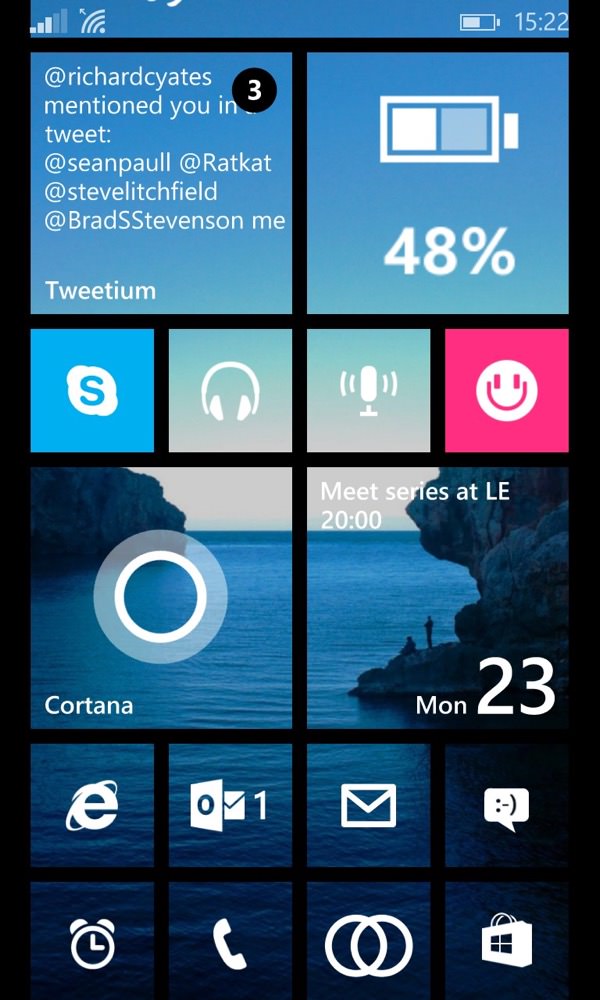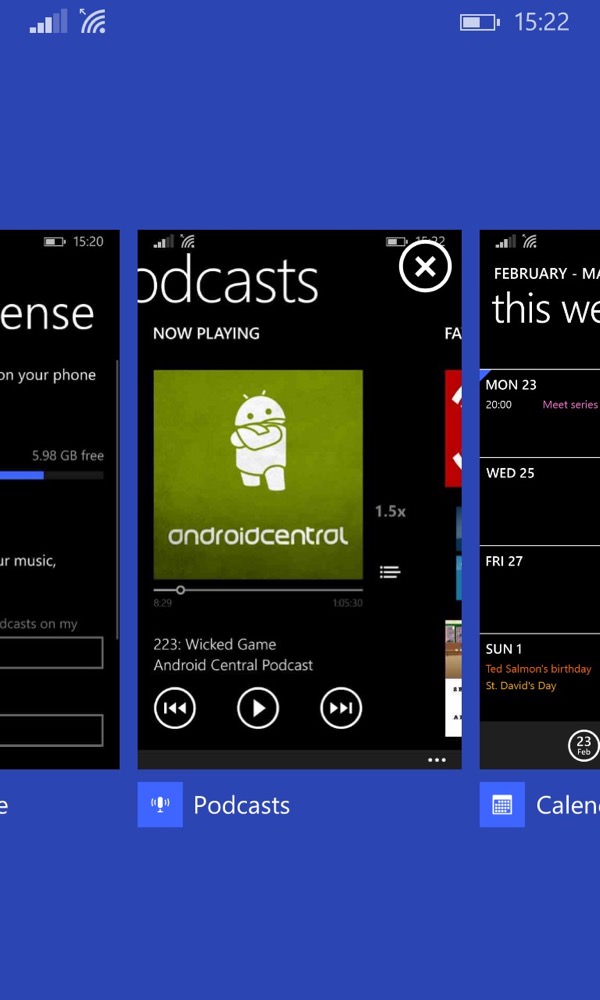 5. Make use of the various playback speed options
Podcasts is tied into the OS rather more than third party applications and, as such, seems to have an extra edge in that it can play at 1.5x and 2x speeds if needed. Try speed-listening in this way by tapping the speed indicator in the main playback view - it's not a cure all and does depend on the podcast, but if you're really in a hurry and just want a flavour of something slow then knock yourself out...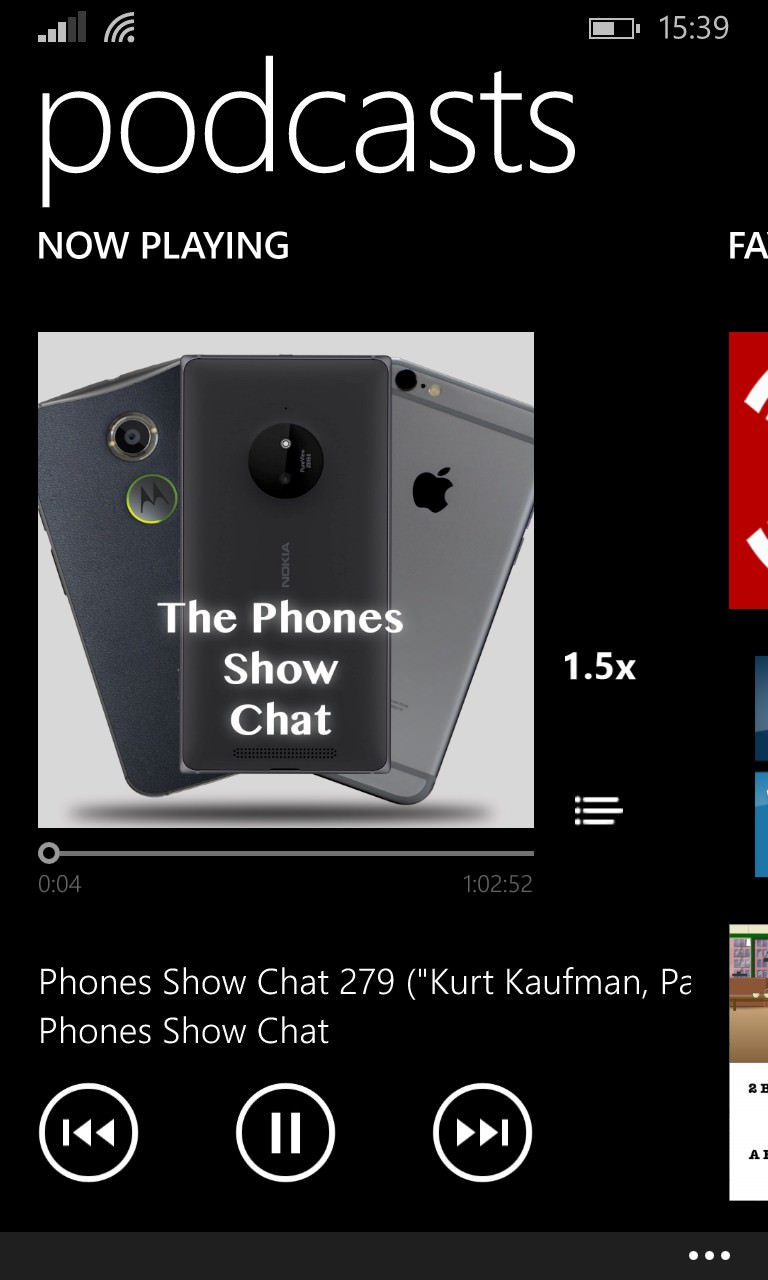 ______________
As with all the other best podcatchers, Podcasts gathers podcasts for you in the background. I'm honestly not sure what the time interval is in terms of downloading, but I've been using the app exclusively for a week now and haven't been able to catch it out.
Hopefully you'll now give one of Microsoft's newer Windows Phone applications a try - or a second chance?
PS. One other function not in the main UI of Podcasts is a 'clean up' operation - partly because it's not really needed. But just occasionally you might need some internal storage in a hurry - in which case note that in 'Storage sense' under Windows Phone 8.1 and above, you can tap on 'phone' and then on 'podcasts' and then 'manage'. This brings up a previously hidden view of all your podcasts, sorted in various ways and you can then select any or all and delete them in one go. As I say, handy in a space emergency!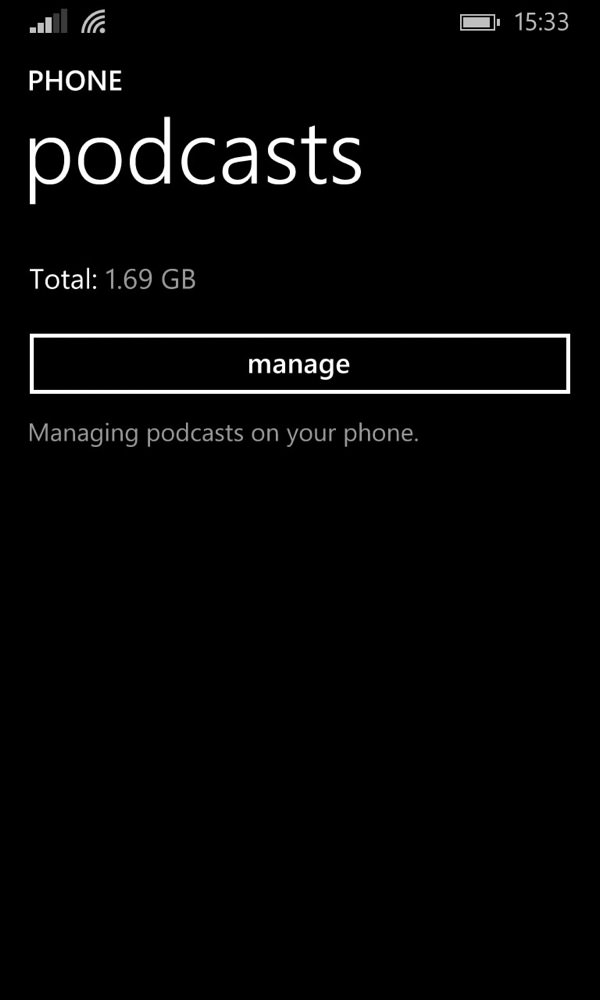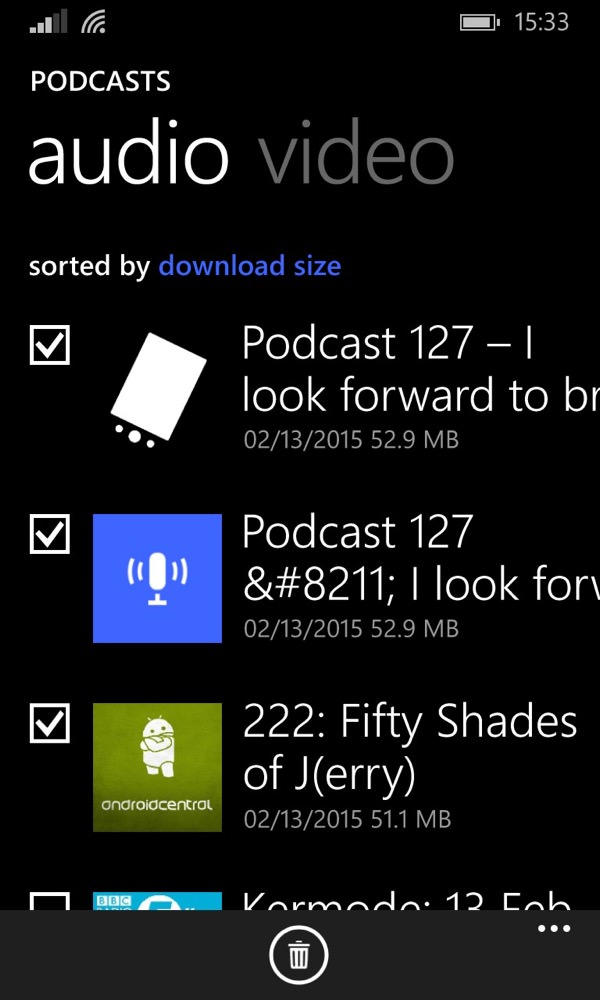 Hidden in Storage sense is this extra management interface for Podcasts....