There are multiple translation engines online, from the major players in the tech industry, of course, driven at least partly by the need to understand various language versions of queries spoken to the various phone assistants. There's now a lot of natural language data in most languages and translations based on this are available, mainly in the cloud, but also here in more limited form offline, to assist you when travelling with your phone.

The best bit about the application, here in the Windows Store for all compatible smartphones, is that input can be via text, photo or, most usefully, voice. This makes it tremendously flexible and, a suitable data package notwithstanding, means that you can exist in a foreign land (or entertain someone from another country) without having to know the other language at all.
Well, in theory. As you'll see below, results are rarely perfect, but it's better than having no way of communicating at all. I'd still recommend a little learning before travelling, as you'll get a lot more from the other country's culture that way, but at a pinch then Microsoft Translator on your Windows Phone will do the job.
And, when you're pressured and stressed, it's a right pain to have to stop and type things in, while the foreign national stands around impatiently. Far better to use the voice feature here and show the other person how the phone application can be the go-between. Here's a typical exchange, one person speaks, the translation is displayed (or spoken), the double-arrow control is used to switch the direction of translation, and then the other person speaks, and so on. No typing needed, and in theory it's fast and seamless: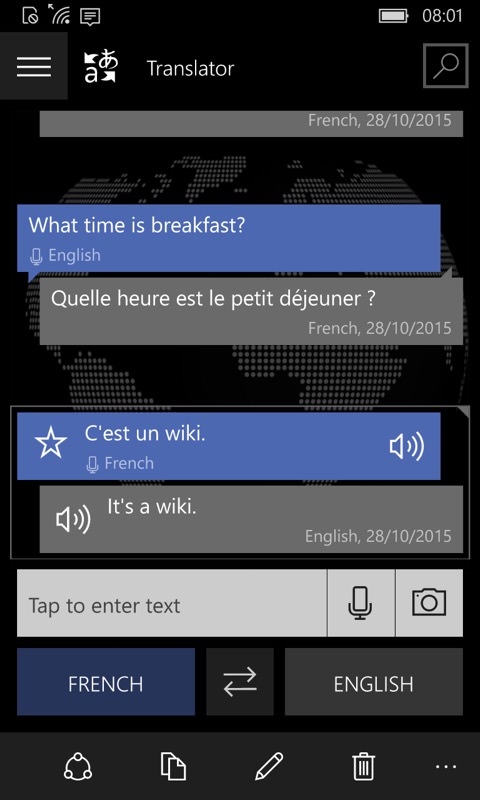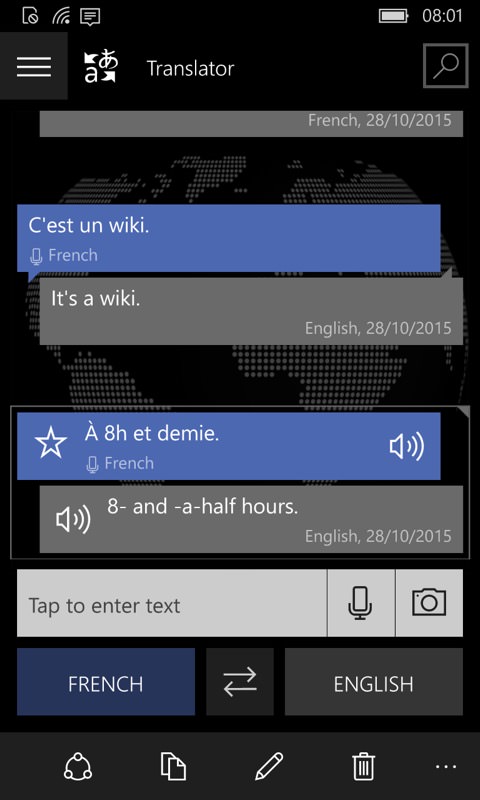 So here's a typical exchange, all done with voice, mocked up with my wife and I. (I'm not telling you which of us was speaking french!) "A huit heures et demie" somehow became "C'est un wiki", which is almost surreal in its wrongness! But trying it again got close enough for understanding, as you can see! The important thing here is that it's all done with voice, even tapping on the little speaker icons in order to deliver the translations via audio.
We persevered, here are a couple more examples. The dual "for/four" confused Translator at first, but speaking slightly more slowly made it easier for the service to parse. "Non, vous devrais attendre" below got mangled at first, but that might be down to our terrible french accent and, again, a second attempt with clearer enunciation got much closer to an English phrase that was understandable: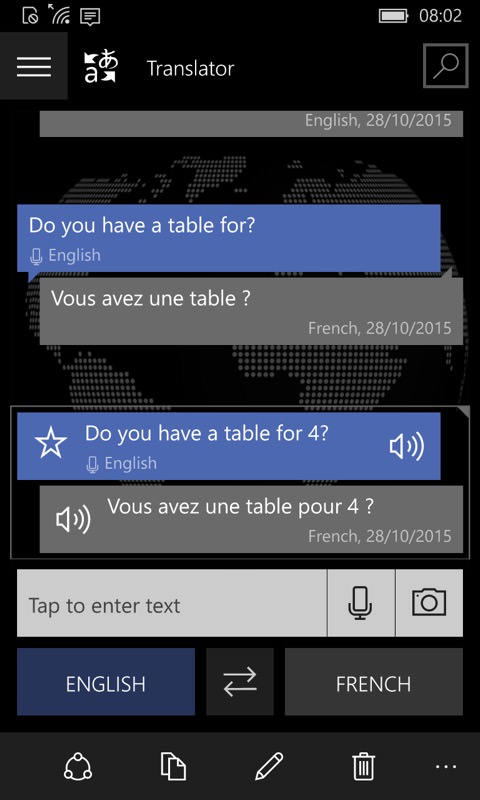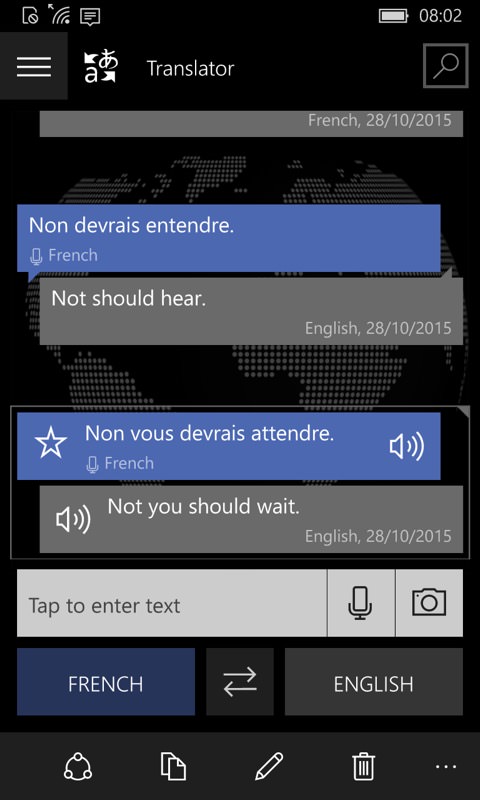 Tapping on any language brings up the selection box for switching to another tongue, of course, along with the option to download offline packs - as the small print below says, do note though that offline translation is much more limited, relying on local processing, whereas if you have a data connection then the full power of Microsoft's servers can be brought to bear. Still, if you're in the middle of nowhere and with no connection then an offline pack is better than nothing. Also, note that there are several dialects available for each language - not down to 'Geordie'/'Scots'/whatever level, sadly (yet), but with some international variations allowed for: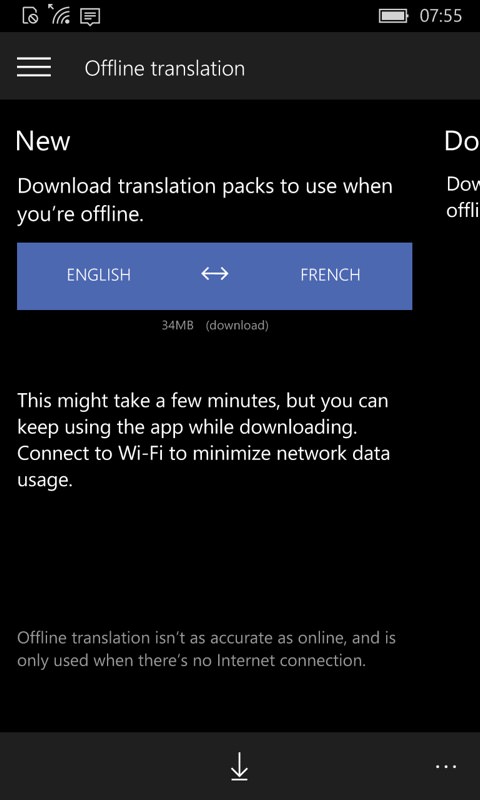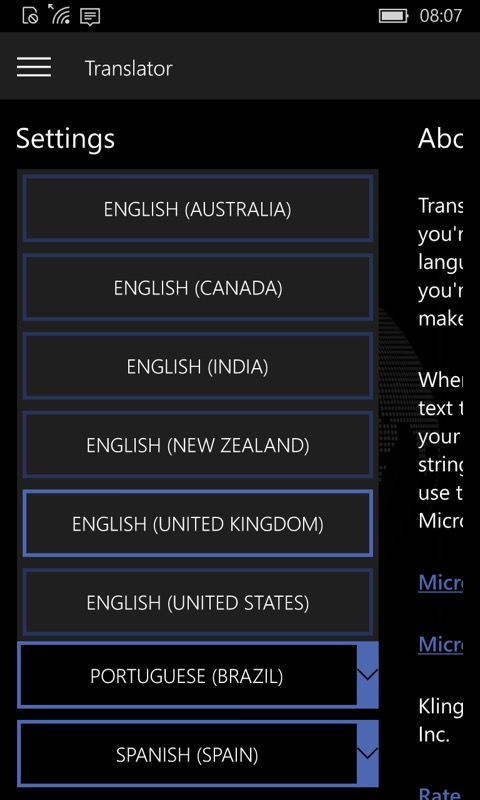 Also useful without doing any typing at all is being able to translate foreign text in real time, on-screen. Just tap on the camera icon and point the phone towards a sign or notice and you'll get a rough translation of what it means: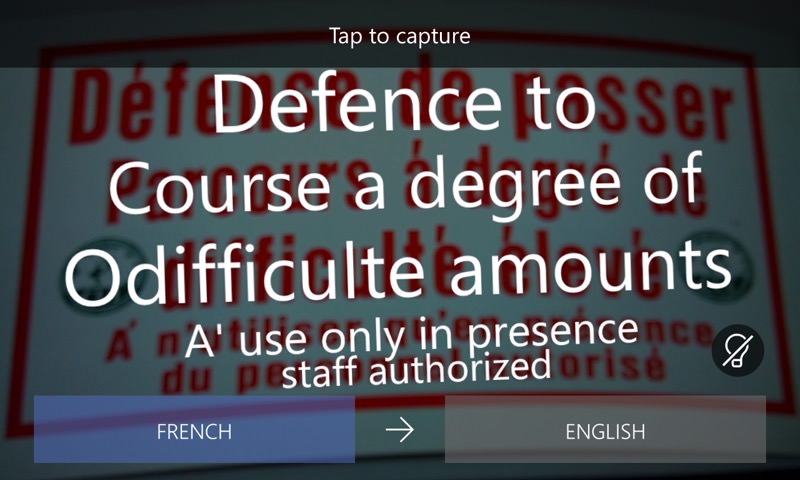 Unfortunately, and in the spirit of this being as much a review as a tutorial, the very nature of signs means that they're terse and abbreviated in the first place, so translations often don't make sense. As in the example above, something to do with a route being not recommended if you're not good with heights? But it's certainly fun to point Translator on your Windows Phone at signs (or even adverts or magazine articles) and see what pops up. If anything, Translator does a better job if there's more text to process, and it does it pretty quickly, thanks to the power 'of the cloud':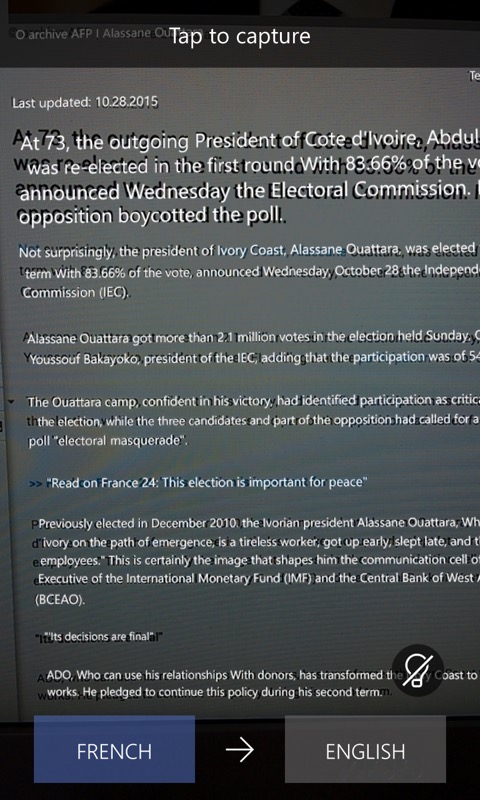 It's a useful facility, though the arrow in the interface above isn't a control in the same way as for voice, so you have to tap on the language name instead, if you want to change it. A little consistency here would have been nice.
The range of languages is very impressive, though note that not all of them have full 35MB offline packs available for download. Also worth noting is that there's a search facility, top right in the main interface. This isn't a dictionary search of some kind but is more useful, in fact, looking through things you've asked (and have had translations done for) in the past: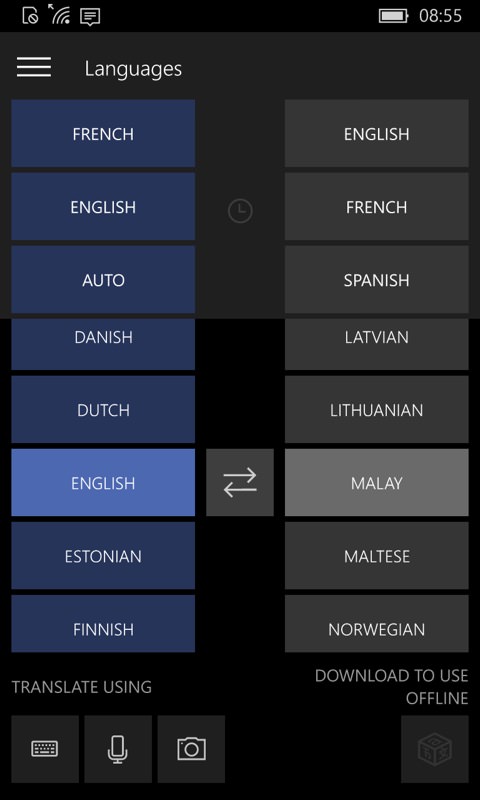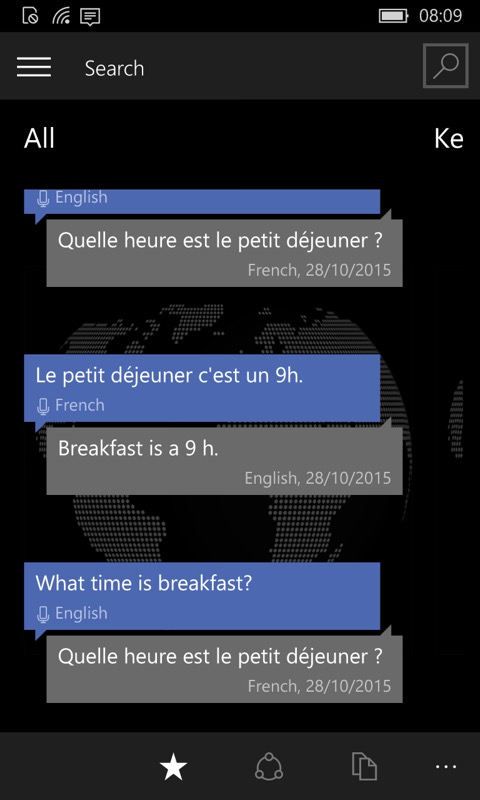 So that conversation you had with a French receptionist a few hours ago about breakfast? It may have scrolled way off the screen, but a simple search brings it right back, to save you asking the same thing over and over again.
There's more to Translator here, of course, but I've covered the basics and hopefully given you enough inspiration to give it a try, given that's it's a free download for everyone. Again, the results are rarely perfect and even a passing knowledge of the other language will get you further in real life than an app on a phone, but hey, it's a damn fine last resort and it's a no-brainer to keep installed ready for a language-related emergency.

d