They don't call it the bleeding edge for nothing. While most of Windows 10 Mobile Redstone branch (14xxx) worked fine, there were some showstoppers that really annoyed me when trying to use it on my main smartphone. In this case the Lumia 950 and the problem was that the media controls are horribly broken. Podcasts would be playing but with the control showing them paused, and vice versa, music wouldn't start when I wanted it to, and so on. Plus Tweetium still kept crashing and forced me to use other Twitter clients. I know, I know, first world problems for sure, but I wanted to live for a while back in the safer clutches of the Threshold world, where the riskiest builds are 'Release Preview' and thus only one step away from being released to Joe Public.
Here's how I got on. Feel free to join in at home!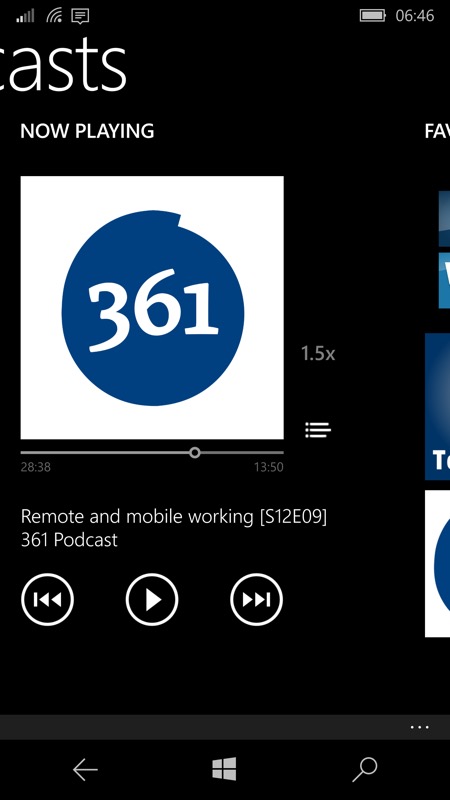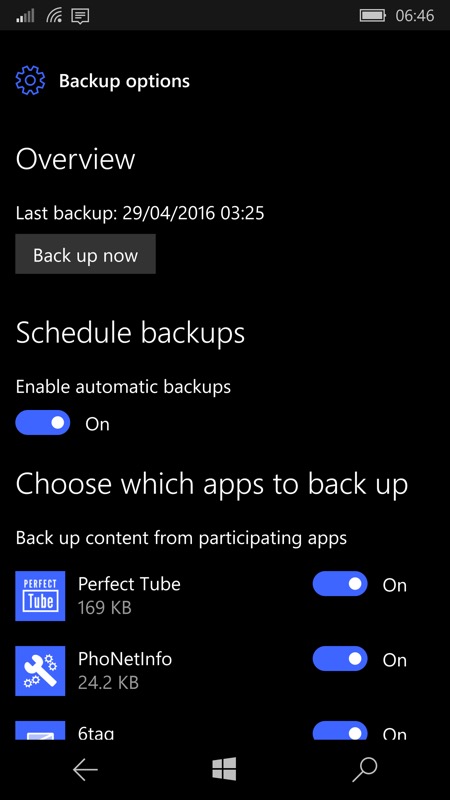 1. Make sure you have a good backup. These are done automatically with Windows Phone and Windows 10 Mobile, but it never hurts to pop into Settings, as shown above right, and do an extra incremental backup, so that your apps, settings and data are bang up to date on Microsoft's servers.
2. Start the Windows Device Recovery Tool on your PC. You can't just 'reset' the phone, since you flashed a new OS when you last upgraded it, effectively. The old OS version is long gone and needs replacing wholesale.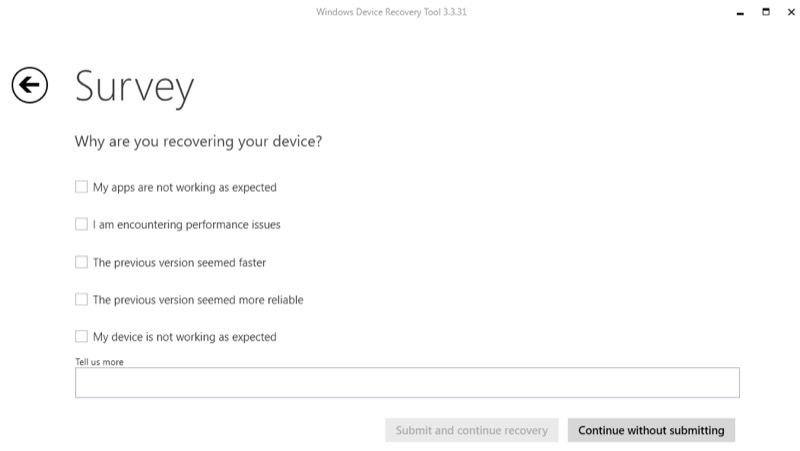 3. Select your device and accept the suggested official firmware/OS. Microsoft will pop up a survey but you don't have to pick an answer - as a Redstone Insider going backwards, I think it might confuse Microsoft if you did!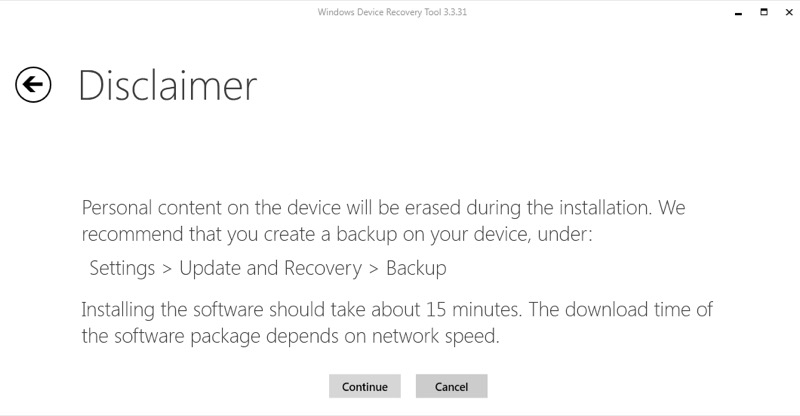 4. Click Continue and wait while (in this case) almost 3GB of operating system image is downloaded. This may take a while! The dialog reminds you about a device backup and, given that this happens to the cloud, there's no reason why you can't do this step (uploading) while the OS image downloads on the PC.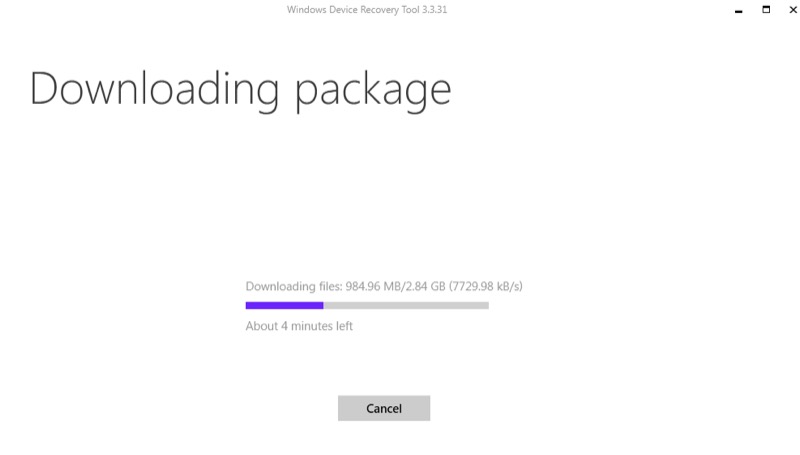 5. If there's a problem, don't panic. Follow the instructions on screen. In my case, and what I suspect is typical of a device with the latest, relatively untested Redstone OS build, the Device Recovery Tool didn't play ball with the phone and I ended up following the button-holding instruction below: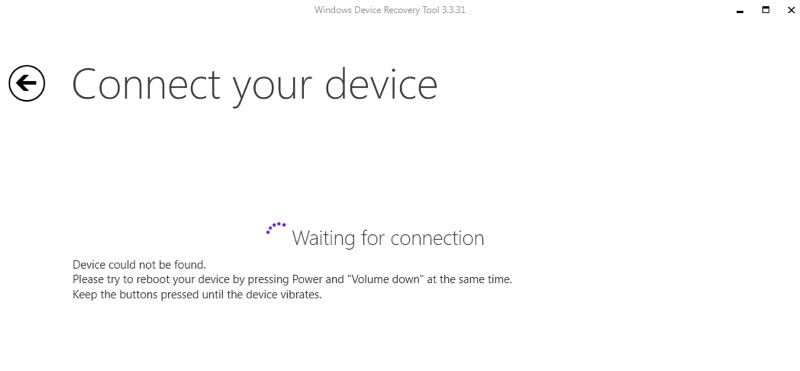 6. When recognised, click on 'Install software'. After the suggested long press reset, my Lumia 950 came up (as yours will) with just the generic 'Lumia BootMgr' as the model, though the tool seems to remember which device firmware is needed and offers it anyway. Don't worry, you don't have to download it all over again, Windows keeps cached copies of recently used OS images...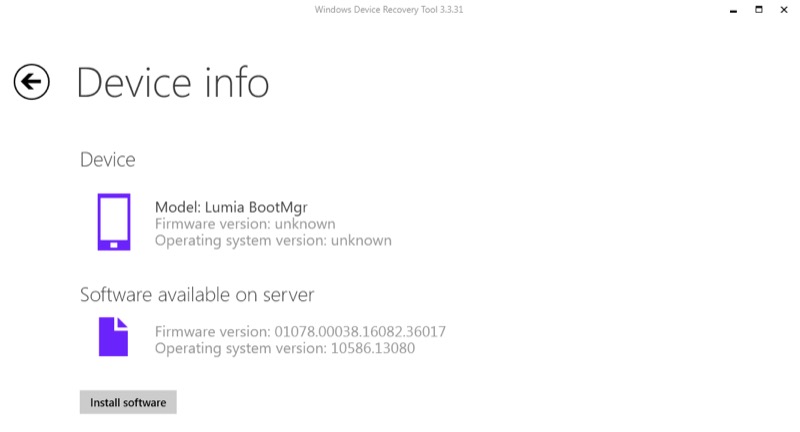 7. Wait while your phone is reflashed with the new OS version: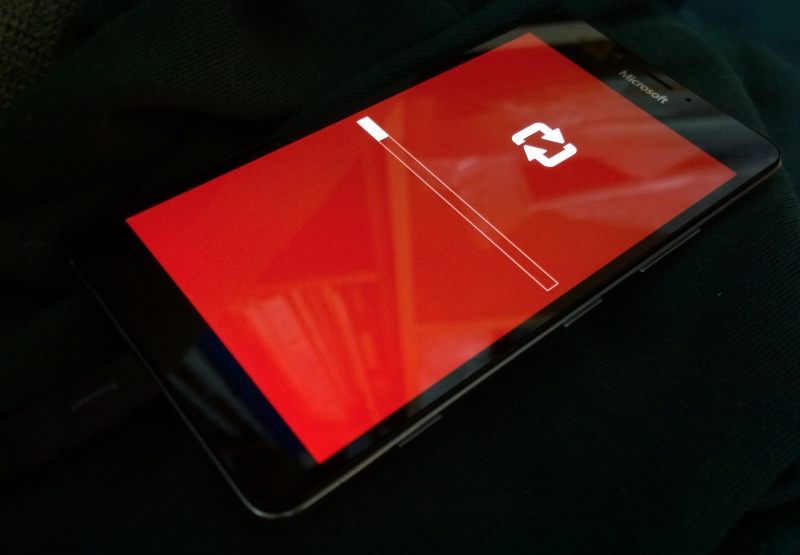 8. Go through the usual startup sequence on the phone, signing in and choosing the suggested (most recent) device backup when prompted. Not all the Redstone settings are compatible with the older 'Threshold' OS version and so you'll see an error message during the restore process: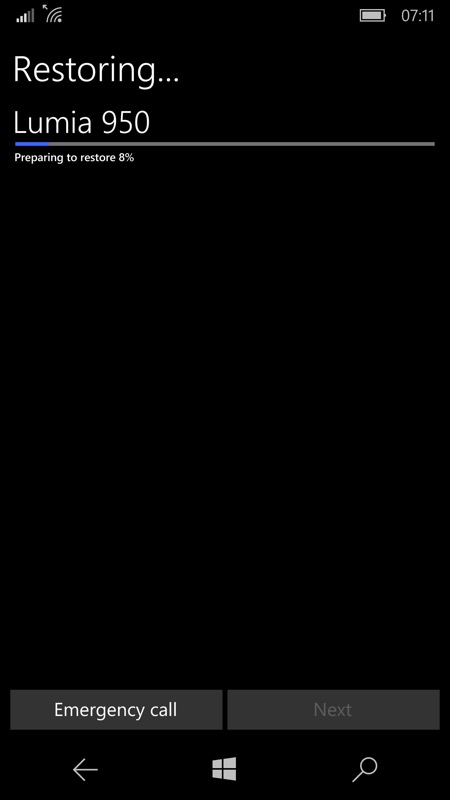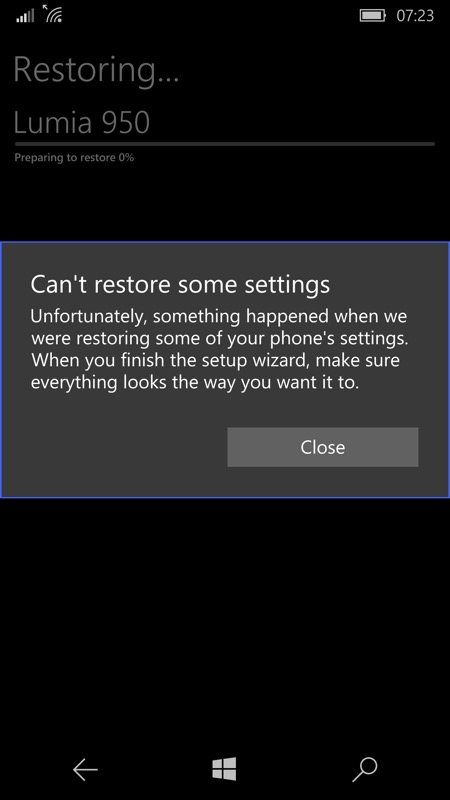 9. Press on and exercise patience. After the 'Restoring' progress bar has completed (this takes about 15 minutes), you're still faced with at least an hour's application installs and updates, all of which happen in the background. So you can use your phone for the essentials while the installs happen, as long as you're in range of Wifi. Do note though that some of the installs require a restart, and that one of the core application updates is the Store itself, so it pays to babysit the whole process and keep an eye on things. So pop back every 10 minutes and see how it's getting on!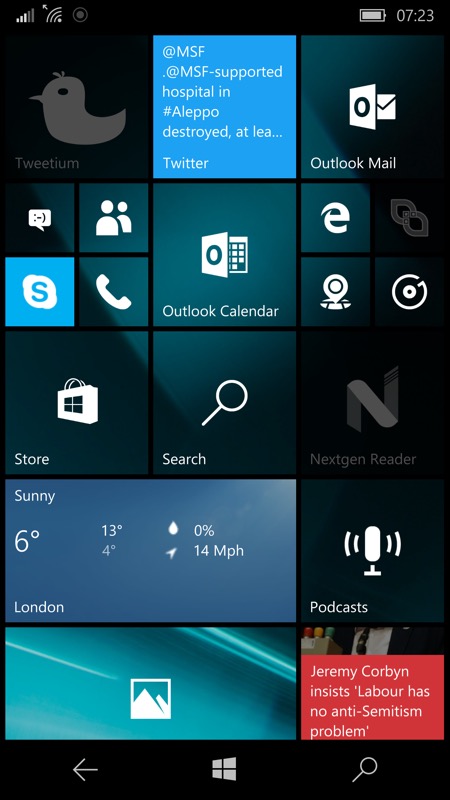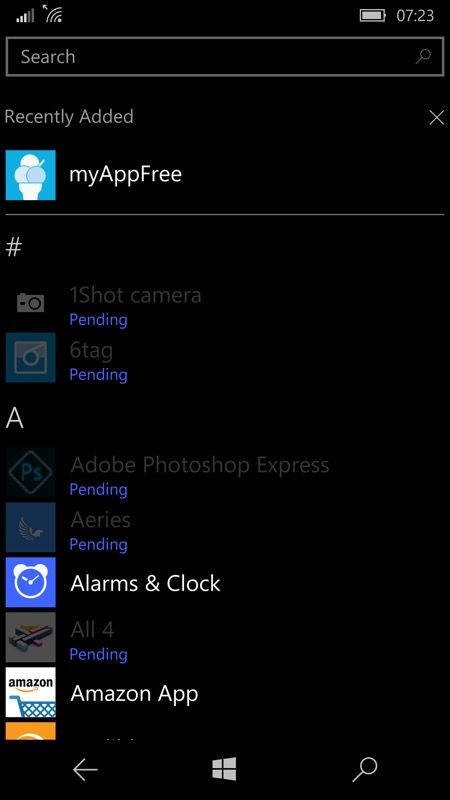 PS. In my case, once all the above was complete and I was fully back in action, I opted to take one step back into the future, by putting on the much safer 'Release Preview' build for the Threshold branch, but that's the usual very simple step of installing the Windows Insider application and trying to avoid the temptation to tap on either 'Fast' or 'Slow'... I managed. This time!