The FIA are very protective of the intellectual property for their sport - so anything with F1 or 'formula one' in the name gets stomped on quickly in the various app stores or on the web. Then there's all the very detailed timing and the mass of real time statistics for each race, all of which are controlled by the FIA and made available only to licensed outlets. Such as the TV companies or, in this case, their own 'Formula 1' UWP. It's slick, it's colourful and only occasionally confusing, but it's well pitched in terms of drawing people in to signing up for the F1 Access service, which unlocks more than half the functionality.
Here's the official blurb:
Live the excitement of the 2016 Formula 1® season with the Official F1® App: the best way to follow your favourite teams and drivers with news, video and live race features. Follow F1® absolutely free on your Windows device with:

Live Race Leaderboards (limited)
Latest news and videos
Post-race highlights
2016 Schedule, Team and Driver Standings

With an F1® Access annual or monthly subscription, the Official F1® App offers the premium digital race experience, with features including:

Official Live Timing of all F1® sessions
Sector times with intervals and gaps, live tyre and pit stop information
Interactive 3D maps with driver gears and speeds, plus Drag Reduction System (DRS) usage indicator
In-Corner Analysis comparing drivers' entry, apex and exit speeds
Immersive dashboard with text commentary (English, French and German), and English audio commentary during all F1® sessions
Team Radio Transmissions and Race Control Messages
Personalisation Options and more!
At which point you might wonder why I didn't sign up for a month's worth of the service, if only to give this feature the full depth? It's not about the small amount of money, I'd have been very happy to buy in the Store - here, it's about directly giving the notoriously greedy FIA my private credit card details - this is no in-app-purchase, you're taken through to the wider web and a credit card sign up system. And that just felt wrong on both levels. Sorry.
However, there's still quite a bit to see in the free version and I wanted to see how far I could push it. Plus there's also this one-man-developed third party unofficial application, PitlaneOne, which deserves all the plaudits and which I also show off below.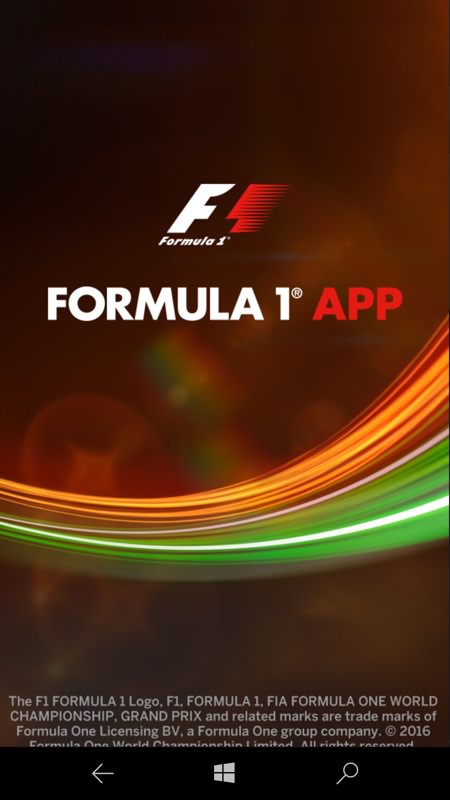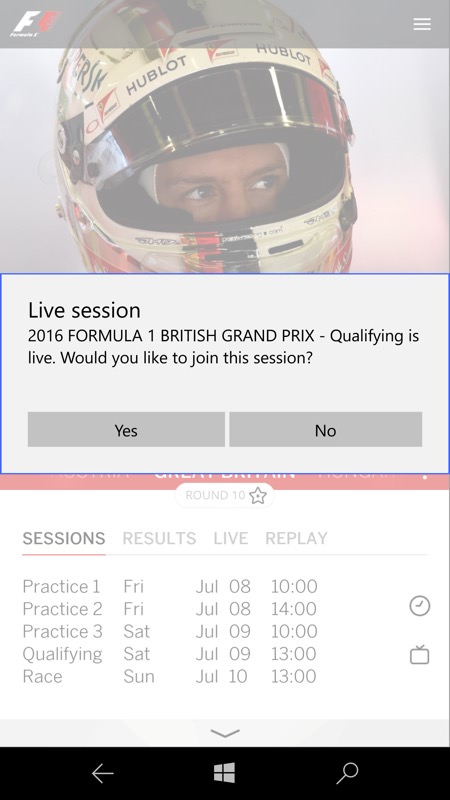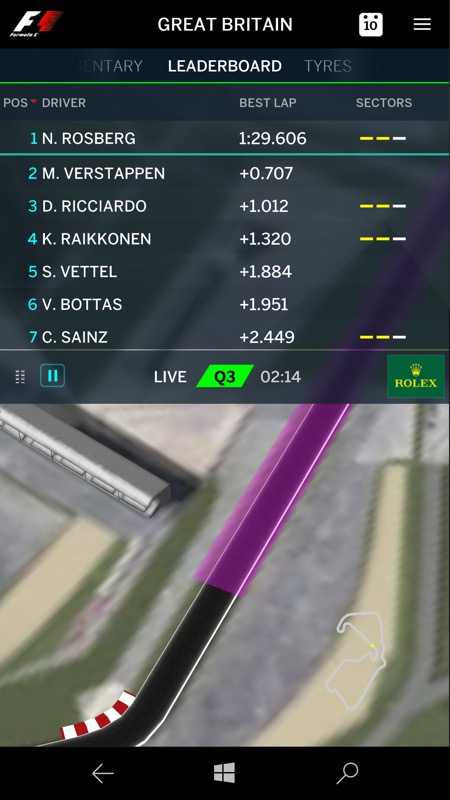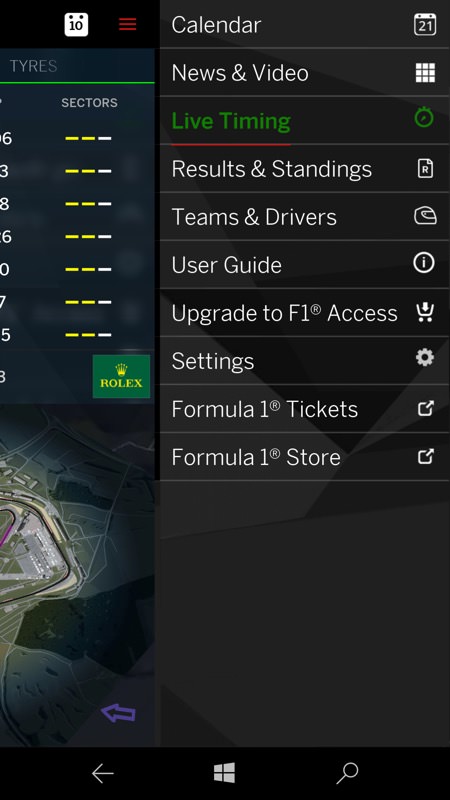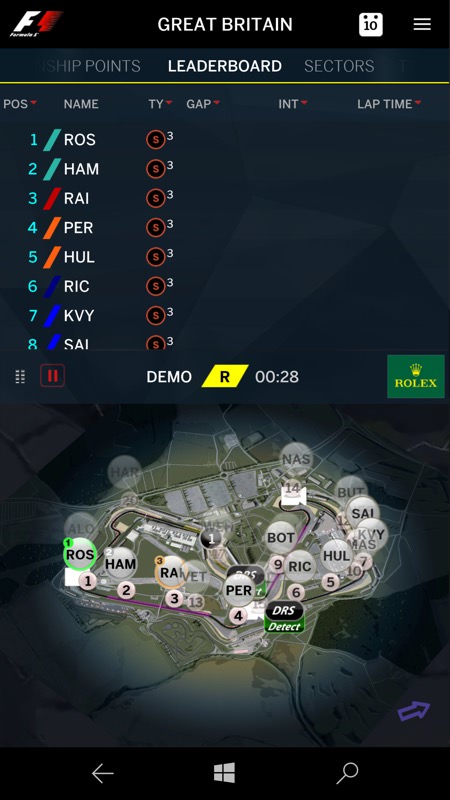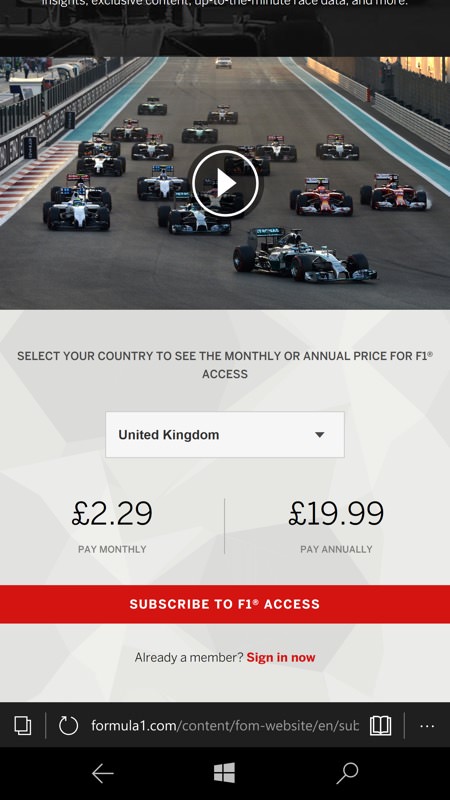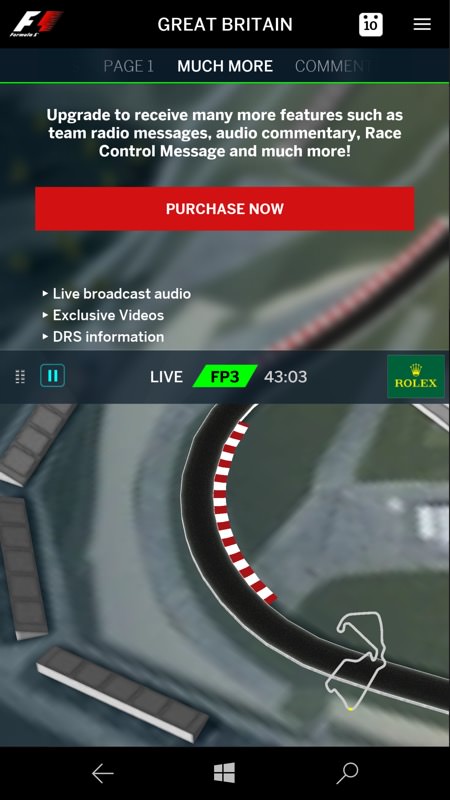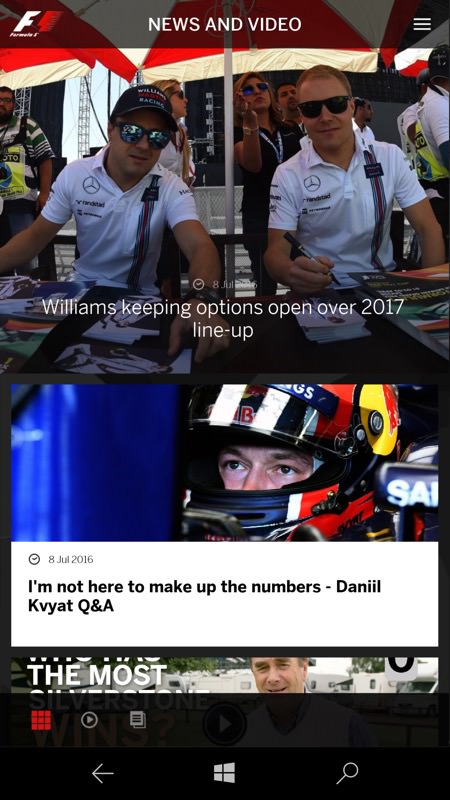 And now to the free (well, beer-ware!) contender. PitlaneOne's blurb says:
Follow the Formula 1™ season with PitlaneOne. The app provides everything you need to stay up to date during the year in an easy-to-use user interface optimized for Windows 10, Windows 10 Mobile and Continuum.

NEWS - Set up your favorite news sources to get all F1™-related news. Read them either in your default browser or directly in PitlaneOne.
DRIVER and TEAMS - Find detailed infos about all driver and teams and mark your favorite ones to have them highlighted in results and standings.
RACES - Do not miss any race with the calendar in PitlaneOne providing all race and track data, start times, a countdown to the next session and all results.
STANDINGS - Find out who is leading the Driver and Constructor Championship.
LIVE - Follow sessions live on your phone if you cannot watch them with the unofficial live scoring, live comments and additional data.
Let's see how this pans out in practice (see what I did there? Oh wait, this wasn't Practice, it was Qualifying... I'll get my coat....)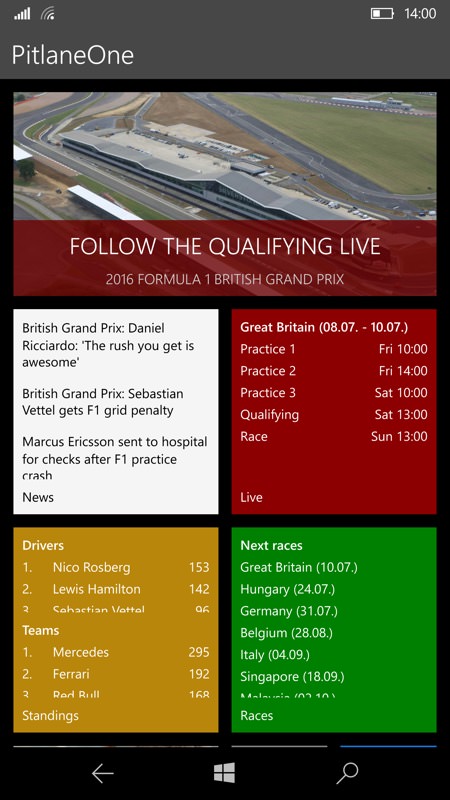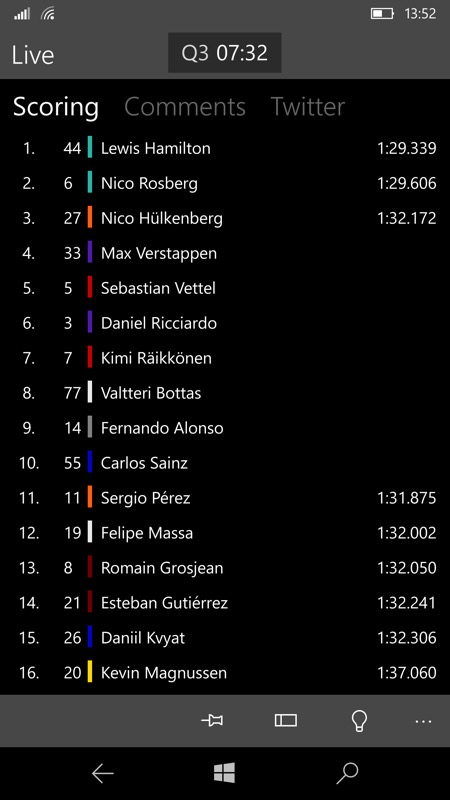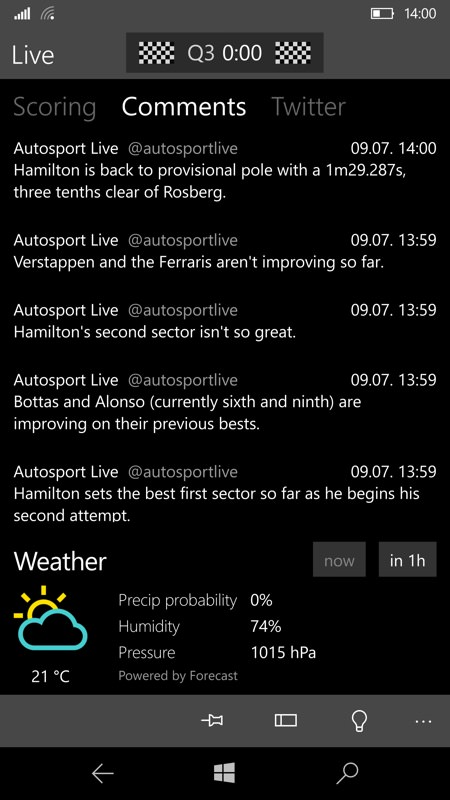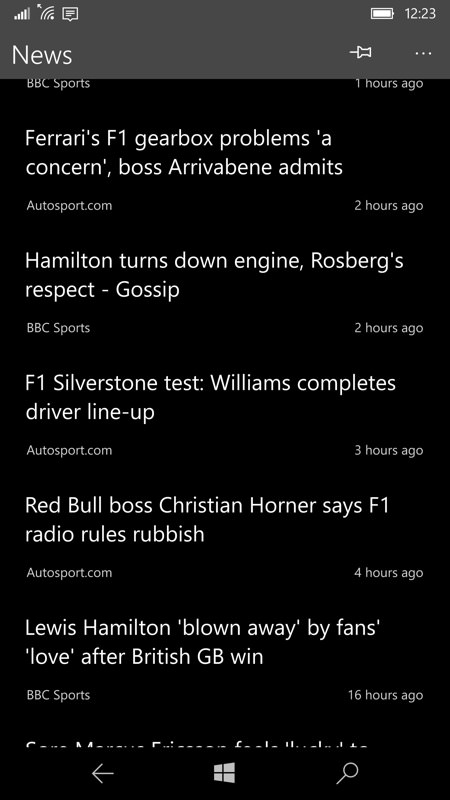 Happily, it turns out that there's a solution here for everyone. PitlaneOne is perfect for the casual F1 fan (like me), adding extra real time and other reference information for free. While the official Formula 1 application gives a taste of its look and feel and then you can follow the FIA down the subscription rabbit hole if you're happy to do so. In which case you gain arguably more information than even the commentators on TV have. All from your sofa.
Comments welcome - where do you stand on following F1 on your Windows 10 Mobile phone?