I'll come back to the Xperia 5 ii in due course next month, when I want to return to why it has ended up as one of the smartphones in my primary rotation. But for now, just note that the lack of Qi charging has been the biggest frustration. And unforgiveable if Sony is reading this, at an RRP of up to £800.
Still, we're here to fix this. For this implementation, I used the MyMax 1.3A version, still on Amazon for £12. It comes with a 3M sticker that you can choose to use to attach the coil to the phone to stop it moving around too much within a case, but I didn't really want to put stickers on my precious Sony's glass - you know what stickers leave behind when you eventually 'un-stick' them!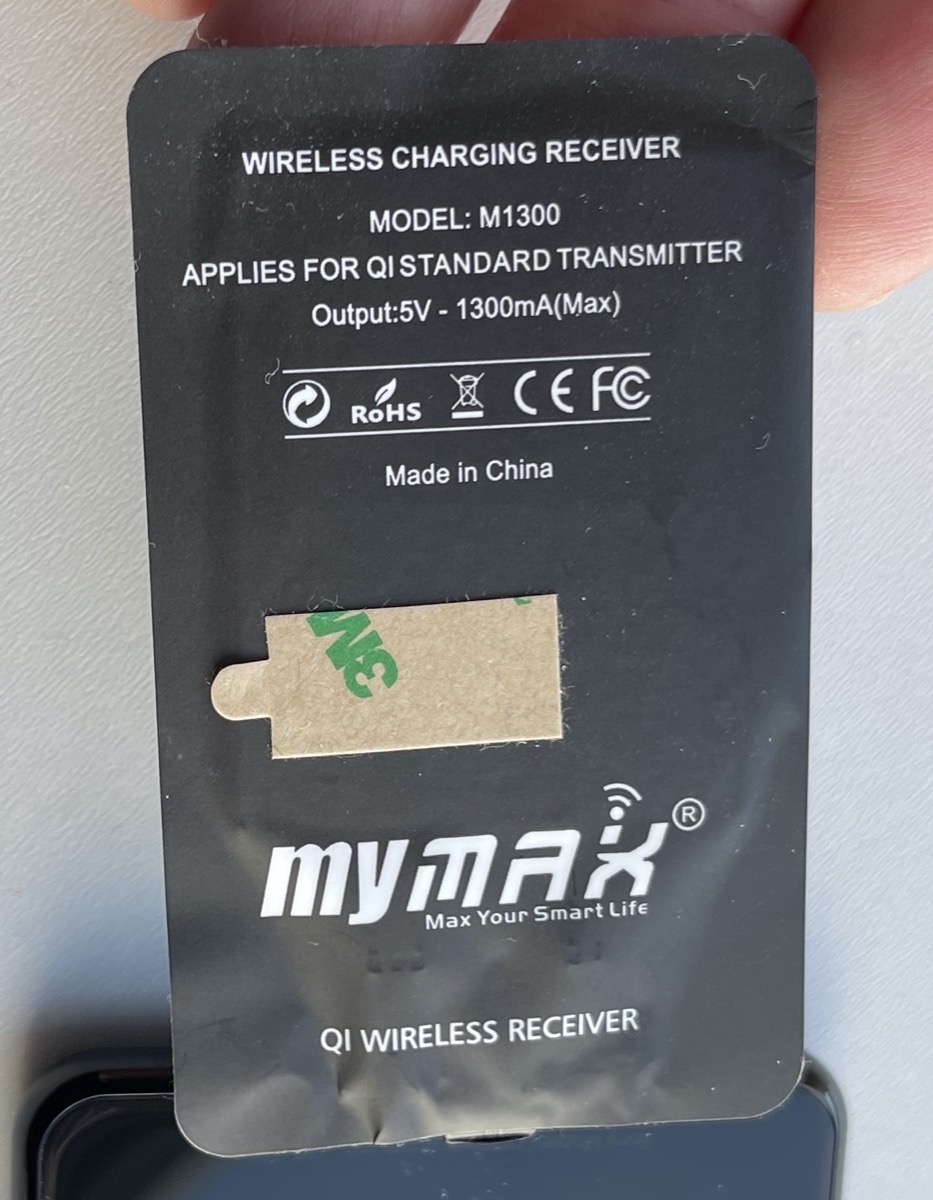 From my earlier article, some background:
The first smartphone that featured Qi charging out of the box was the Nokia Lumia 920, back in 2012, and ever since wireless charging has been a staple that most of us have required before considering a phone purchase. Making it ironic that the flagships that now support it have dropped other 'staples', including 3.5mm audio and microSD expansion, while lower end and mid-rangers have the latter but not Qi. But wait, there's an easy way to add Qi to any smartphone and I thought a reminder was in order...
You see, at heart, Qi charging is just about a thin coil that accepts electromagnetically induced current and passes it to a battery charging system. So why not have a standalone Qi coil with a ribbon cable and 'flying' Type C connector, for plugging into a phone's bottom port? Why not indeed? It sounds cumbersome, but once you factor in most phones being better off with a TPU case of some kind then it all makes sense. The case keeps the coil in place and there's nothing to flap about.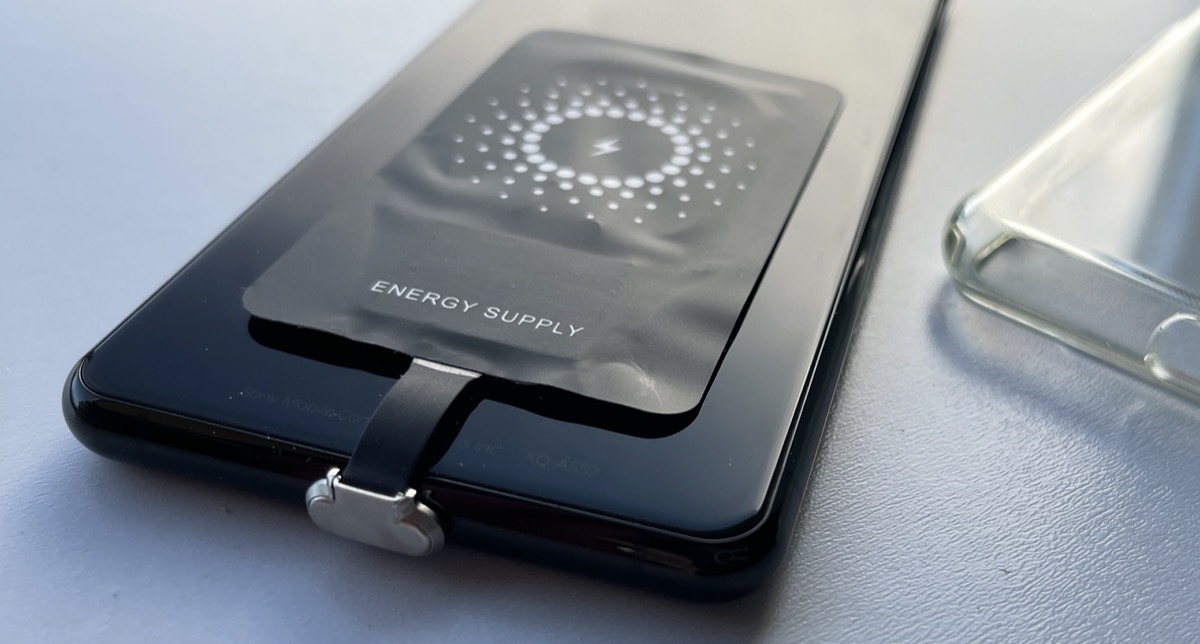 The Sony, like most modern phones, has a glass back and is slippery as heck. Meaning that it can only really be used with a grippy TPU case. I'm fond of clear ones, such as the excellent £9 Spigen example, shown below, with reinforced corners and face/back/corner drop protection.
Now, although the clear nature doesn't hide the Qi coil, I'm not too bothered, since I never look at the back of my phones(!) And there are opaque cases in a myriad of colours for every phone, of course, in which case you don't see the extra coil.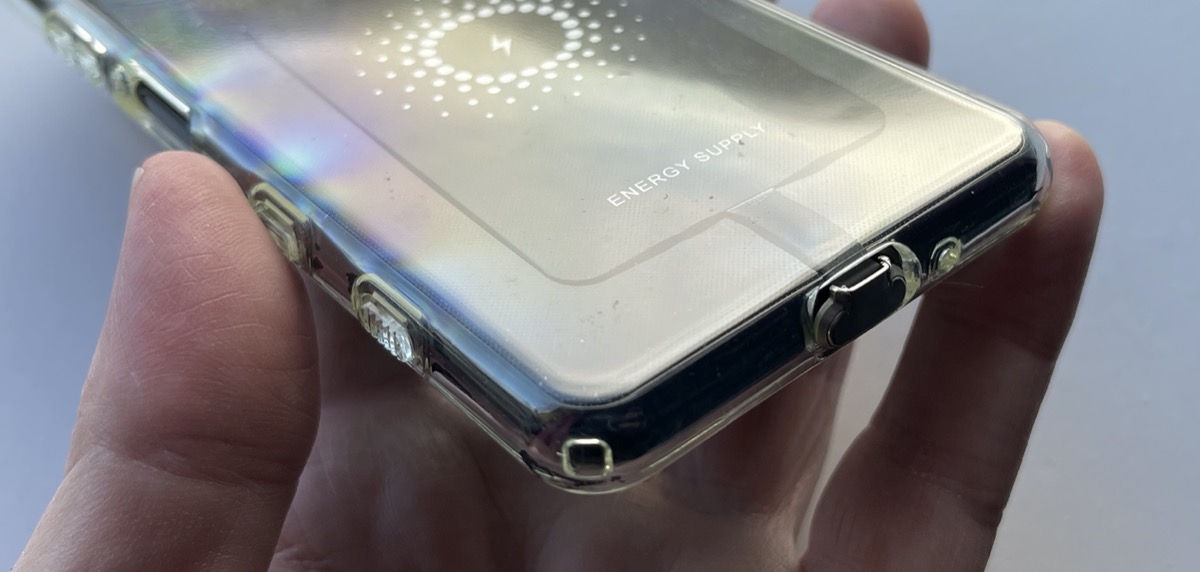 In use, the system works wonderfully - every time I put the Xperia down on my desk or in my car or by bedside, I place it on one of my (multi-coil) Qi charging pads and off it charges. With multiple Qi pads in one's life, it's easy to keep a phone topped up throughout most days, and all without having to reach down, find the charging jack and insert it (potentially adding wear and tear to the Type C connector in the phone).
The only downside is that, inevitably, the Type C port is filled, so the caveat is that if you're someone who plugs their phone into a desktop for wired file transfer most days then the hassle of taking the bottom of the case off enough to extract the coil and its connector will be too much, I suspect. Likewise if you're not sure that 1A (up to 1.3A if your Qi pad is up to it, here) Qi charging will be sufficient for your lifestyle and want to plug into a high current wired charger multiple times a week. In such cases, get a phone with Qi built-in, if you're desperate for this as well.
Multiple extractions did break my previous coil, testing it on a phone which had no 3.5mm jack, so I had to use a Type C adapter to listen with wired headphones, so it's clear that the ribbon cable at the plug end can't withstand too many bends. But on a phone with 3.5mm output (as on the Pixel 4a 5G and here on the Sony Xperia 5 ii), the only time you'd absolutely have to plug something else in would be when transferring files via MTP (etc.)
As before, the coil should work with just about any phone that takes Type C charging and, indeed, with any case. It's certainly brought a new lease of life to my Qi-less Sony!