Microsoft stated about the poll:
Welcome to the Windows Phone Feature Suggestion Box! Please vote for a feature suggestion or submit your own!

We've created this site as a tool to help Microsoft understand how customers use Windows Phone and we welcome your feedback.

Please note that the Windows Phone Feature Suggestion Box is moderated and is a voluntary participation-based project, and if your submission is not a product feature suggestion it may be removed. Please do not send any novel or patentable ideas, samples or demos which you do not want to grant a license to Microsoft. See the "Terms of Use" link below for more information. Please limit your suggestions to 25 words or less.

Also, be sure to check out all the features now available in Windows Phone 7.5!
As mentioned, you have ten votes which you can distrobute as you see fit. Once an idea you voted for is accepted by Microsoft, your votes are returned to you for giving to other suggestions. You can of course add your own suggestions, subject to moderation.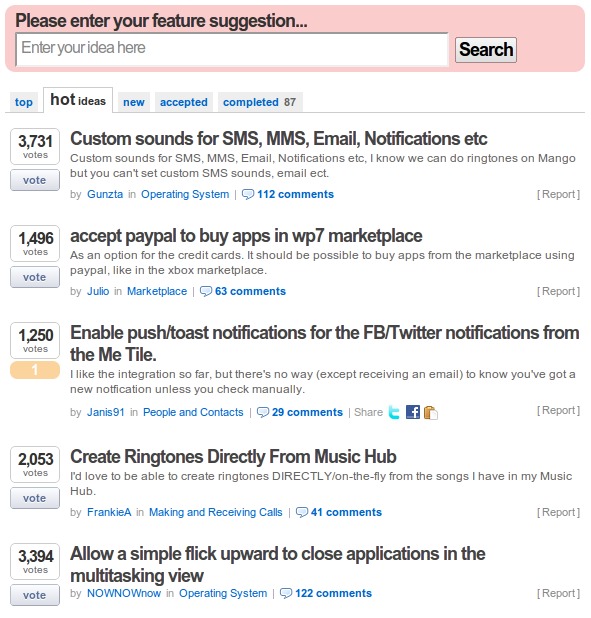 If you agreed with my recent article Is Windows Phone An Upgrade From Symbian, you'll be glad to know there is already a suggestion for USB mass storage compatibility. Similarly, there is also a request for user replaceable memory cards.