The SDK is still in beta, so naturally it's not finalised and fully tested, but there's enough on offer for Microsoft to be pretty happy with the release. You'll find tips on integrating AWS into your apps on the "Windows Phone Interoperability" section of Microsoft's website.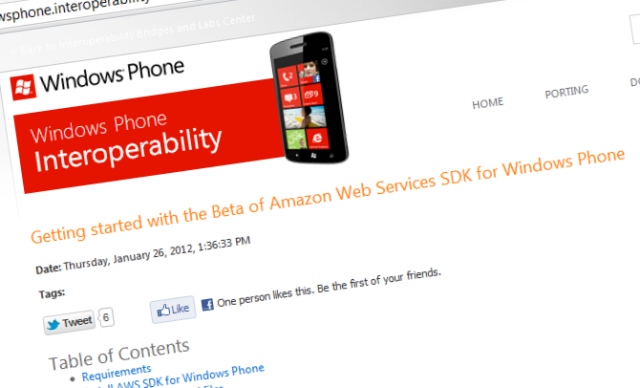 Amazon like the news as well. Terry Wise, Director of Business Development for Amazon Web Services:
Our approach with AWS is to provide developers with choice and flexibility to build applications the way they want and give them unlimited storage, bandwidth and computing resources, while paying only for what they use. We welcome Windows Phone developers to the AWS community and look forward to providing customers with new ways to build and deploy Windows Phone applications.
It's going to be interesting to see what developers get up to with this. The use of an alternative to SkyDrive will ease fears of lock-in, something simple like a full picture export might be on the cards. The other area that this could help in will be to port applications from iOS and Android that already use the AWS services.
We'll keep an eye on new apps to see who's working with the beta - if you do release an app, let us know!