The bundle includes:
The Nokia Entertainment Bundle is aimed at design-focused audio connoisseurs who want to rock, using their Lumia 800 as the hub of an amazing audio system. Whether you're on the go, using the Purity HD Headset or rocking out at home via your Play 360° speaker, you're going to be amazed at the audio quality that emanates from your system.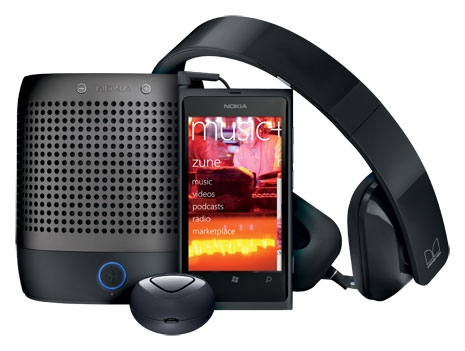 As an unsubsidised handset, the true cost of the the Lumia plus the addition of the accessories pushes the price up considerably when you put it next to the prices of Windows Phone handsets on the US networks, so I don't see this bundle selling in huge volumes. what it will do is give the Lumia 800 a powerful marketing display in the Microsoft stores, with the matching accessories creating a desireable package. That can only help build consumer awareness.
I'd also expect the Entertainment Bundle to be reviewed in many lifestyle magazines, and sending out a holistic package just increases the impact of both the Lumia 800 on its own and Windows Phone as a whole.