The chart below shows 'cumulative delight' (how well products meet consumer expectations) over a period of time, with the Apple iPhone 4S, Galaxy Nexus, Motorola Droid RAZR 4G and Nokia Lumia 710 compared. Argus Insights notes that the Lumia 710 is performing better than higher specified (and higher cost) competing devices.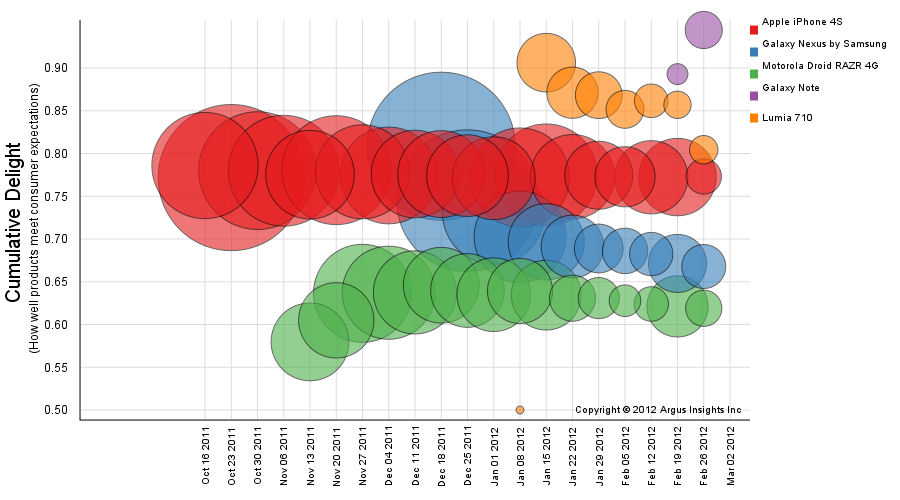 The post goes on to highlight that from the first six weeks of Lumia 710 sales on T-Mobile the feedback from customers is better than the iPhone 4S (previously regarded as something of a high water mark for consumer satisfaction).
In the latter half of the blog post Argus Insights goes on to note that they believe Lumia 710 users are "being delighted differently than most customers", suggesting Nokia is finding success with first time smartphone owners.
Most smartphone customers discuss using their smartphones as, well, a phone. Lumia customers are initially fascinated with the novelty of web surfing, music and games over voice services. We believe this is because these are consumers new to smartphones and are delighted by the extra features beyond what their tired feature phone provided. Now they can afford to play with the big kids with their touchscreens and data plans.
Argus Insights data is interesting because it ties in with the message that both Nokia and Microsoft has been pushing: people who try Windows Phone are delighted by it and Nokia's Windows Phone devices are receiving excellent net promoter scores (NPS - essentially a measure of how likely a person is to recommend a product to a friend).
How well early consumer delight translates into long terms sales figures remains to be seen. It does, however, suggest that Nokia and Microsoft have a strong product foundation in place and that future success will be dictated by the ability to entrench the products into consumers consciousness when buying their next mobile device. And that's something that will require not only an expanded product portfolio, but also the right messaging, clever marketing and full strength operator partnerships.
Via WMPowerUser