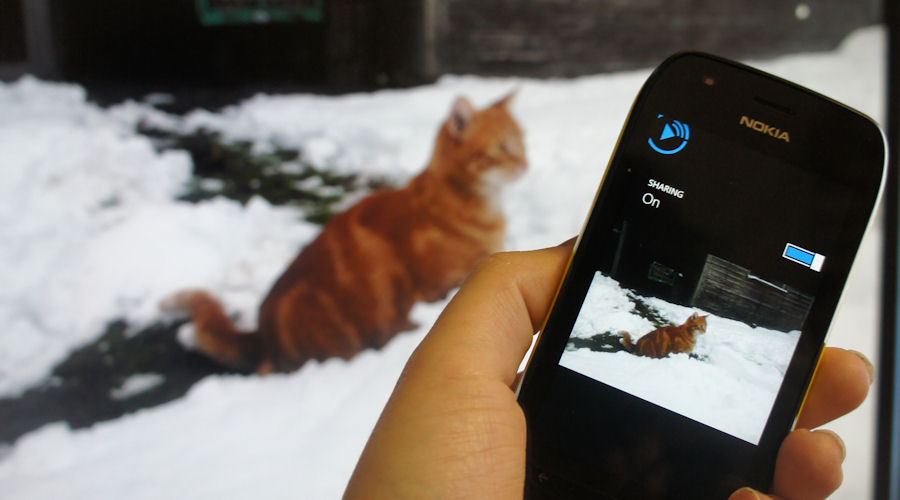 On opening the app you'll need to configure a connection by choosing a WiFi network and DLNA device to connect to. After a connection is set up, which should just take a few seconds, you can choose to share any video or photo stored on your phone to the configured DLNA device.
For photos videos you can share from a thumbnail view by double tapping on a photo (screenshot 2), or you can swipe through an album (detailed view), with each photo being shared as it comes up on your phone's screen (screenshot 3). Video have a similar quick share option, but the detailed view is more useful as you get an on screen pause control and timer for the video being played.
Nokia Play To aims to make it easier to share content from your device on other screens in your home. You will need a DLNA capable device, but it's a standard that is built into increasing number of TVs and set top boxes.
In future releases the Play To development team is planning to add music sharing support and planning functionality that will allow a Lumia handset to act as a DLNA Media server. This second addition will let other DLNA devices (e.g. games consoles like the XBox 360 and Playstation 3) discover, browse and play content from your device (i.e. no need to manually share from phone).
As with all releases through Beta Labs Nokia is looking for feedback, which you can submit here. In particular the development team is interested in verifying interoperability with different device and network configurations. Note that there are some existing issues, which are already documented.
Play To can be downloaded through the Beta Labs website, or by scanning the QR code on this page, or via the AAWP app.
If you're looking for DLNA software for your non-Nokia Windows Phone device you may already be covered by your device manufacturer. Samsung has All Share, HTC has Connected Media, LG has Smart Share and there's also the third party apps One Player, AV Remote and Yxplayer.
Screenshots