The Asha portfolio of devices represents the lower half of Nokia's overall mobile device strategy, complementing the smartphone devices running Windows Phone and Symbian. With the Asha portfolio, Nokia says it aims to "connect the next billion", a reference to both its current global reach (more than one billion people use a Nokia device) and its belief that access to the Internet and related connected services will be key for driving future devices sales across all market segments.
Nokia describes the Asha Touch phones as having "an incredibly rich, smartphone-like experience to consumers who want to be set free from excessive data consumption costs and short battery life". The "smartphone-like" may raise some eyebrows, but by many of the most common smartphone (specifications, third party apps, access to services) definitions it is valid.
The new phones run the new Asha Touch UI, which is built on top of Series 40 Developer Platform 2.0. Asha Touch UI is a refinement of the previous Touch and Type UI, designed to be used on full touch devices. Notable features include a swipe-like gesture implementation for switching between a homescreen, app launcher and a favourite application (reminiscent of the Nokia N9); a pull down notifications bar (for alerts, messages, missed calls and status information; full on-screen keyboard; and a reworked design for all the key built in applications.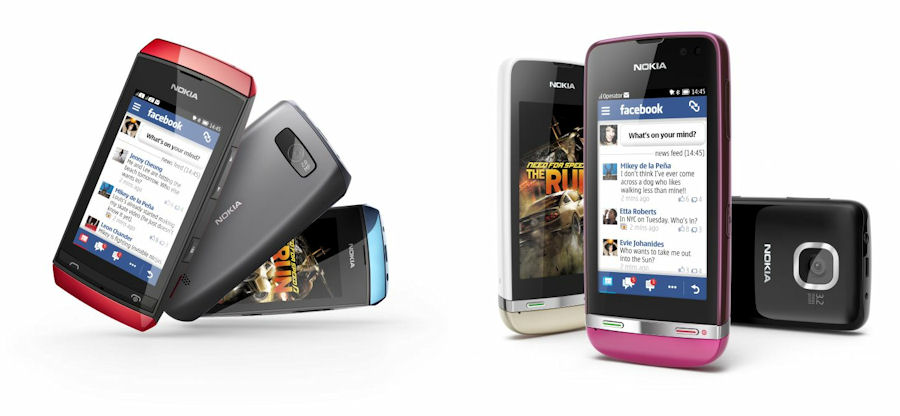 Nokia Asha 305 (left) and Nokia Asha 311 (right)
Nokia Asha 305 and 306
The Asha 305, which has an estimated retail cost, before taxes and subsidies, of €63 and will start shipping in the next three weeks, is a mid tier feature phone. A key feature is the inclusion of Nokia's Easy Swap dual-SIM feature, which allows users to switch SIM cards without turning off their phones, but just as important is the inclusion of software and service-based features which expand the functionality of the phone beyond the communication core. Among the notable services-based apps are Nokia Life Tools, Nokia Music, Nokia Maps and Nokia Browser.
Key hardware features include:
Easy Swap Dual SIM - change SIM cards without turning off phone
Dimensions of 110.3 x 53.8 x 12.8mm, weight of 98.3g, 66cc in volume
3 inch WQVGA (240 x 400) resistive multi-point (LCD transmissive) touch screen
32MB RAM
10MB internal free memory and microSD card slot (2GB included with device)
2.0 megapixel camera
Dual-band 2G (GSM 900/1800 or 850/1900)
Bluetooth 2.1, microUSB and 3.5mm AV connector
Music Player and FM radio; loud speaker
Accelerometer sensor
Key software features include:
Runs on Asha Touch, a full touch interface on top of Series 40 Developer Platform 2.0.
Nokia Browser 2.0, a proxy based browser which speeds up web access
Nokia Maps
Access to email, SMS and instant messaging services
Access to Twitter and Facebook through pre-loaded Social application
40 free EA games available through Nokia Store
The Asha 306, which has an estimated retail price, before taxes and subsidies, of €68 and will start shipping in the third quarter of 2012, is a sister variant of the Asha 305. It replaces the dual SIM functionality with WiFi connectivity.

Nokia Asha 311
The Asha 311, which has an estimated retail price of €92 before taxes and subsidies and will be available in the third quarter of 2012, is a high end feature phone and offers an Asha Touch experience with 3G connectivity and a number of specification bumps (additional sensors, faster processor, more internal memory, higher resolution camera, improved touchscreen and improved materials) over the Asha 305 / 306.
The 1GHz processor, 128MB of RAM and 3.5G connectivity means that the Asha 311 has better performance than the Asha 306/306 across a range of general tasks, but also opens up additional functionality and apps. An example of this is the included 15-level taster edition of Angry Birds.
The Nokia Asha 311 is Nokia's highest performance, most fully-featured Series 40 feature phone. It will effectively replace some of the lowest cost Symbian devices in Nokia's portfolio line up for 2012 and 2013.
Key hardware features include:
Dimensions of 106 x 52 x 12.9mm, weight of 95g, volume of 92cc
3 inch WQVGA (240 x 400) capacitive touch screen (LCD transmissive), with scratch resistant Gorilla Glass and polarizing filters for better readability in sunlight
1 GHz processor and 128MB RAM
245MB internal memory and microSD card slot
3.2 megapixel camera
Penta-band 3G (HSDPA Cat 10 - 14.4Mbps / HSUPA Cat 6 - 5.76Mbps) and WLAN (WiFi) connectivity
Bluetooth 2.1, microUSB and 3.5mm AV connector
Music Player and FM radio; loud speaker
Accelerometer, Proximity and Ambient Light sensors
Key software features include:
Runs on Asha Touch, a full touch interface on top of Series 40 Series 40 Developer Platform 2.0.
Nokia Browser 2.0, a proxy based browser which speeds up web access
Nokia Maps (relies on cell ID and WiFi for positioning data)
Access to email, SMS and instant messaging services
Access to Twitter and Facebook through pre-loaded Social application
40 free EA games available through Nokia Store; some of the 35,000+ available apps
Special 15 level version of Angry Birds pre-loaded
See Also