The Windows RT Surface tablet will use an ARM based chipset, is 9.3 mm thick, weigh 676g and includes a microSD card slot, USB 2.0 port, Micro HD Video port and 2x2 MIMO antennae (for WiFi). It will be available in 32 GB and 64 GB variants.
The Windows 8 Pro Surface tablet will use Intel Ivy Bridge chipset, is 13.5mm thick, weighs 903g and includes a microSDXC card slot, USB 3.0 port, Mini Display Port and 2x2 MIMO antennae (for WiFi). It will be availabel in 64GB and 128 GB variants.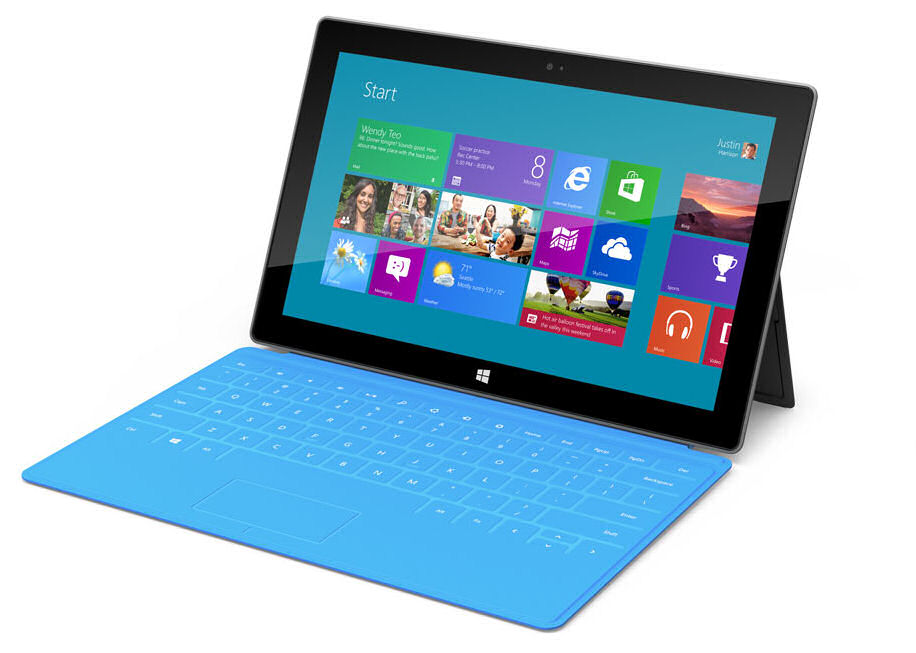 The Touch Cover, which is available in five colours, is a magnetically attached cover for the Surface tablets with an integrated multi-touch and pressure sensitive keyboard and touch pad. Touch Cover is 3mm thick and enables you to touch type significantly faster than with an on screen keyboard. The Type Cover also provides a magentically attached cover for Surface tablets, but has physical keys in place of the touch surface of Touch Cover. Type Cover is 5mm thick.
From the Microsoft press release:
Two models of Surface will be available: one running an ARM processor featuring Windows RT, and one with a third-generation Intel Core processor featuring Windows 8 Pro. From the fast and fluid interface, to the ease of connecting you to the people, information and apps that users care about most, Surface will be a premium way to experience all that Windows has to offer. Surface for Windows RT will release with the general availability of Windows 8, and the Windows 8 Pro model will be available about 90 days later. Both will be sold in the Microsoft Store locations in the U.S. and available through select online Microsoft Stores.

Microsoft will announce pricing nearer to the launch date of the devices.
More information available at surface.com

Specifications
Surface for Windows RT
OS: Windows RT
Light: 676 g
Thin: 9.3 mm
Clear: 10.6" ClearType HD Display
Energized: 31.5 W-h
Connected: microSD, USB 2.0, Micro HD Video, 2x2 MIMO antennae
Productive: Office '15' Apps, Touch Cover, Type Cover
Practical: VaporMg Case & Stand
Configurable: 32 GB, 64 GB
Surface for Windows 8 Pro
OS: Windows 8 Pro
Light: 903 g
Thin: 13.5 mm
Clear: 10.6" ClearType Full HD Display
Energized: 42 W-h
Connected: microSDXC, USB 3.0, Mini DisplayPort Video, 2x2 MIMO antennae
Productive: Touch Cover, Type Cover, Pen with Palm Block
Practical: VaporMg Case & Stand
Configurable: 64 GB, 128 GB