Time Out's opening panorama page offers a number of tiles, each of which represent a category of places and events. Tapping on one of these tiles brings up a list of places, showing the name of the place, the address; plus the distance and direction from your current location. From the toolbar, these listings can be filtered (e.g. 'show only critics choice'), or displayed on a map.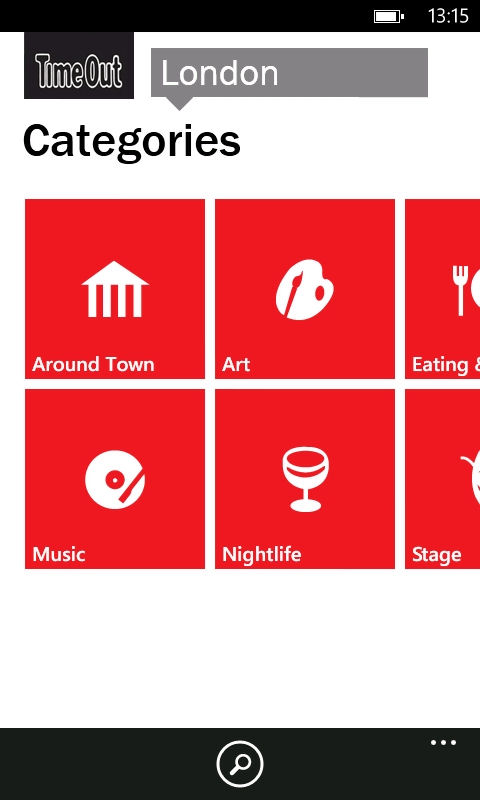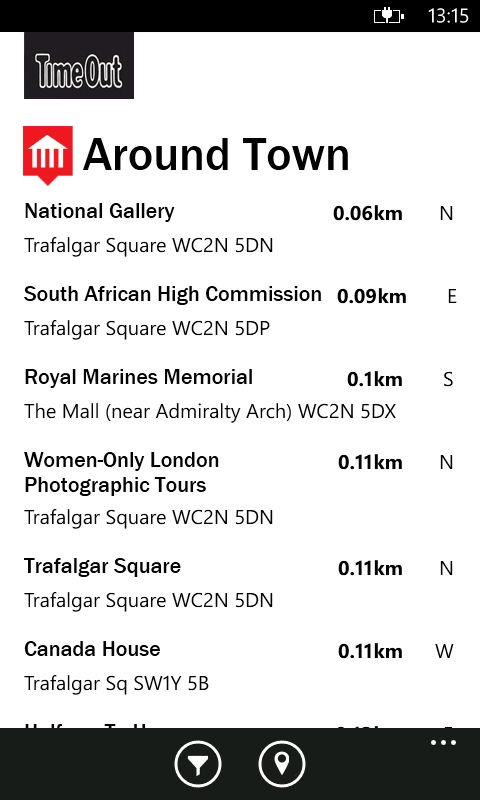 Each place (or venue) gets its own pivot view, most of which have a review page (text review from a Time Out book or magazine), details page (map, rating, address, phone number and website) and events page (listing all upcoming events at the place). For example, the events page for the National Gallery in London has details for the current Titian exhibition, as well as an upcoming photography exhibition. Each event gets a mini review, which can be accessed by tapping on the event listing.
On the bottom toolbar of the place pivot view, there are options for sharing details with friends via social networks, pinning to the Start Screen, and adding to favourites. The latter of these is essentially a useful bookmark function, which avoids cluttering up the Start Screen. Saved favourites are accessible from the opening panorama and there is a useful option to group favourites into different collections (e.g. one for art galleries, one for night life).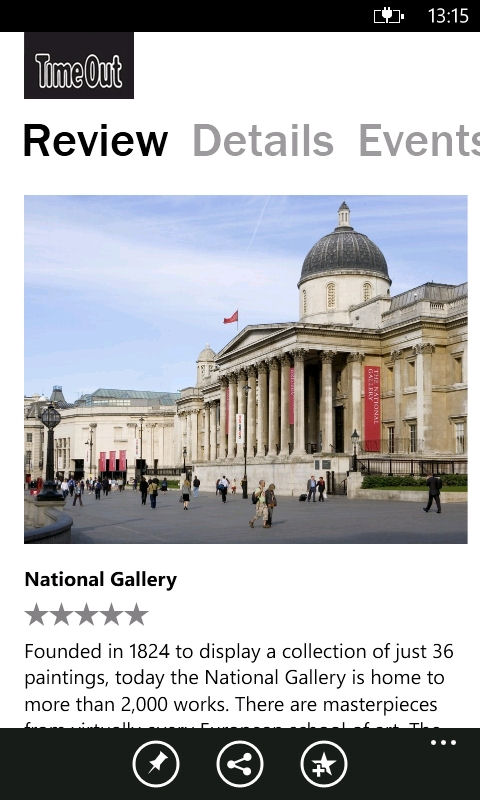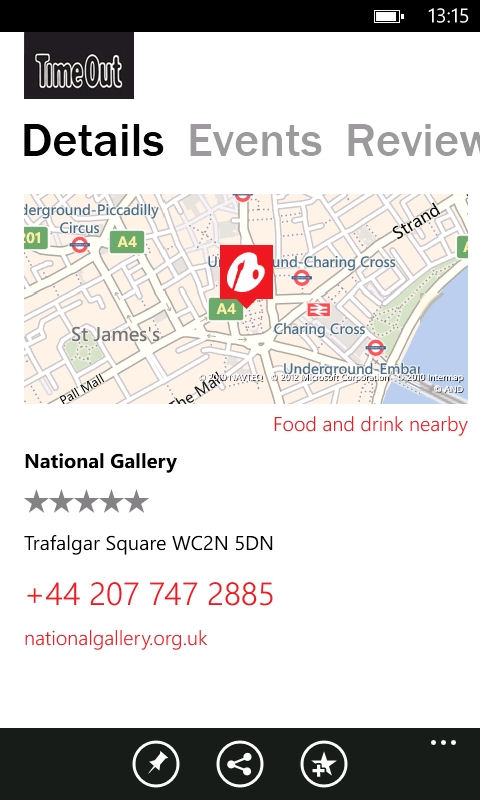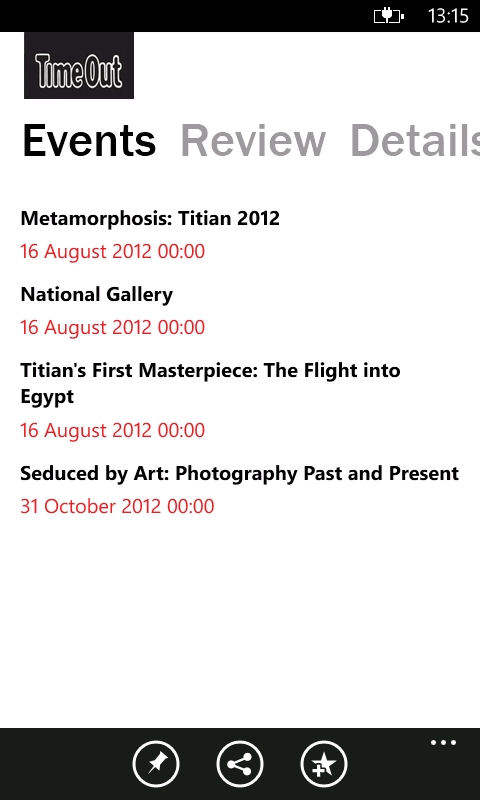 The other sections of the opening panorama offers a "Near me" page, which shows a map with nearby places / events highlighted, and an "Inspire me" page, offering a curated collection of the very best place/venues and events in each city. A clever "Inspire me on the go" function lets the app notify you when are within range of a recommended event for fixed amount of time (from one to eight hours); this should be a really useful option for those wandering around unfamiliar cities.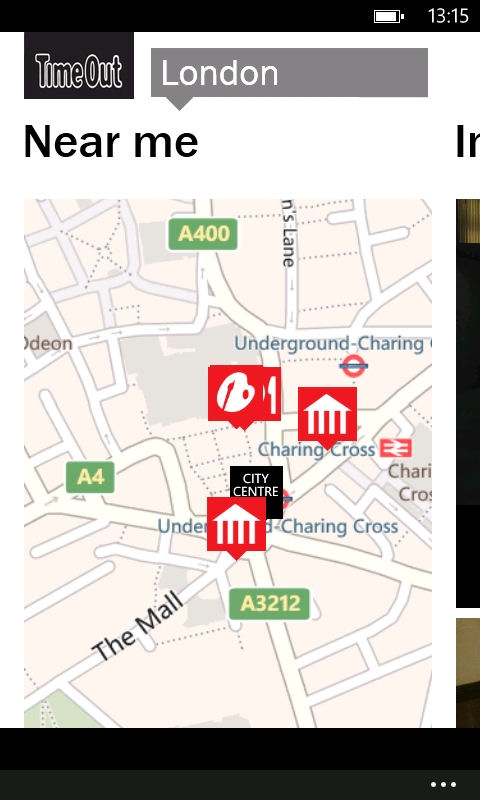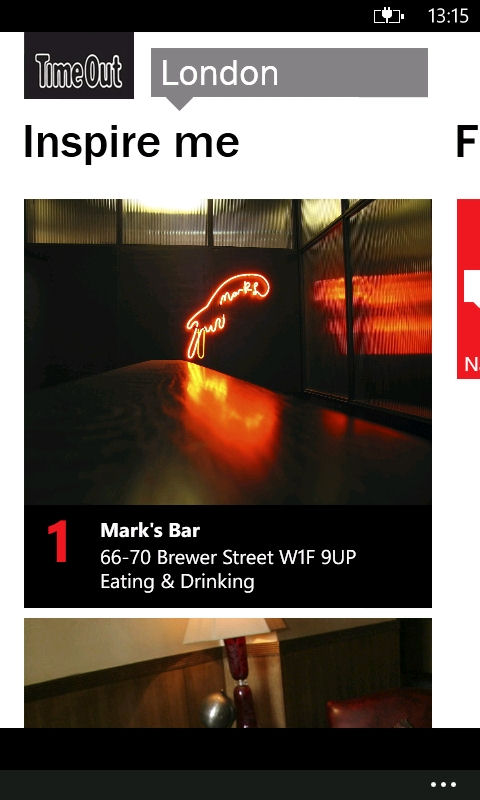 Also handy is the powerful keyword search tool, which shows results both as a list of places (venues) and as a list of events, all sorted by distance from your current location. It's a great way of finding places and events that match your interests, especially in the cities (e.g. London) for which Time Out's listings are seemingly never ending. Tapping a result takes you to the place, or event page, as described above.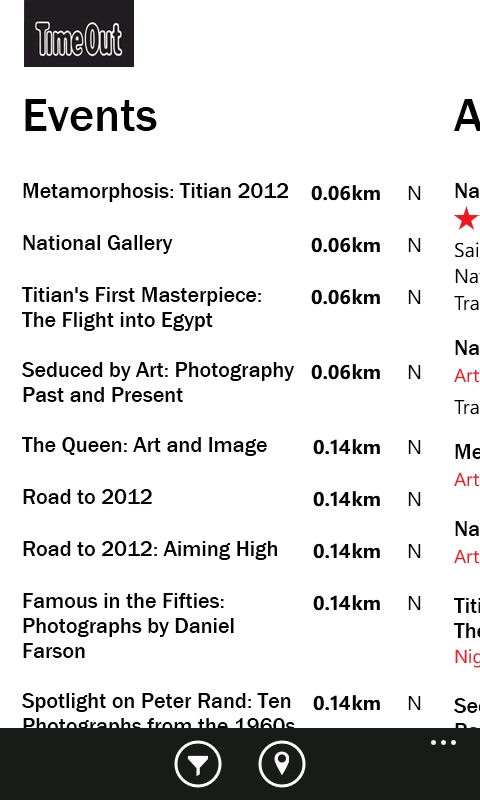 Time Out's Marketplace listings are rather nondescript and uninviting, but make no mistake this is a fantastic series of apps. Whether you're a native of the city in question, or just making a short visit, they offer an invaluable guide to what to see, but more importantly what's on. Event information, because it is time limited, tends to be neglected by the traditional travel guide, but it is exactly the type of information that can make the difference between a good trip and a great trip.
Time Out on Windows Phone also benefits from a slick implementation that makes the most of the platform's unique user interface. From an opening panorama that present a handy overview, to the detailed pivot view for each place with its "pin to Start" option, it all adds up to a first rate user experience, back up by great content. Highly recommended.
Marketplace description:
...lots of incredible things are happening...so many that you can miss brilliant places and nights out in the confusion. That's what the Time Out New York app is for - all the great stuff in London in one place.

Time Out apps for London, Beijing, Amsterdam, New York, Barcelona, Bangalore and Lisbon are available as free downloads from the Windows Phone Marketplace. We expect additional cities to be added in due course.