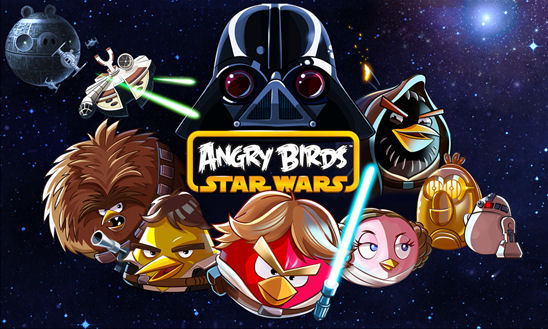 The game's story, shown in cut scene animations and drawings, follows the plot of the original Star Wars film. Rovio are promising future free updates, which will presumably extend the story-line to the other films. Currently there are more than 80 levels, set in locations like Tatooine and the Death Star.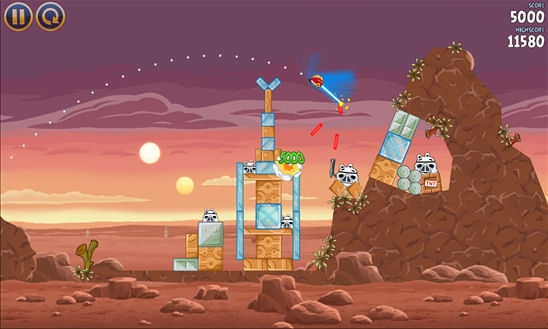 Part of the charm of the game is seeing how Star Wars imagery has been re-imagined with an Angry Birds twists. For example, Tatooine's Mos Eisely's buildings have been subtly modified so they take on the shape of a pig, the original red birds morphs into Luke Skywalker, and the central cabin of TIE Fighters are now pig shaped.
As with other Angry Birds titles there are secret levels and hidden goodies. The game's description challenges you to unlock all the R2D2 and C3PO bonus levels. The titular birds can also be leveled up to improve their skills.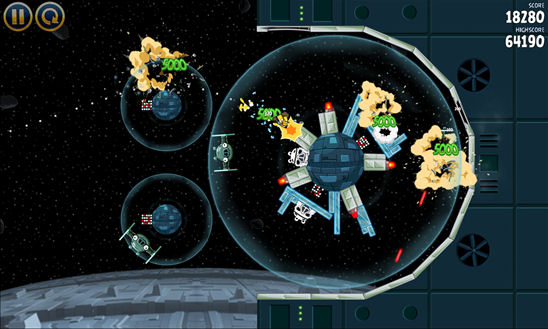 Priced at 79p Angry Birds Star Wars is undoubtedly going to be a very popular download. Perhaps more significantly it the first Angry Birds release to launch on Windows Phone at the same time as other mobile platforms. In part that's because of Windows Phone 8's vastly improved support for cross platform game projects, but it can also be seen as a reflection of confidence in the platform.
And we're fairly sure the Birds shot first...
Store description:
A long time ago in a galaxy far, far away... a group of desperate rebel birds faced off against a galactic menace: the Empire's evil Pigtroopers!

Rebel birds, striking from a hidden base, have won their first victory against the evil Imperial Pigs. During the battle, Rebel spies managed to steal secret plans to the Empire's ultimate weapon, the PIG STAR, and are racing to deliver the plans to the rebel birds. Now they need your help!

Join an epic adventure with the Angry Birds in the legendary Star Wars universe! Use the Force, wield your lightsaber, and blast away Pigtroopers on an intergalactic journey from the deserts of Tatooine to the depths of the Pig Star -- where you'll face off against the terrifying Darth Vader! Can you become a Jedi master and restore freedom to the galaxy?
Angry Birds Star Wars can be downloaded from the Windows Store; a free trial is available, with the full game costing £0.79 / €0.99 / $0.99.