The Nfc Interactor app, from Mopius, can read any NFC tag and will show information about the data stored on the tag, and the writeable size of the tag, in an easy to read layout. That's useful for developers working with NFC tags, but may also be of interest to the NFC enthusiast.
Potentially more useful is the ability to write data to programmable NFC tags. Nfc Interactor can be used to write a variety of formats to including Smart Poster, URI, Text, Social Networks (Twitter, Facebook, Skype, etc.), SMS, Telephone call, Geo Tags, LaunchApp (for Windows 8 and Windows Phone 8), Android Application Record, Nokia Accessories, and Custom Records.
This functionality can be used to create your own custom NFC tags. For example, you could create a tag that opens up an alarm app and place it next to your bed, or you you could write tag that triggers a call to a regularly called number.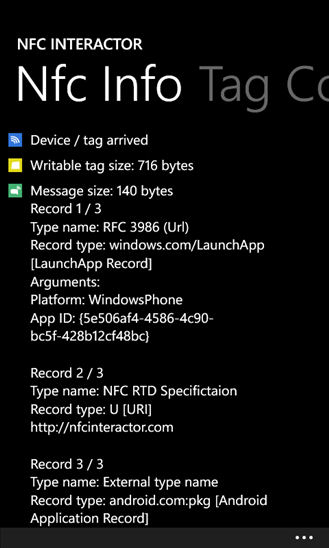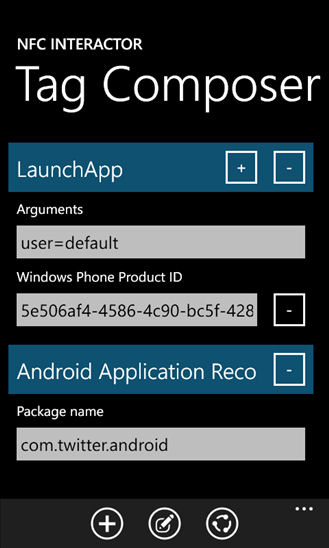 Windows Phone Store description:
Nfc Interactor is a powerful Near Field Communication tag reader / writer app, aimed at enthusiasts and developers.

Tap NFC tags to analyze their real contents. Nfc Interactor will instantly tell you the writable tag size and parse standardized messages to human readable form. Write your own NFC tags using a dynamic message editor - including Smart Posters, geo tags, social networks and LaunchApp tags. Additionally, you can also send your messages to other NFC devices simply by tapping.
Nfc Interactor can be downloaded from the Windows Phone Store. A free trial is available (limited to writing 10 NFC tags), with the full version costing £1.49 / $1.99 / €1.99.
Developers will be interested to know that the core NDEF (NFC Data Exchange Format) library used by Nfc Interactor is available as open source through CodePlex. This has the potential to save significant amounts of time and effort when implementing NFC solutions on Windows Phone 8 and Windows 8.