The news can be seen as good evidence to support Microsoft and Nokia's contention that operators will be willing partners in the creation of a third mobile ecosystem. This is based on the belief that operators want to avoid an ecosystem duopoly (Android and iOS), but also that they can preserve their place in the value chain by establishing co-operative links and good relations with ecosystem providers.
Kevin Turner, Microsoft's Chief Operating Officer, said:
"China is the No 1 market worldwide in terms of PC, tablet, mobile and Internet users. It is a very exciting place. We believe there is a great opportunity across the country to provide new business models to partners, new technologies to developers and best services to customers."
At an event to announce the new alliance Microsoft and China Unicom showed off a number of Windows Phone devices that will shortly be available to China Unicom's customers, including the Nokia Lumia 920, the HTC 8X, HTC 8S, Samsung ATIV S, and Huawei W1. This was the first official public appearance for the Huawei W1, which will go on sale early next year.
The alliance will look to improve Windows Phone's market share in China. A recent report from Analysys International gave Windows Phone a share of 3%, compared to Android with 72%. However, the smartphone market in China has been highly volatile in recent years, with large swings in market share between platforms and manufacturers not at all unusual.
Ji Chendong, a telecom analyst at JMPG China, was quoted by China Daily as saying he was confident the alliance will give sales of Windows Phone device a boost next year.
Speaking at the
launch of the Nokia Lumia 920T
earlier this week Stephen Elop, Nokia's CEO, noted that China has already become the biggest single-country market for Windows Phone devices and is also the biggest single-country market for Nokia's Lumia devices. More than anything, this underlines the scale of market in China, which explains why it is considered a key market by almost every mobile phone manufacturer.
A number of pictures from the event are available on WPDang.com (Chinese language).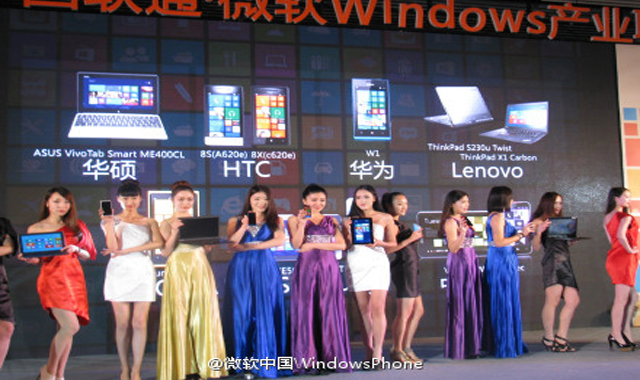 Image credit: WPDang.com