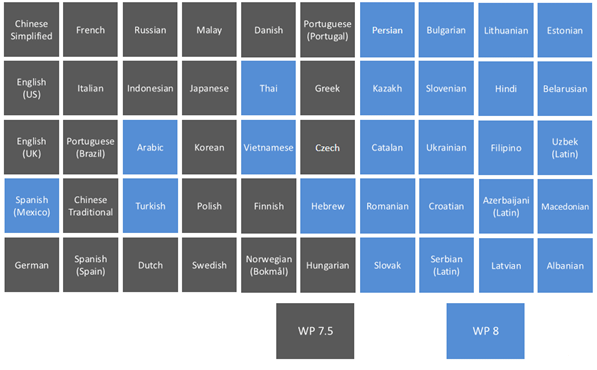 The blog talks about the challenges involved, noting that sometimes it's not just a question of translation, but that a new language requires additional software development.
In some cases, adding languages is straightforward; we're limited mostly by the number of quality translation efforts we can manage simultaneously.

But it can also be a knotty technical problem, as there are a set of languages that require some sophisticated engineering in the operating system itself.

We call these complex scripts. Some, such as Thai and Hindi, do complicated things when letters combine. For example, the shapes of Hindi letters can change in surprising ways depending on adjacent letters. In the picture below, the two letters on the left yield the single glyph on the right when displayed.



The blog also notes that language support goes beyond the 50 languages mentioned above when it comes to reading text on the phone (e.g. on a web page). This required the inclusion of additional fonts, and font rendering code for many of the core apps.
Other points of interest include the implementation of right-to-left languages, the level of predictive and voice recognition for each language, and the intricacies of implementation in markets that have multiple or mixed languages.
Read more on the Windows Phone Blog