There's a lot going on in this application, which makes use of all the Windows Phone UI tricks, including toast notifications, push messaging, and live tile links for each of your favourite shows.

From the directory listing:
Get a quick overview of the all the upcoming episodes for all of your favorite shows
Get synopsis, screen captures, rates, subtitles and recaps for each episodes
in app youtube player
Mark seen and unseen episodes
be notified right before a new episode of your favorite TV Shows aired even if the app is not launched.
Share comments with friends on facebook/twitter and with other users
offline mode
rate episodes
Use your phone as a remote screen for subtitles
read news from allociné, maxiseries, tv.com, tvguide, tvspoiler et buddy tv
translation feature for recaps and summaries
for U.S. residents only: adjust air date/times of U.S. tv shows to your local time zone
3 choices of live tiles
support trakt.tv for comments and episode rates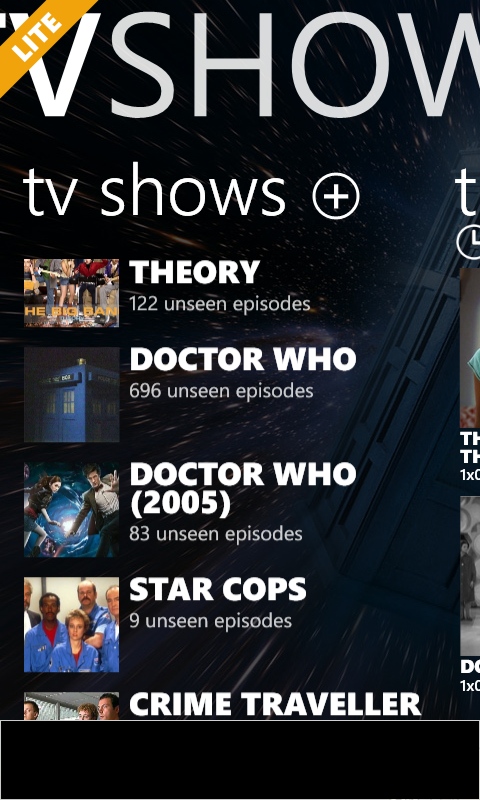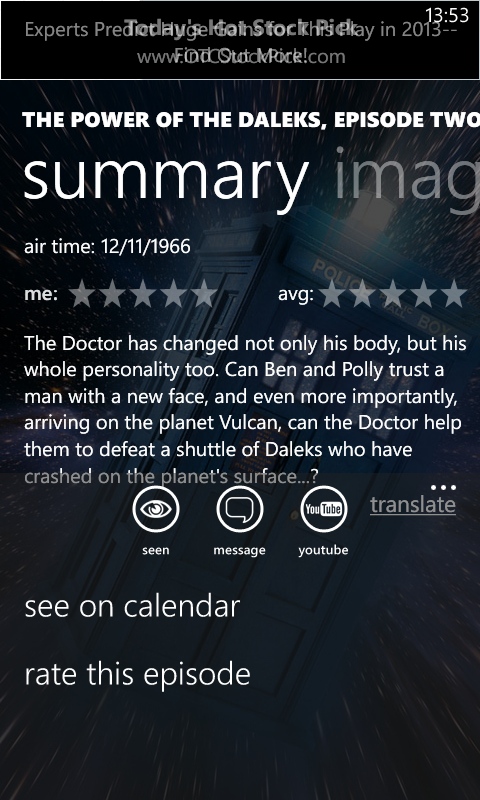 The news feeds in the application can be configured to use a number of website feeds, including TV.com and Spoiler TV. Again these have a very heavy US focus, and it would be nice to have the option of some more international sites (Den of Geek springs to mind) or the ability to add your own.
I'm impressed with the dataset of TV shows, and while I am sure there are gaps, it does pick up Star Cops, Moonbase 3, and (unfortunately) Crime Traveller.
Of course catching all that data means there are going to be oddities - such as the ability to mark Doctor Who's "Power of the Daleks part 2" as 'watched' (That should be setting off alarm bells due to being a missing episode). And while the alerts and information on upcoming episodes is purely focused on America, that could prove to be very useful to dedicated fans of shows like The Big Bang Theory who are... shall we say, heavily connected to the internet.
You can download the trial version of TVShow from the Windows Store, or via the AAWP App Directory.