By default the app will show your current location, but you can also use the database of 1.2 million roads, postcodes, towns and cities to search for a specific place. In either case the app shows, once zoomed in far enough, all local bus stops in both a map (top half of the screen) and a list (bottom half of the screen). Tapping on the map, or the list, brings up the details for the appropriate bus stop.
Bus stop information is shown in the form of a sign similar to that which you see at a real bus stop. The stop name, destinations and route numbers serving the stop are listed on the sign. Beneath this upcoming arrivals are shown in either a time format (when drawn from a published time table), or a minute countdown (when using live bus time information) format. Arrivals can be filtered by route simply by tapping the appropriate route on the bus stop sign.
The data in UK Bus Checker comes from official TfL and Traveline feeds, which have been licensed by FatAttitude. In most cases the real-time information is based on live information from GPS units sitting inside the buses being tracked.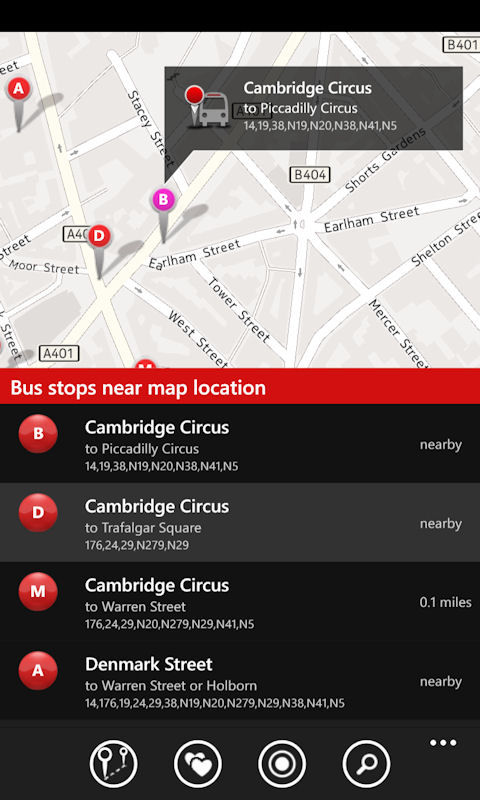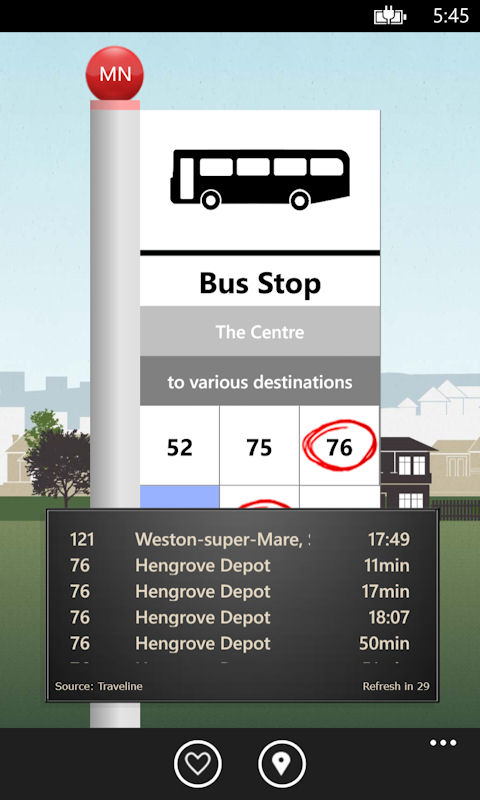 Also available are comprehensive bus route maps, indicating the route a bus will take. This is useful if you're trying to plan a journey, or are in an unfamiliar location, but, unfortunately, there's no journey planner feature (e.g. like Nokia Transport). You can get round this using the route maps of course, but its a bit cumbersome. In the real world its likely most people are going to find this useful for getting more information about journeys they already know they are going to take, rather than planning a journey from scratch.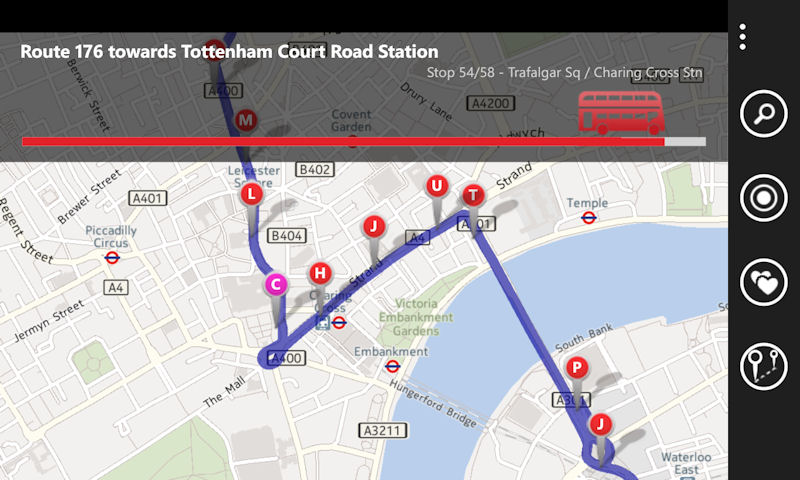 It's clear that FatAttitude have worked hard on refining the user experience. It's skeuomorphic design (replicating bus stop signs) does feel a bit jarring on Windows Phone, but it's not as pronounced as you might think... after all Metro (now Microsoft Design Language) has its roots in transport signage.
The maps used in the app are drawn from the Nokia Mapping platform, which is presumably one of the reasons the app is limited to Windows Phone 8. That's a bit of a shame, especially as this is such a stellar app.
Specific to Windows Phone is the ability to pin favourite bus stops as Live Tiles to start page. This gives quick access to live information for a specific bus stop, with an obvious use case being to pin your local or work-place bus stop. It's a good example of how Live Tile functionality can be used intelligently and, at least in this element, is superior to the implementations of UK Bus Checker on other platforms.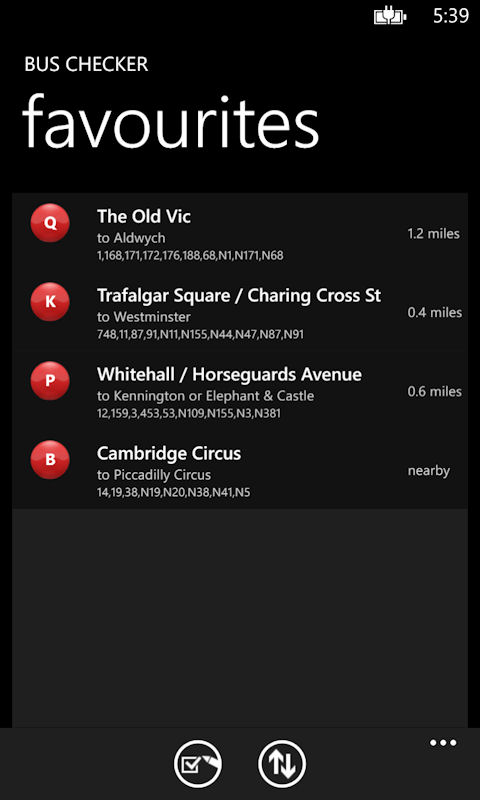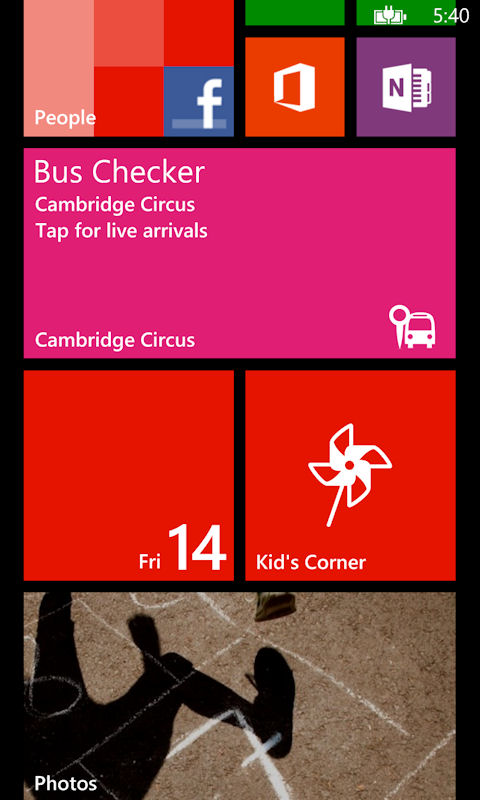 The utility of real time bus information is self-evident. Ultimately what's really important is that the app makes travelling by bus a more pleasant experience. Knowing when a bus is going to arrive provides a "feel-good" benefit if you're already waiting at the stop, but if you have your wits (and the app) about you, you can plan your arrival at a bus stop tocoincide with an arriving bus. The route viewing is a useful extra, but it's the core live bus time functionality that make this a must download for anyone who catches a bus regularly.
There are two versions of the app UK Bus Checker (£2.49) and London Bus Checker (£1.99). A time limited trial is available for both version. The former has additional coverage outside London.
The areas covered outside of London, which have full or partial real-time bus information, include:
Aberdeen, Angus, Argyll and Bute, Bath and North East Somerset, Bedford, Birmingham, Brighton and Hove, Bristol, Buckinghamshire, Cambridgeshire, Cardiff, Central Bedfordshire, Conwy, Cornwall, Cumbria, Darlington, Denbighshire, Devon , Dundee, Durham, East Ayrshire, Edinburgh, Flintshire, Glasgow, Gwynedd, Hampshire, Hartlepool, Highland, Isle of Anglesey, Kent, Kingston Upon Hull, Leeds, Luton, Medway, Middlesborough, Newport, Norfolk, North Ayrshire, North Somerset, North Yorkshire, Northamptonshire, Northumberland, Nottinghamshire, Orkney Isles, Pembrokeshire, Peterborough, Plymouth, Poole, Redcar and Cleveland, Sheffield, Slough, South Ayrshire, South Gloucestershire, South Yorkshire, Stockton-on-Tees, Surrey, Swindon, Tyne and Wear, West Dunbartonshire, West Midlands, West Sussex, West Yorkshire, Wiltshire, Windsor and Maidenhead, Wrexham , York, Yorkshire.
Other bus stops are also covered, but will only have routing and/or time table information.