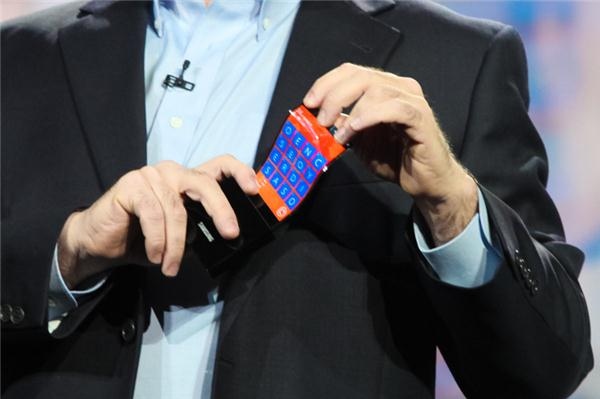 Image via ESPhoneBlog.

Svensson writes:
Brian Berkeley, head of Samsung's display lab in San Jose, California, demonstrated a phone that consists of a matchbox-sized hard enclosure, with a paper-thin, flexible colour screen attached to one end. The screen doesn't appear flexible enough to fold in half like a piece of paper, but it could bend into a tube.

The company also showed a video of a future concept, with a phone-sized device that opens up like a book, revealing a tablet-sized screen inside.

And here's the Android powered trailer.
Flexible screens are not going to be with us on a commercial footing for some time - I always feel that the modern CES is an event that's geared to getting PR wins, rather than what the consumers will see in the next twelve months. With mobile phones now running similar technology and specs, no matter the operating system, the wins for smartphones are going to come from areas like flexible screens, camera technology, and other incidental areas.
If Samsung are going for flexi screens and attacking the standard physical slab form of a mobile, then good for them, and I await with interest what they come up with.

You can read the full article over on the SMH website.