A recent article on Nokia Conversations, "Nokia Lumia: The secire business smartphone", touts the security features of Windows Phone 8.
Security features on Windows Phone 8 include secure boot, which ensures the phone only runs authentic software and passwords with the ability to pre-define the number of failed password attempts. There's also hardware accelerated encryption for all your data and the operating system itself and encryption for network traffic such as with Exchange Server and SharePoint.

This makes a big difference in the business world, as the majority of companies have data that's sensitive in one way or another. "If organizations are going to use smartphones for business use and accessing company sensitive data, security is something that needs to be considered, says Tarja Kantola, from Smart Devices Product Marketing. "Data protection is the real strength of Windows Phone 8."
Elsehwere Nokia highlights the broad support for Windows Phone 8 in device management tools:
Building on our earlier announcement on Airwatch and MobileIron supporting Windows Phone 8 in their MDM solutions, we are happy to say that PointSharp, Symnatec, Zenprise, and Microsoft also provide support for Windows Phone 8 in their own, secure MDM solutions:
As part of the efforts to push the business friendly message Nokia Care for Business (enterprise focused customer support) has been rebranded to Nokia Expert Centre and a dedicated support portal launched. The web site has various sections (articles, community, downloads, training) all of which are aimed at offering advice to business customers and helping them get the most out of the business focused features of the Lumia smartphone family.
Nokia describe Nokia Expert Centre as:
A one-stop shop for expert advice on Nokia products and business solutions, providing in-depth technical information for IT and mobility support organizations and Nokia channel partners free of charge.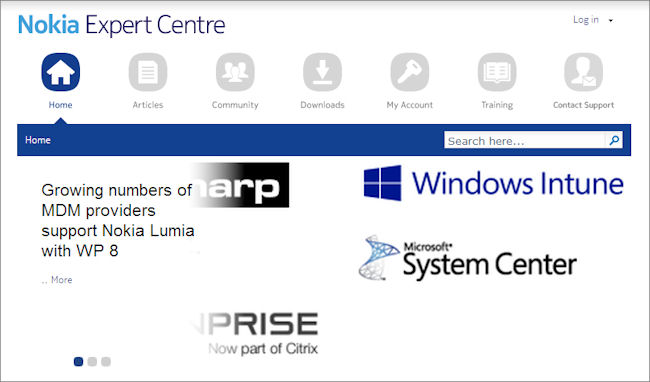 Nokia has also recently launched a business focused Twitter channel, Nokia@Work, which in its description says it "is here to help businesses of all sizes to get and stay ahead with Nokia Lumia". The account shares relevant links, answer questions, and, in some cases offers business users the chance to trial hardware (similar to the consumer focused Nokia Connect program).
All of these initiatives are part of a deliberate effort to increases the promotion of Lumia devices to Nokia users. Nokia's first generation of Windows Phone devices were heralded as being "suitable for business users", but there were some noticeable holes. Windows Phone 8 is much more "enterprise ready" as we discussed in June last year:
With the new release, Windows Phone 8 emerges as a strong enterprise platform, one that draws on Microsoft's heritage and services in this area and that will compete head on with RIM. The shared Windows core brings with it a new security model including Secure Boot and Bitlocker Encryption. This means the entire device, including both operating system and data files, can be encrypted. There's also support for UEFI (United Extensible Firmware Interface) secure boot protocol and improved app "sand boxing" providing multiple layers of security.

Remote device management has also been improved, with the ability to integrate into existing software management solutions (presumably Microsoft technologies) allowing companies to use the same tools they current use to manage Windows PCs. Security policies now offer greater control over a larger number of device features, enabling enterprises to tailor device security to their own standards.

The new Company Hub features provides companies with the ability to create a custom Windows Phone Hub for distributing line of business (LOB) apps, alerts and other corporate information. Microsoft will be providing templates and guidance to make it as easy as possible for companies to create their own branded experience of Windows Phone.
We expect to see Nokia continue the business push as we move into 2013, as it is an area that holds great potential and is relatively easy to address (i.e. one of the areas where it may persuade user to "switch"). Partly this is a result of the weakening of RIM, which has traditionally been seen as the most business friendly mobile platform, but it is also because Nokia is now part of the wider Microsoft ecosystem. Many business already have significant investments in Microsoft based technology (Office, Exchange, Windows, etc.) and thus see Windows Phone as a logical extension of existing infrastructure.