Windows Phone devices listed, by Qualcomm, as having the Quick Charge technology include the Nokia Lumia 920, 920T 820, 822; the HTC 8S and 8X; and the Samsing ATIV S.
So if you think your Windows Phone 8 device charges quicker than your previous phone, Windows Phone or not, then you may well be correct. However, it's worth noting that variations on this technology exist in various forms from other chipset and component providers. In simple terms what the technology does is optimise the way a battery is charged by sensing the current state of the battery in a number of ways (temperature, terminal voltage). It's the logical next step on from stopping charging (or switching to trickle charging) once a battery is for.

As Qualcomm explain:
A phone without Quick Charge 1.0 could be stuck plugged in charging for more than four hours. With Quick Charge 1.0, the same phone can reach its full charge in three hours or less. The less time you spend charging your mobile device, the more time you get to use it; your mobile device becomes truly mobile. Quick Charge 1.0 makes all this is available to the user with existing USB charging accessories—no new cables and wall chargers to buy.

Quick Charge 1.0 is offered to our customers as an integrated circuit that is built into a smartphone or tablet and interfaces to the usual USB connector. Any phone or tablet's charging port can be integrated with Quick Charge.
Qualcomm note that the technology was introduced following their acquisition of Summit Microelectronics in June of last year. Summit Microelectronics specialised in power management solutions that "combine precision power regulation with sophisticated digital control is a single chip".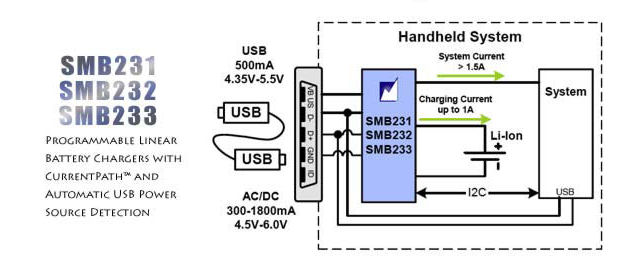 Block diagram for SMB231/232/233: Programmable Linear Battery Chargers with CurrentPath™ and Automatic USB Power Source Detection