Microsoft also highlighted the 90% increase in the size of the addressable market for Windows Phone developers in 2012, something that has help drive the growth of the platform's app ecosystem. Microsoft launched Windows Phone with support for just 17 countries, but that has now been increased to 191 countries. In addition new payment mechanisms, in the form of carrier billing, Alipay, and PayPal, have come on stream, making it easier for consumers to buy apps.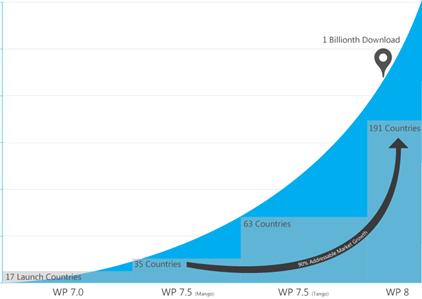 Windows Phone downloads (source: Windows Phone Developer blog)
There's no doubt that the 1 billion app download number is the most eye catching statistic, but it should be seen in the context of the performance of other ecosystems. Apple announced it had passed 40 billion downloads in total early this year, with 20 billion of those coming in 2012, and 2 billion in December 2012. Similarly Google announced last summer that it has passed 25 billion downloads. Both Apple's App Store and Google Play have been established longer than the Windows Phone Store, but what really drives the difference in download numbers is the numbers of devices in each respective ecosystem.
iOS devices number approximately 500 million, giving roughly 80 downloads to each device (agreeing with a reported figures from various market research studies). The numbers for Google are lower and less precise, in part because what defines an Android device is not always clear, but most figures suggest around there's an average of around 40 downloads to each Android device (25 billion / 625 million devices).
Windows Phone currently sits between these two figures with an average of 55 downloads to each device according to Microsoft. That's good news for Microsoft as it suggests Windows Phone is holding its own in terms of app engagement.
We'll be sharing some more of our own Windows Phone app statistics in due course, which suggests Microsoft's own numbers are relatively conservative.