Moreover, once Lumia products become part of any purchase decision, it is clear that Nokia believes it has a competitive product line-up, something that certainly seems to be born out by products reviews and high consumers ratings. The Lumia Roadshow Bus will therefore aim to get this "consideration" message to places that other marketing campaigns can not reach.
Lumia Roadshow Bus
On the outside of the bus is the familiar Lumia Live Tile graphic along with slogans exhorting a switch to Lumia: "Don't compromise, switch the world's best smartphone" and promoting the business capabilities of the Lumia handsets: "Do business anywhere".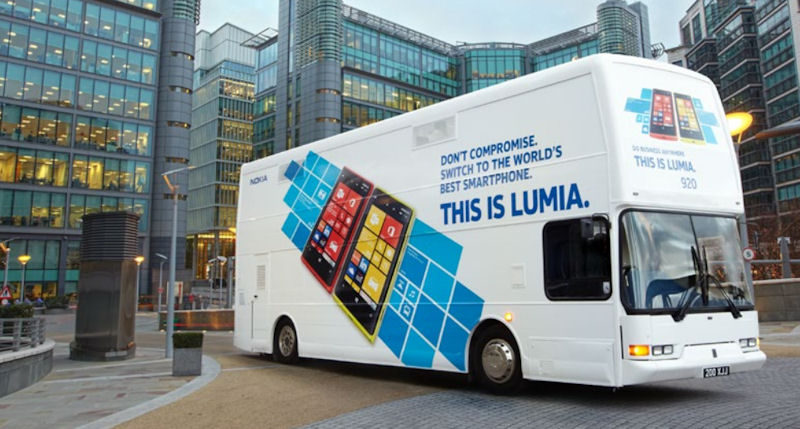 The lower deck features an extensive demo areas where the latest Lumia products and accessories are showcased. The area has a similar look and feel to the Lumia pods used in some flagship high street stores, but is obvisouly significantly bigger (despite being inside a bus). It's clear the design team has gone to a lot of trouble to create an area that complements the design aesthetic of the Lumia line up.


Upstairs there's a coffee area and meeting room, centred around a corion table with recessed light boxes, phone charging pads and hidden hatches for presentation cables, ideal, either as a mobile board room, or as a training area.


Travelling with the bus is a dedicated team of training and demo specialists, who are to explain the technology (wireless charing, 4G) and demonstrate a selection of apps and services (Drive, City Lens, Office, and so on).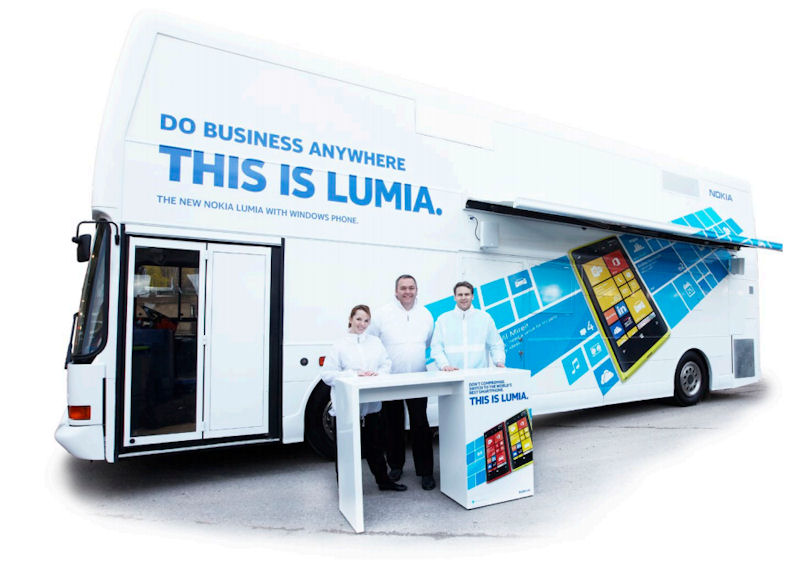 The bus was commissioned for Nokia by JWT from The Bus Business, a company that specialises in customising and fitting out buses.