From the directory listing:
A black-hearted King punishes the brave Orcs, the only ones in the kingdom with joy in their hearts. Join the Orcs in their battle against the royal troops to regain the happiness that was stolen by the King's evil spell. A strategy game that brings to life the strength of these fantastic characters from the medieval era. Advance through the various levels, gaining more troops and weapons to fight the knights, wizards and ghosts of the King.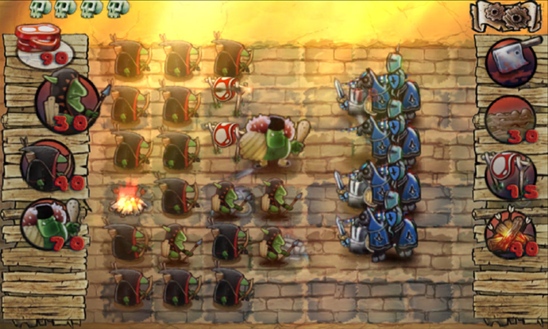 Orcs Must Survive boasts a number of different typs of Orcs to defend with, alhtough I would like to see a lite more variation in the times, at the moment the strategy choices are not as wide as the original inspiration behind the title. I do like the a steep but navigable difficulty curve you have to play through.

One thing to point is the lack of a demo version. This may well be down to the developer coming from the other OS platforms and not realising just how useful and ingrained the trial scene is on Windows Phone.
You can purchase and download Orcs Must Survive from the Windows Store either online or through your handset.