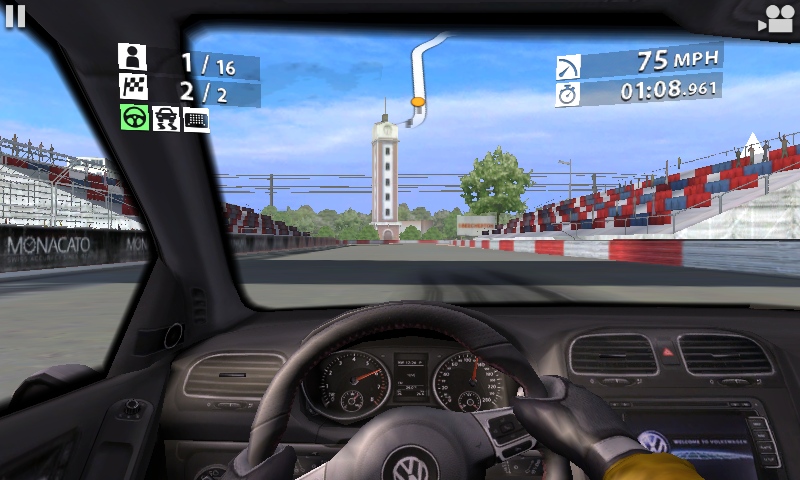 As the game opens up, the career mode will let you buy a little VW Golf or a three door Volvo. Take the car to the races, drive it hard, and win cash for strong finishes and victories in the race. The cash will let you customise your car with improved parts for better performance, which you're going to need, because the competition will be improving their cars as well as you advance in the career mode.
Real Racing 2 is firmly in the 'arcade' side of driving simulations, and while you do have more accuracy and physics at play than in a pure arcade title (such as the Asphalt series), it's still a relatively easy and accessible driving model - albeit one that rewards a smooth entry into a corner and a long acceleration out of the apex. Don't attempt a power slide, you'll lose!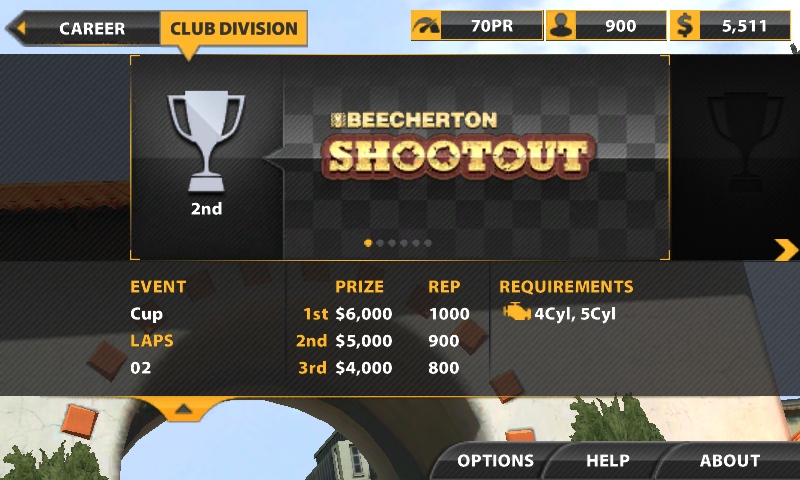 One thing to note is that this title is a 'try and buy' model (£3.99 / $4.99), unlike the recent release of Real Racing 3 on iOS which was a full-blown freemium title. Okay, on with the features list from the directory listing:
Test your racing prowess on a 16 car grid against highly skilled AI drivers – or battle it out against other racers over WiFi!
Select from 30 officially licensed cars including the 2010 Ford Shelby Mustang GT500, 2010 Nissan GT-R (R35), 2012 McLaren MP4-12C, and more!
Work your way from rookie to pro in a robust Career Mode, offering 10 hours of exhilarating gameplay. Jump into a Quick Race for instant fun – or try to beat the clock in Time Trial Mode.
Race in 15 beautiful locations, with 40 miles of highly detailed race tracks, speedways, and city circuits – including twilight and night races.
Touch or tilt to steer, as you experience state-of-the-art handling with customizable options that tailor to your personal driving style.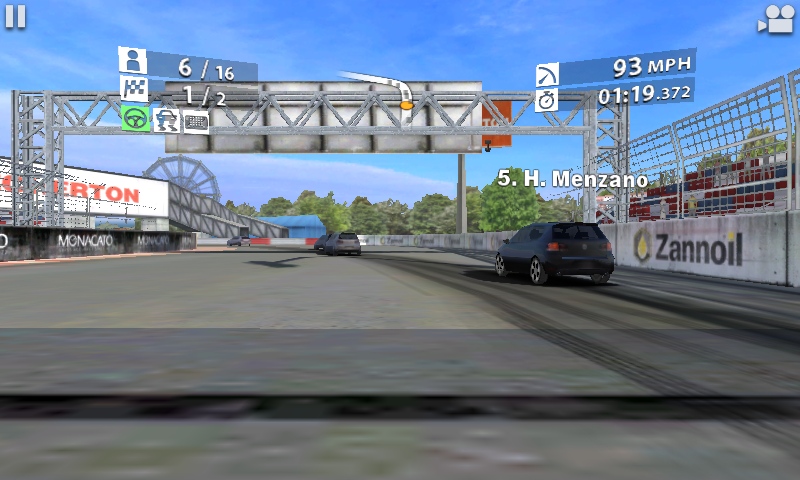 There's a lot on offer here, and much of it based on locations and cars from the real world. This lends an authenticity to the title that helps build a stronger emotional connection between the game and the gear-heads like me.
Part of me is just relieved to have another modern racing game on Windows Phone. I'm sure I'll find some fault with it over the next week before I write up the review, but until then, it's time to play Fleetwood Mac's 'The Chain' at a rather loud volume and hit the road.
Lumia owners can download the free trial via the AAWP Software Directory.