The previous version of the app allowed for easy sync with Apple's iTunes software. This update essentially make the sync process more flexible by allowing you to specify any folder as a sync source, making it possible to use the app without almost any music collection program or arrangement.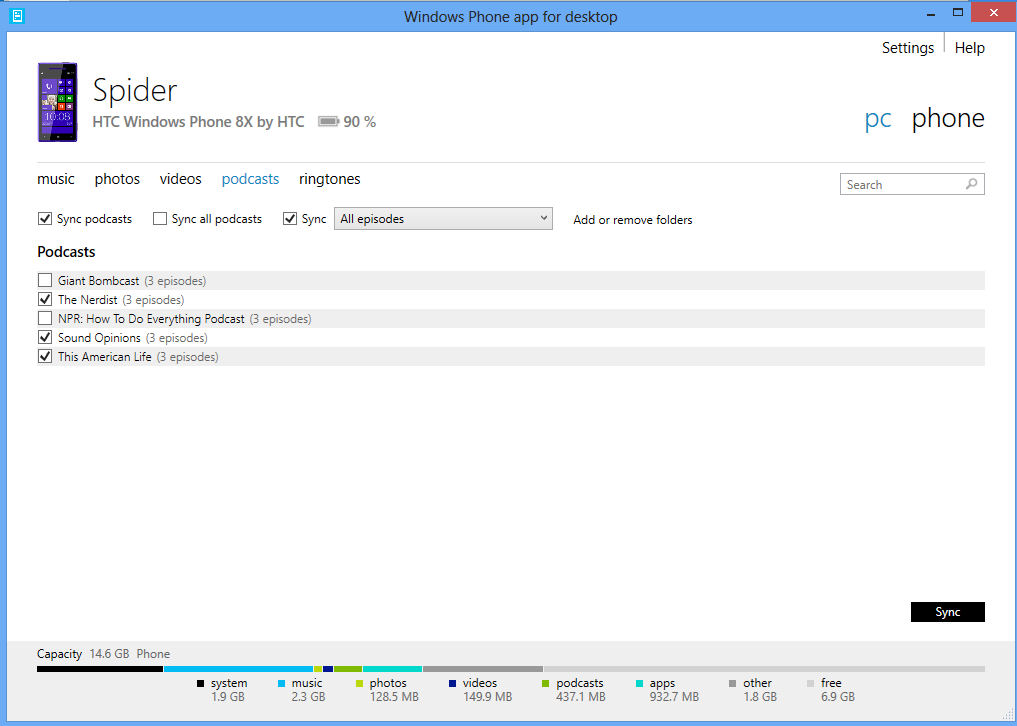 Here are the new features as listed and explained by the Windows Phone Blog:
Expanded podcast support. Support for iTunes podcasts has been a useful feature in the preview versions of the app, but many people get their podcasts from other sources. Now, as long as your podcasts are saved in a folder, you can automatically sync them to your phone.
Simplified updates. Previous versions of the app required you to install updates from windowsphone.com. Now the app tells you when improvements are available, so you install them with a click.
Flexible library selection. To provide more flexibility, the app can now sync files from any library or folder on your computer, even if they're on an external hard drive.
Many bug fixes. We've rolled up your feedback on the preview versions and made fixes to improve performance.
The updated app can be downloaded from the WindowsPhone.com website. It is one of three desktop companion apps that Microsoft provides for Windows Phone 8. The other are Windows Phone app for Windows 8 (available in the Windows Store) that works with Windows 8 and Windows RT (a "Metro" app), and Windows Phone app for Mac that works with Mac computers and integrates with iTunes.
Do note that the Windows Phone App for Desktop is only for Windows Phone 8 devices. Windows Phone 7.5/7.8 uses should continue to use the Zune Desktop client.

Alternative options?
Windows Phone 8 uses the MTP (Media Transfer Protocol) for transferring multimedia files between itself and a host PC (i.e. the USB mode you see when you plug a Windows Phone device into a Windows PC). This means you can use any MTP capable program for managing the music on your Windows Phone device, including the Windows Media Player application that ships with most Windows PCs.
One of the lesser known, but effective MTP capable options, is the Nokia Music Player desktop app, which is surprisingly well optimised for MTP transfers (although it can be a little resource intensive); other popular options include Media Monkey and Songbird Classic.