MapQuest on Windows Phone is bringing a lot of functionality to the platform, with route planning, voice guidance, and live traffic conditions (updated every five minutes). MapQuest has been in the mapping game in various corporate forms since 1967, with an online debut happening in 1996. This new mobile client also makes use of layers of information, guiding you to hotel, restaurants, and other points of interest.
MapQuest has an extensive feature set - here are the highlights from the App Directory listing:
Voice-guided, turn-by-turn directions using GPS.
Reliable directions using MapQuest's patented routing technology.
Easily find restaurants, hotels, gas stations & more using MapQuest's innovative Map Layers feature.
Live traffic conditions updated every 5 minutes .
Quick access to recent searches and favourite locations .
Driving or walking directions provide the optimal route for your needs.
Clean, elegant design makes it easy to get the info you need quickly.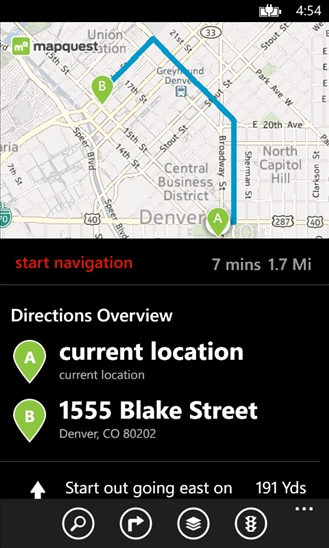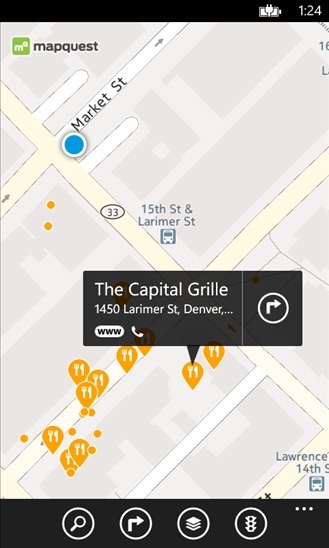 One thing I am looking forward to with MapQuest is a bit of competition for Nokia's Here Maps. It's always good to have two apps looking to deliver similar services, not just so the user can choose the best one, but for the two competing apps to try and out do the other. This competitive nature helps build better apps.
Here Maps still looks to have the edge in functionality (and in additional features, such as City Lens), so I'm hoping to see MapQuest work on iterative improvements to catch up with Here Maps, and for Here Maps to maintain and improve their current advantage.
Right now MapQuest is only available for Windows Phone users in the United States. Hopefully it will be made available in other regions in the near future. There are more details about the release on the official Windows Phone Blog, and you can download MapQuest for free via the AAWP App Directory.