The growth from 1 billion downloads to 2 billion downloads has been driven by the availability of lower cost Windows Phone devices, such as the Nokia Lumia 520, Lumia 620 and HTC 8S. The increase in the number of countries supported by the Windows Phone Store at the release of Windows Phone 8 (up from 63 countries to 191 countries) has also been a significant factor.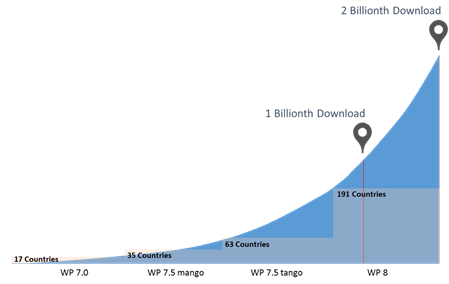 Image credit: Microsoft
App Store download comparison
Windows Phone 2 billion downloads milestone can be compared to the historical performance of other mobile app stores. The Apple App Store took around 9 months to reach one billion downloads. However it had a bigger starting installed base because there was no app store for the original iPhone. The second billion downloads from the Apple App Store was achieved in around 5 months (September 2009).
Android's Google Play (then known as Android Marketplace) took around two years to reach the one billion download mark, and another 5 months to reach two billion (September 2010).
The Nokia Store (then known as the Ovi Store) similarly took around 2 years to reach its first billion downloads, but it too had the advantage of a significant existing installed base. The second billion taking another six months (June 2011).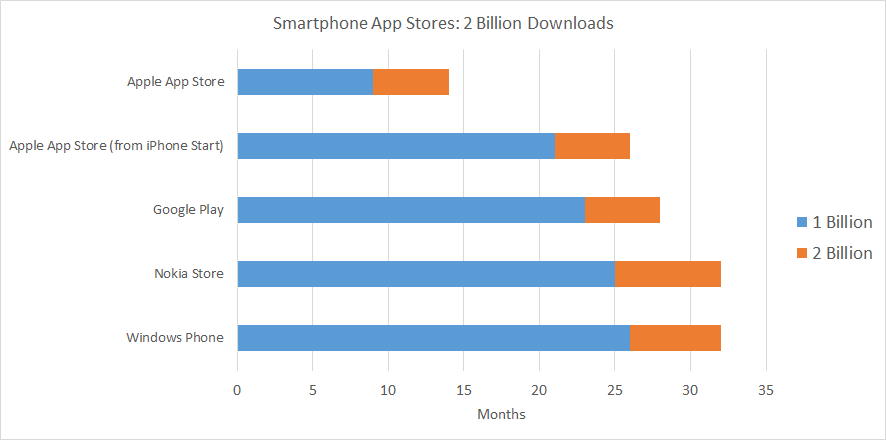 This comparison puts Windows Phone in a reasonable position, relative to previous historical performance, but it is fair to say the app economy is very different to what it was like a few years ago (i.e. more app activity, so Windows Phone, arguably, should have reached the milestone faster).
Moreover, it is the subsequent rate of growth that will need to be carefully assessed, when looking for signs of ecosystem health. Both Apple and Android significantly increased the growth rate of downloads (i.e. more downloads per day) after reaching the two billion download mark, but the download numbers for Nokia Store, while still substantial, grew more slowly, something that was primarily attributable to declining Symbian device sales in the second half of 2011 and 2012.
The Windows Phone numbers should also be set against the current context, not just historical performance. Apple and Android currently get around 2 billion and 2.5 billion downloads per month respectively, approximately ten times Windows Phone's current level. Nokia Store gets around 500 million downloads per month, but the majority of these now come from Series 40 based devices. The numbers, with the exception of Nokia Store, are in line with the respective size of the installed based (number of active devices) for each platform.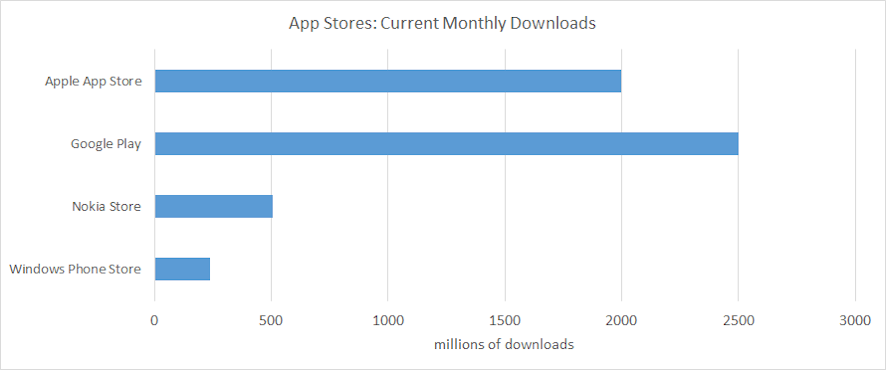 A rough back of the envelope calculation suggests that each Windows Phone device shipped has been responsible for just over 50 Windows Phone Store downloads. That's a figure that is behind Apple, but slightly ahead of Android. It should be noted that these figures have a substantial margin for error and the methodology by which the platform makers define downloads / transactions is not always clear.