The app opens to show an image of the current top story, but additional top headlines are just a single swipe away on the main panorama. These headlines are drawn from multiple sources, but the app is intelligent enough no to repeat the same story from a different source (Microsoft is doing story clustering in the background).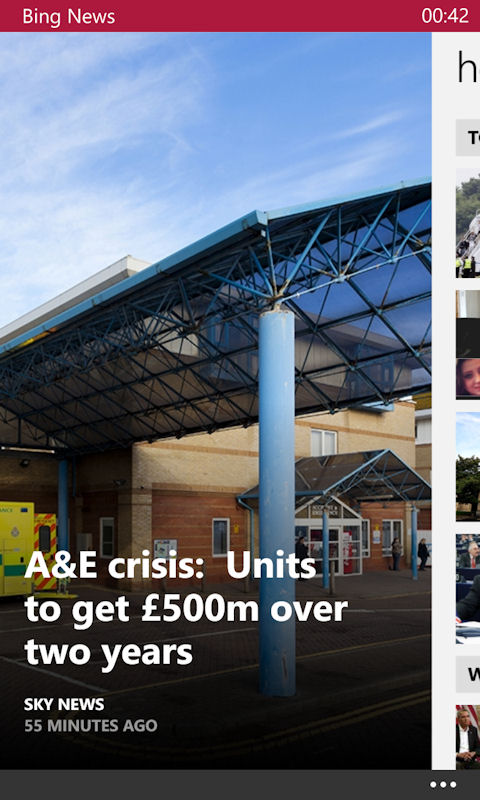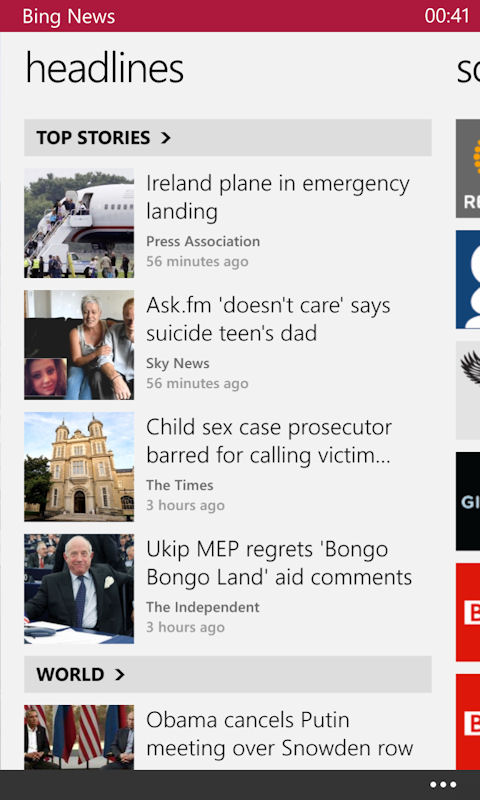 A further swipe on the main panorama shows the sources page. This shows a list of sources currently being used and from here you can customise the sources being used by the app. You can also re-arrange the order in which the sources are displayed, and search for additional sources.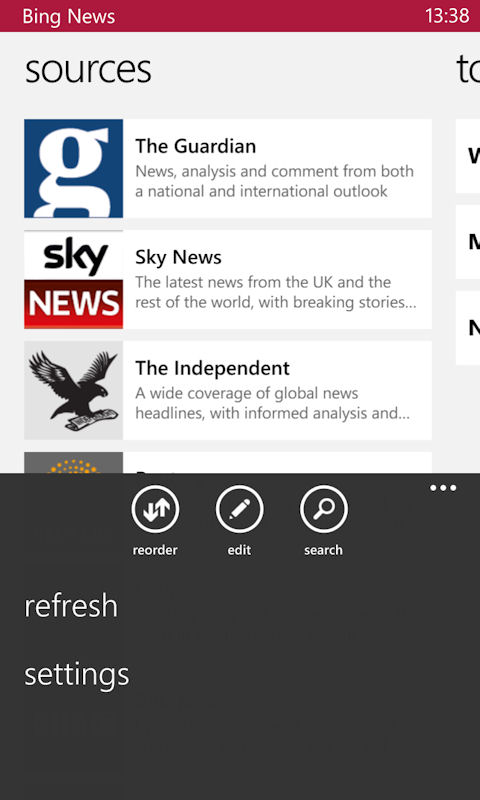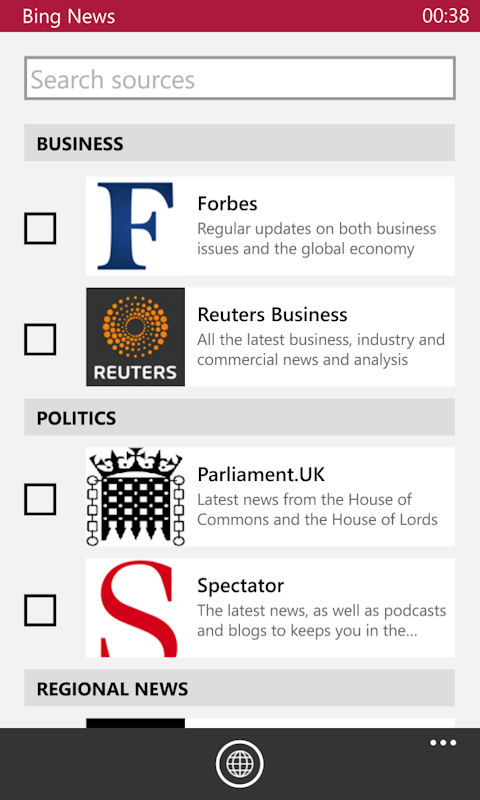 The sources page of the panorama is also a gateway to additional content. Tapping on a source will open a page showing the most recent news headlines and stories from that source. Some sources (e.g. The Guardian) will open in a panorama with multiple categories of news and a look and feel that matches the branding of the news source.
There's a similar division when tapping on a news headline. Some sources will open the story in Internet Explorer, while others will display the story within the Bing News app. These "premium" sources are generally preferable because there's less waiting around. The differences between the two are the result of different licensing terms for the use of RSS feeds on which Bing News is based.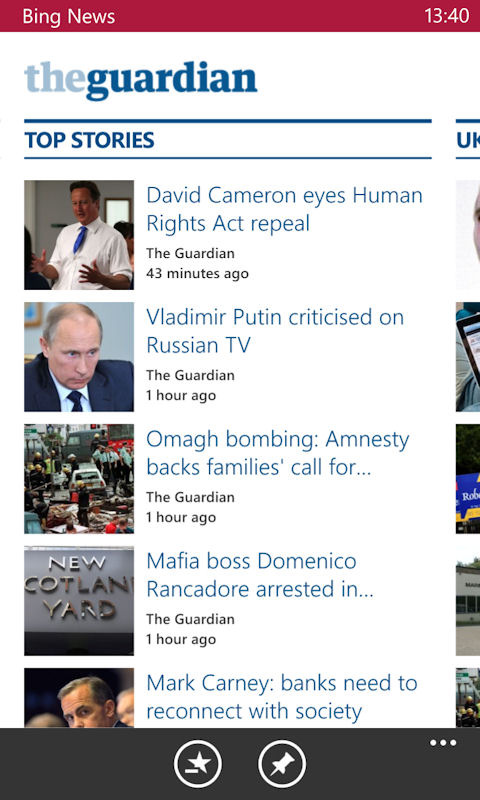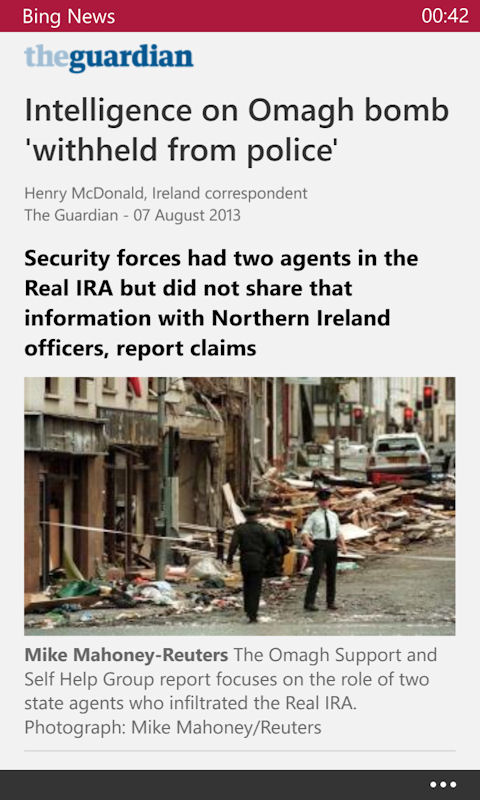 Returning to the main panorama there are two additional pages to note: topics and videos. Topics lets you create keyword based searches to gather news from a particular subject area, which is useful if you want to monitor a particular industry, or news niche that doesn't fall into the more generic categories listed elsewhere in the app.
Videos replicates the functionality of the headlines page, but delivers vidoe based content, rather than text based news stories. The range of sources is necessarily more limited, and tends more towards the light-hearted ("and finally.." type stories), but is a useful addition to the app.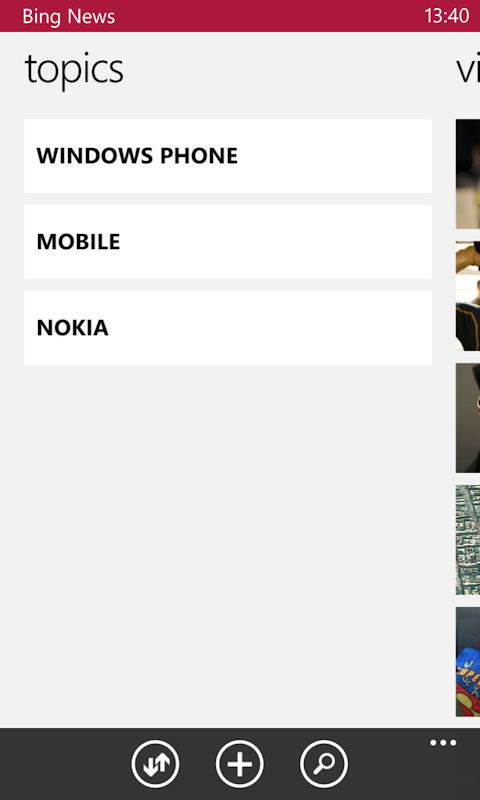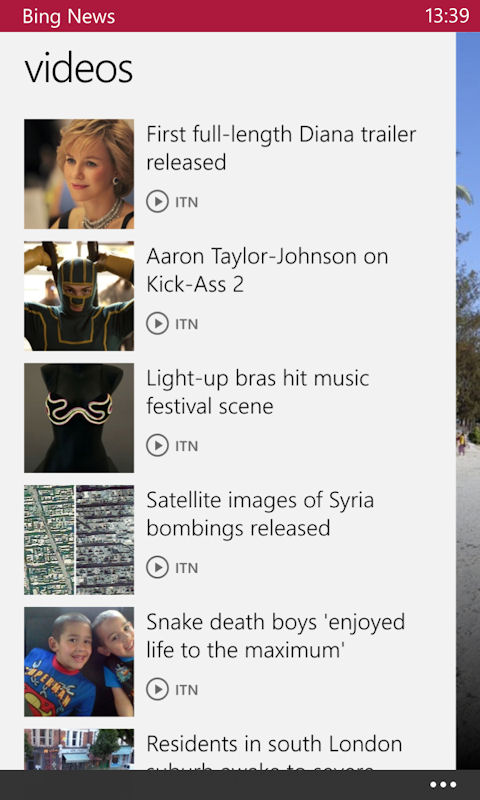 Windows Phone Store description:
The beautiful, photo-rich Bing News app makes it easy to stay up to date on the news that matters most to you. Designed for Windows Phone, the News app lets you easily choose your favourite news sources. Swipe through for a quick read of the headlines. Go deeper with personalised coverage of the topics you're passionate about. Or search the day's stories from your choice of trusted sources from around the world.
Bing News is a free download from the Windows Phone Store. It is only available for Windows Phone 8.