Geotags on Windows Phone
When you first use a camera on Windows Phone device you'll be asked whether you want to include location information in pictures you take. This is a reference to geotagging photos. It's a setting that can be changed in the photos+camera module of Windows Phone's standard Settings app (applications page).
If the "include location info in pictures I take" option is switched on every time you take a picture the phone will embed the current location in the photo. The location is obtained from a combination of the phone's GPS sensor and cell ID/WiFI positioning. However, this information can sometime be inaccurate (weakGPS and/or location signal), or absent altogether (no location information available). It is this location information that can be used and edited by GeoPhoto, something that Windows Phone's built it Photos+Videos hub does not allow.

GeoPhoto
When you open GeoPhoto, after a short intially scanning period, all your geotagged photos are displayed on a map. Photos taken in roughly the same location will automatically be grouped together, so as not the overcrowd the screen, but will be split out into smaller groups, or individual photos, as you zoom in on a specific location.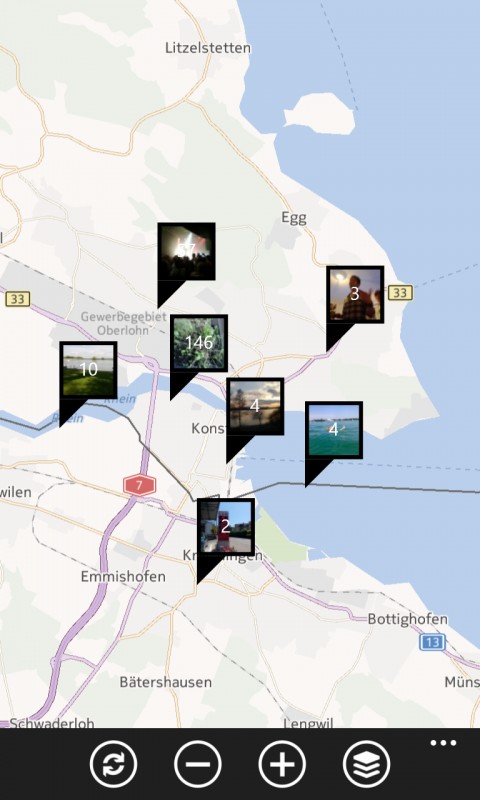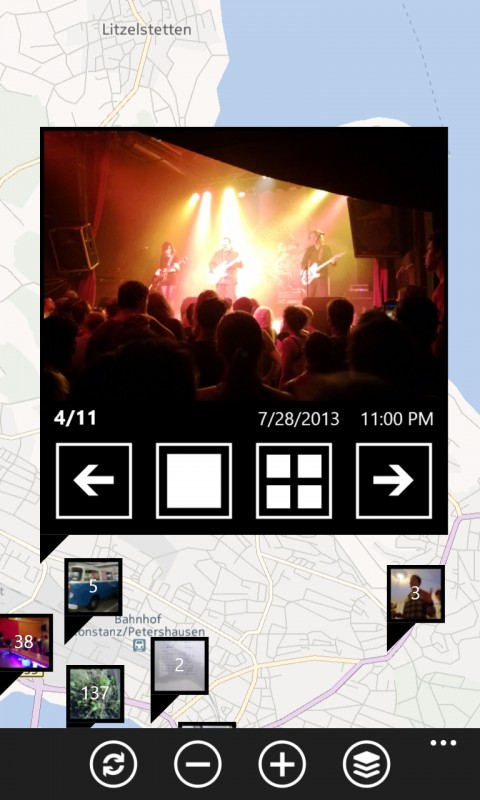 Tapping on an individual photo, or a group of photos, brings a larger version of the photo to the foreground (with options to view next/previous photo, view the photo in full screen, or view photos in a grid view). It's an effective way of quickly viewing and displaying geotagged photos, even if you have a large number of photos stored on your phone.

Tapping on a larger photo causes it to flip and show buttons offering access to various functionality including "show picture info" and "add/edit geotag". The first of these shows a full listing of data from the photo's EXIF tags, while the second gives the opportunity to add/edit geotag information by dragging a marker across a map (and thanks to the ability to zoom the map it is possible to be very accurate in placing a geotag).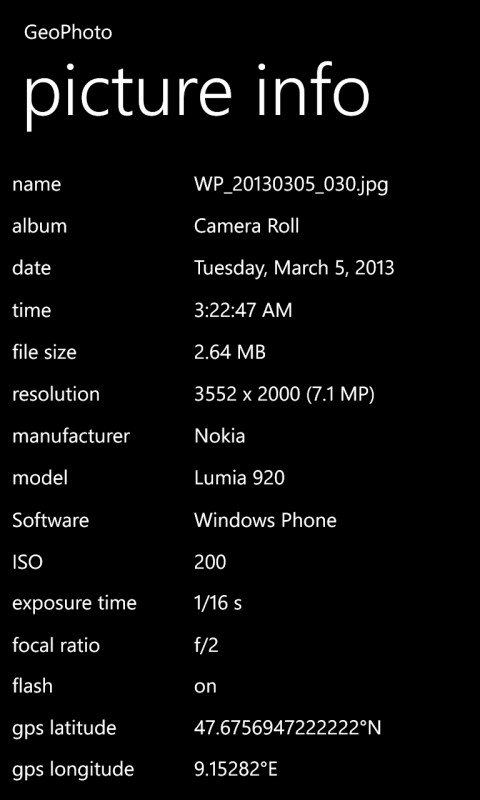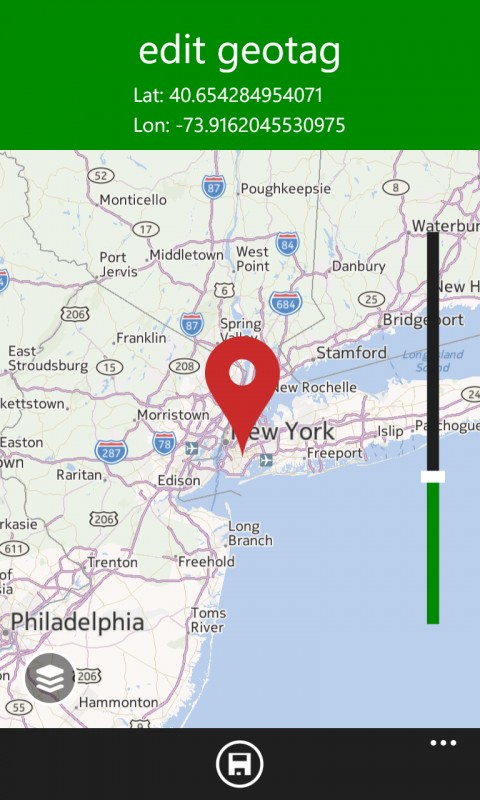 GeoPhoto also integrates with Windows Phone standard photos+video framework. That means it will appear as one of the app options when you choose the edit option in the Photo+Video hub. In this case GeoPhoto will open to the photo in question, making it easy to view and/or edit geotag information.

GeoPhoto download
Windows Phone Store description:
Ever wondered where you took all your great photos? Or want to know where one specific photo was shot? No problem with GeoPhoto!

What's new in version 1.6:

added possibility to add and edit geotags
many many fixes & (performance) improvements
small redesign
GeoPhoto, which is only available for Windows Phone 8, is a free download from the Windows Phone Store. The app is ad-supported, but an in-app purchase lets you upgrade to an ad free version at a cost of £1.49 / $1.99 / €1.99.