Europsort covers a wide range of sports and international events, which make it attractive to the sports generalists. Some of the things covered include: UEFA Champions League, UEFA Europa League football, Paris Dakar Rally, Superbike World championship, British Superbike, FIA European Touring Car Cup, World Athletics Championships, Tour de France, French Open (Tennis), US Open (Tennis) and the Sony Ericsson WTA Tour, World Championship Snooker, ICC World Twenty20, ICC Cricket World Cup, ICC Champions Trophy, Australian Football League, and more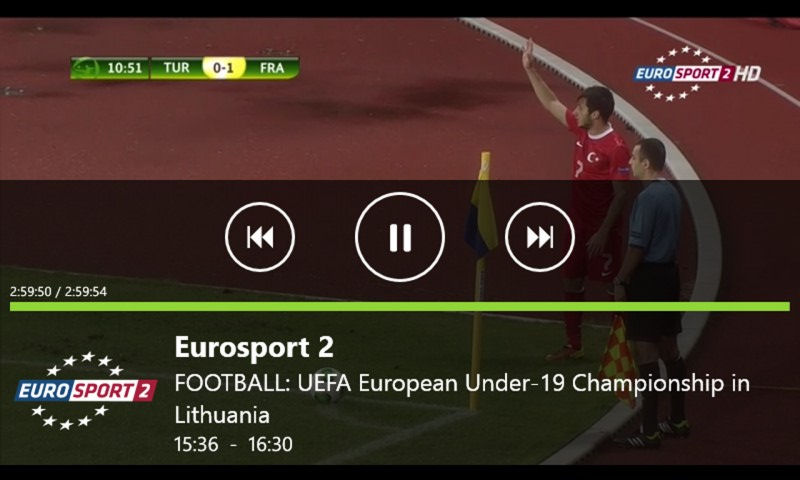 As with any video streaming service a WiFi connection will generally give the best performance, but it is possible to use a 3G connection. Streaming video does use a lot of data, so it's worth remembering that your operator may charge for excessive data usage.
Eurosport Player is a relatively niche video-on-demand service, but is exactly the type of app that Windows Phone will need to attract a second wave of users. For some, the ability to keep up with sports on the move will be a key smartphone experience, and Eurosport Player will be their must have app.
Windows Phone Store description:
Eurosport Player on Windows Phone 8:pl

Eurosport and Eurosport 2 LIVE (British Eurosport and British Eurosport 2 in UK)
Bonus channels : more live coverage with multi-courts broadcast, multi-tables… E.g.: up to 6 courts during Australian Open.
Videos : to relive on demand the top events of the week.
TV schedule
Eurosport Player, which is only available for Windows Phone 8, is a free download from the Windows Phone Store. However, in order to watch the content you will need a subscription, which costs from £3.99 per month. The service is available in Germany, UK, Finland, and France.