MHL is connector agnostic, making it a good solution for space restricted smartphone. Most current smartphone implementations it uses the microUSB port of the device, saving the need for a separate HDMI port on the device (as seen on Nokia's Symbian powered N8, E7 and 808 PureView).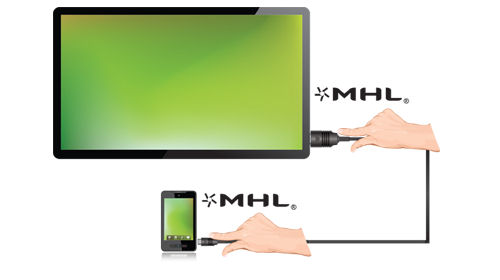 MHL support for Windows Phone would require both a hardware (MHL compatible microUSB port) and a software (drivers and UI) implementation, so would almost certainly be limited to new devices. That would suggest the most likely arrival time line would be a combination of new hardware family support (moved to quad-core chipsets) and a major new version of Windows Phone (currently thought to be scheduled for early next year).
Neither Microsoft, nor any of its hardware partners, have made any public statements with regards to MHL support on Windows Phone, so any comment on whether Windows Phone will get MHL support is purely speculative. However, the use of external screens is becoming a more popular use case, so it is credible that Microsoft would look to advance its mobile platform in this area. However, MHL is not the only possible solution here. Miracast, a peer-to-peer wireless screencast standard formed via a Wi-Fi Direct connection, could potentially provide a similar experience.
From the press release:
"The new innovations in MHL 3.0 pave the way for the technology's expansion into a broader set of home, office, and automotive applications," said Judy Chen, president, MHL, LLC. "With an installed base of more than 330 million devices, MHL, as the world's most widely adopted mobile TV-out standard, will continue to evolve to meet consumer needs."

The MHL 3.0 specification capabilities include:
• 4K (Ultra HD): Support of 4K formats up to 2160p30
• Simultaneous high-speed data channel
• Improved Remote Control Protocol (RCP) with support for peripherals such as a touch screen, keyboard and mouse
• Power charging up to 10W
• Backward compatible with MHL 1 and MHL 2
• Latest HDCP 2.2 content protection
• Enhanced 7.1 surround sound with Dolby® TrueHD and DTS-HD
• Connector agnostic – uses as few as five pins
• Support for simultaneous multiple displays