Nokia Treasure Tag (WS-2)
Here's how we described the Nokia accessory in an earlier post:
Nokia is set to release a NFC and Bluetooth Smart enabled "treasure tag" accessory for its range of Lumia devices. The tag, in conjunction with an app on the phone, can be used to track the location of items that it is attached to (e.g. a bag, or a set of keys), and the tag can also be used to locate the phone, if it is nearby via the digital equivalent of a "where are you" shout out (e.g. useful if the phone is hiding under a pile of papers on a desk).

The tag accessory works by having a constant connection with the phone, enabled by Bluetooth Smart. If this connection is interrupted (i.e. the tag goes out of range) the phone will record its current location via its GPS sensor. This information, which is displayed in an associated app on the phone, can be used to locate the tag at a later time (i.e. it will tell you where you have left your keys or bag). The same app is likely to be used to manage the sensor (i.e. pair it with the phone, and monitor battery level) and will almost certainly draw on Nokia's HERE Maps and LiveSight technology to display location information.
The FCC label from the certification filing show a square object with Nokia and NFC branding.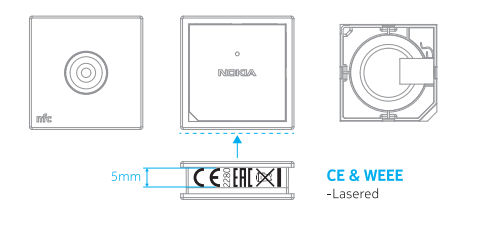 Nokia Wireless Charging Pad (DT-601)
The FCC label for the DT-601 suggests a similar overall design to the DT-900 (rubber "feet" holding the pad in place), but the size is notably smaller. That might make it more difficult to balance a device on top, but does it mean will take up significantly less space.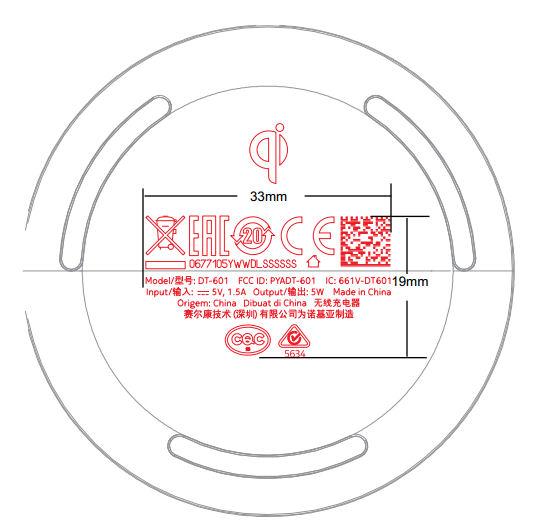 Nokia's current wireless charging accessories are currently selling for a reduced price on Amazon, perhaps an indication that the new accessory will replace one or more of the existing products. For example, the red, cyan, yellow, white and black versions of the Nokia Wireless Charging Pad (DT-900) are currently available for £29.95, a saving of £25 (40%) over the recommended retail price.