NFL Mobile is your gateway news app to the headlines, scores and information about the teams and games in the 2013 NFL season, along with multimedia clips to watch on your handset,
The main features are:
Scores – Receive up-to-the minute NFL game score updates from around the league.
Custom Team Alerts – Follow your favourite team and get customized alerts – including injury updates, highlights, game start times, entry into the red zone, and scoring plays .
Fantasy Football – Manage your NFL.com fantasy team directly in the app.
Video Highlights – Watch highlights after the game.
Check team standings, stats, rosters and schedules
Play along during Thursday Night Football and A Football Life with the Xtra companion.
Browse the NFL.com shop.
Find game tickets.
Read expert analysis wherever you are.
Verizon customers can upgrade to Premium Features to gain access to live streams of NFL RedZone on Sunday afternoons, live NFL games on Thursday, Sunday and Monday Nights, live game audio, live NFL.com webcasts and NFL Network 24/7.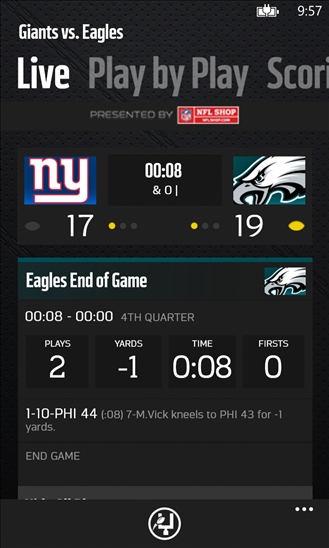 NFL Game Pass is a bit more interesting. It's for NFL fans who are outside of the US, and want to watch NFL games live on their mobile. While the app is free to download, you will need to subscribe to the NFL's Game Pass to get all the content, pricing starts at £9.99 and can be found online.
There are some geographic restrictions (you must be outside of the United States, Mexico, Bermuda, Antigua, the Bahamas, and any U.S. territories), and there are blackout restrictions on certain games in the UK and Ireland (typically the games that are being broadcast live on Sky Sports will not be offered through Game Pass).
That still leaves a lot of games to watch, and there is extra content as well. Here's the features list:
Live and On-demand Football Games – Stream 2013 NFL games live or on demand on your Windows 8 device.
NFL RedZone – See every touchdown from every game live on Sundays, or browse the RedZone archives.
NFL Network Live Stream – Watch NFL Network programming live 24/7.
Condensed Football Games – Watch entire NFL games from snap to whistle in approximately 30 minutes.
Scores – View scores from around the league. (*Includes the option to turn off scores).
Stats – Full box score of stats for live and archived games.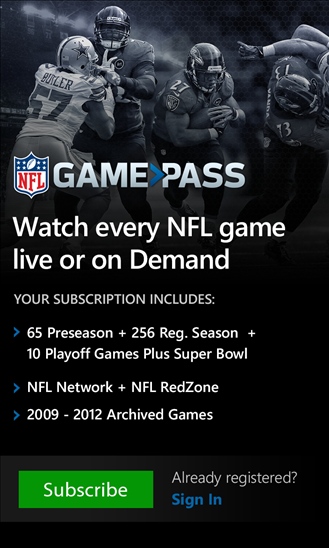 NFL Mobile and NFL Game Pass are free to download via the AAWP App Directory.