Unsurprisingly, neither Microsoft or Nokia can say exactly when this branding change might happen, or what branding might be used on future smartphone products (the decision has not been made) However, in the short term, the smart money is surely on Lumia becoming a more prominent brand (and not just because it's the same number of letters and fits in a Nokia space hole in handset currently being developed).
Lumia is likely to be used in the same way on Microsoft's smartphones as Xbox is on Microsoft's entertainment console product. That does mean we're likely to see the Nokia logo disappear from smartphones announced by Microsoft in the second half of 2014, but the next few product launches will retain the Nokia branding and identity.
Here's what Nokia has to say about branding:
In factual terms, Microsoft intends to buy the right to use the Nokia brand on its phones for ten years. There's a commitment now that this will happen for the Asha and feature phones business going forward. On smartphones, it's more complicated and we'll be seeking to create a unified brand across Lumia and other Windows based devices. But we're still a long way from when that decision has to be made.
It's worth noting that Google Trends, which can be used as a rough analog for consumer interest in a brand, indicates there's significantly more search interest in "Lumia" than there is is "Windows Phone".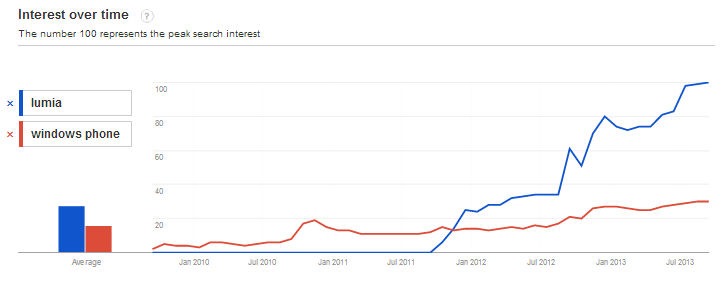 Nokia Conversations also provides some reassurance for those worried about product support and warranties, noting that Nokia Care and related functions will be going to Microsoft. Moreover, there's a legal requirement to support existing products:
All of our support functions are also going to be transferred to Microsoft, including our Care network, under the stewardship of Juha Putkiranta, the head of operations. Customers won't actually experience any difference. In any case, even if we didn't have that approach, we're bound by international and national legislature to provide all of the necessary support.
The Nokia blog also try to answers questions about the continuance of Nokia hardware designs and quality. These are, inevitably, more nebulous topics, but it essentially boils down to will the newly branded hardware have the same characteristics as the old Nokia hardware?
Nokia Conversations correctly points out that it will be the same people designing and building the hardware:
It's important to point out that new phones produced under Microsoft's ownership will effectively be from the same stable as recent Nokia smartphones. Our design and manufacture teams will join Microsoft. Stefan Pannenbecker has been the head of Nokia's hardware design for some time, and he continues as we move into the next wave of design.
The imponderables here are that any acquisition of this nature involves considerable disruption and changes for all involved. How well Microsoft is able to integrate Nokia Device & Services business is the critical question when it comes to what happens next. However, it is fair to say that the portion of Nokia that is going to Microsoft is of such a size that any effects will be a two way street. Moreover, some what unusually for an acquisition of this size, there's relatively little overlap between the two companies. It's clearly a related business area, but Microsoft currently only has relatively small hardware teams. The reality is that Microsoft's new devices business will, at least to start with, be entirely dominated by the incoming Nokia employees, culture, and thinking.
In the Nokia Conversation post Tuula Rytilä, head of Nokia Marketing, notes that Nokia and Microsoft have similar values and visions when it comes to product quality:
Microsoft and Nokia have very similar values and vision when it comes to product quality. It's what has made Nokia Lumia and Windows Phone such a great match. We value great hardware quality and a seamless user experience. I recall a recent product workshop where we split into Nokia and Microsoft teams to describe our vision for the next generation of Windows Phone. When we came to compare our lists, they were almost identical.
That's probably a fair reflection in terms of the vision of the two companies, especially bearing in mind the changes that Nokia has gone through in the last to years. However, it's also important to recognise that Microsoft and Nokia have two different ways of arriving at that vision, very different histories, and very distinct company cultures.
Our own observations of Nokia would support the view that it has, in the last three years, moved towards a more Microsoft mode of operation, something that can be traced to the arrival of Steven Elop, but it retains some very Scandinavian qualities, that are either quaint or the soul of Nokia, depending on who you ask. A genuine commitment to the environment and a sense of performing social good is one example, but a more consensus driven style of decision making is another.
In considering the issues around culture and integration are almost certainly going to be the key factor in determining the success of the Microsoft's acquisition of Nokia's devices business, but it is important not to forget there will be some immediate benefits. Microsoft has talked about the synergistic benefits, and Joel Belfiore has talked about the benefits of avoiding the duplication of efforts, but the easing of the financial constraints on the Nokia devices business should not be underestimated.
As Tuula Rytilä notes:
In fact, the resources and investment that Microsoft brings means that we expect that we will have greater freedom for experimentation and innovation. Though that doesn't mean that we will lose any urgency or pace when it comes to getting products to market.
We're not suggesting there will be an explosion of innovation, but it would be a brave person who would bet against the combined Microsoft and Nokia teams, coupled with healthy investment, from producing products and experiences that move the mobile industry forward in some way. Add up all the assets within the purview of the big three (Apple, Google, and Microsoft) and it's clear that Microsoft has the most diverse interests. Could that prove crucial going forward, or will thinking dominated by Microsoft's traditional businesses prove too much of a distraction in an ever more complex consumer world?