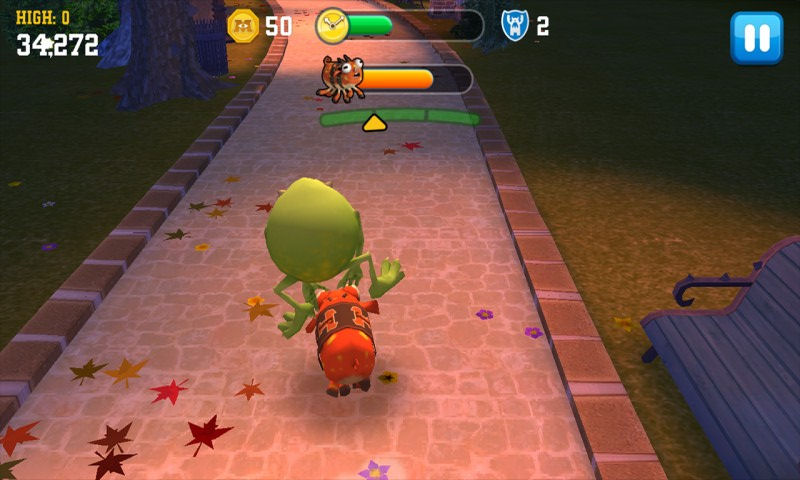 As you might expect you can play as one of three characters (Mike, Sulley, and Squishy) and there are various special power-ups to unlock as you go. There's also Scare Cards to collect, each of which features a famous monster, giving an added incentive for return game play. Disney also say that there will be future updates that will include more characters and new mini games based on the other events in the movie, though quite what they will entail remains to be seen.
Windows Phone Store description:
Welcome to Monsters University! School is now in session with this official Monsters University mobile game! Let the scary out in 2 exciting mini games based on the Disney Pixar film "Monsters University," and prove you're the ultimate scarer! Prep for more Scare Games to come in future updates!

Catch Archie:
• Get a hold of Archie the Scare Pig, the squealing mascot of Monsters University's rival school, Fear Tech, in this thrilling mini game!
• Chase Archie in 30 exciting stages, and tire him out to win each stage!
• Jump, slide, and dodge tricky obstacles throughout campus!

Toxicity Challenge:
• Compete in the first scare game event of the year, and put your agility skills to the test!
• Race against the clock, and run through the sewers before time runs out.
• Watch out for the stinging glow urchins that will sting and slow you down throughout all 30 stages!

Monsters University can be downloaded from the Windows Phone Store. The full game costs £0.79 / $0.99 / €0.99. The game is only available for Windows Phone 8 and is only available for higher specification (1GB RAM) devices.