Jaakko Huokkola, Product Manager for Wireless Charging at Nokia, said:

"The DT-601 is small and round with identical bright colours to what we see in the Lumia family. Because it's so small and colourful it looks very cute; a bit like a lollipop."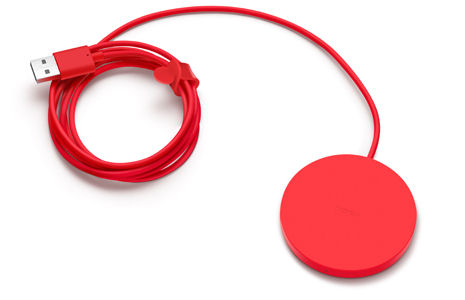 The DT-601's plate is made of polycarbonate plastic, but a soft coating has been applied, which Nokia says means it feels more natural in your hand and also provides some extra grip when a phone is placed on top of it. When a compatible phone is correctly placed on the charging pad a LED on the side of the pad will illuminate to indicate that charging is taking place.
The DT-601, which has an approximate retail price of €29, will be available in the Asia-Pacific region later this month, and will roll out to Europe and America later in the year.

An obvious comparison can be made with Nokia's DT-900 Wireless Charging Plate accessory. The DT-601 has the advantage in being smaller, but it's worth noting using USB as the source of power may, in some circumstances, result in slower charging (e.g. plugged into typical laptop USB port).
| | | |
| --- | --- | --- |
| | Nokia DT-601 | Nokia DT-900 |
| Size | 65mm (round) | 60mm x 120mm |
| Thickness | 9mm | 11mm |
| Weight | 55g | 93g |
| Volume | 30cc | 62cc |
| Charging Indicator | Yes (LED) | Yes (LED) |
| Power | USB | Wallplug (2.5mm) |