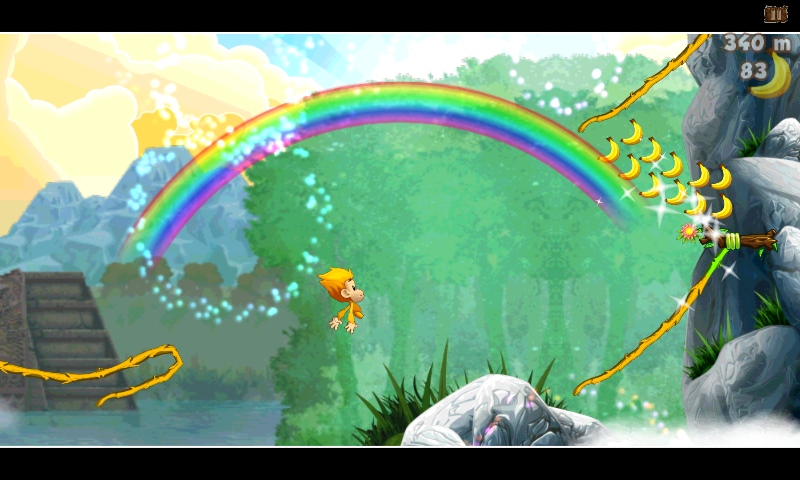 For all the plot, this is an infinite runner game, with only your (lack of) skill able to kill you. Yes the game is broken down into levels which give you a little fanfare and a rest from the game every couple of thousand pixels as it changes the background to represent the different worlds for each level.
It's also a side scroller that needs a feel for some basic physics, as you swing from vine to vine, releasing your grip to arc gracefully through the air to the next vine, bouncing rope bridge, or spikey bush. The game could be a little smoother here, I found it to jitter slightly on the AAWP Lumia 620 when a new arc was being calculated.
From the features list:
Beautiful cartoon & hand drawn like graphics.
Fun physics based gameplay (swing a monkey along ropes to get forward).
Multiplayer fun! You and your friend can play against each other in three different game modes!
Make your run through various landscapes (temple ruins, waterfalls and jungles).
Collect fruits like bananas and chilis to gain more upgrades.
Unlock special powers such as a jetpack, chili speed boost and eagle ride.
Cloth your monkey differently (ninja costume, gas mask).
Different kinds of vines(vines, snakes, burning vines etc.).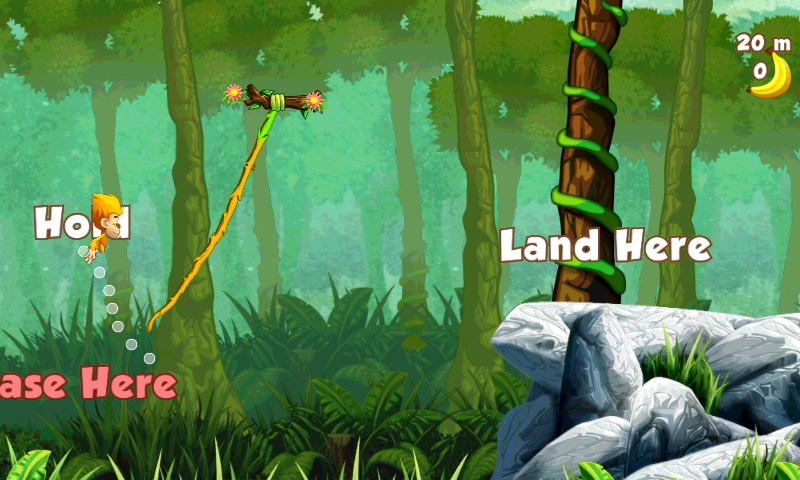 Unfortunately Benji banana is supported by some in-app advertising that's simply overlaid over the screen. These sort of advertising schemes work if the game is designed around them but that doesn't seem to be the case here.
Benji Bananas is a free download via the Nokia Collection in the Windows Store.