Along with some step by step examples, Mark Kashman talks about the changes on the official Office 365 blog:
SkyDrive Pro for iOS v1.1 introduces a premier mobile editing experience for Office 365 for business users. The documents you work on remain in their original source location, SharePoint Online in Office 365, enabling you to work with your Word, Excel, PowerPoint, and OneNote documents - to easily keep track of them, even while on the go.

To provide this kind of rich editing experience, Microsoft developed a clear connection between SkyDrive Pro for iOS and other Office-related apps (Office Mobile for iPhone, Office Web Apps, and OneNote for iPhone/iPad).
Much like opening up the Xbox platform to other mobile handsets and build market share, keeping SkyDrive exclusive to Windows Phone is not a valid mobile strategy. Having the functionality wherever a user wants to go will give more confidence to look at Microsoft's mobile platform.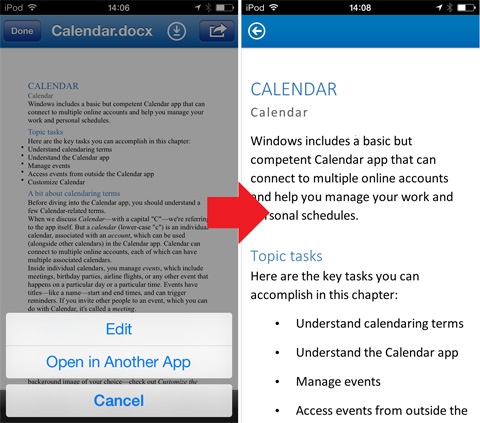 You can read more on the Office 365 blog, or download SkyDrive Pro from the Apple Store.