The average customer satisfaction rating (across all operators and all smartphones is 833, out of a maximum possible score of 1000. JD Power notes that satisfaction rates vary between operators, which it suggests indicates carrier services and how operators position devices and specific features continue to influence the experience customers have with their smartphones.

The data shows customer satisfaction ratings are improving for almost all smartphone manufacturers, but it is Nokia, with its Lumia Windows Phone devices, that has enjoyed the biggest improvement over the last 12 months (up 10%), and the second biggest improvement in the last six months (5.6%).
The figures for the six and twelve month improvements for Nokia align with the period in which Windows Phone 8 devices have been on sale (e.g. Lumia 920 on AT&T), suggesting these devices are achieving better customer satisfaction ratings that the preceding Windows Phone 7.5 and Symbian devices.
Nokia has improved its position when compared with other smartphone manufacturers. While Nokia was in second place six month ago, there was a significant gap to Apple, and little difference between the Finnish manufacturer and a trio of other leading manufacturers. The gap between Nokia and Apple has now narrowed (from 60 points to 16 points) and Nokia is now firmly in second place (11 points ahead of Samsung).
The JD Power data provides independent confirmation of Nokia's ascertion that consumers that try a Windows Phone generally rate it favourably in comparison with other devices.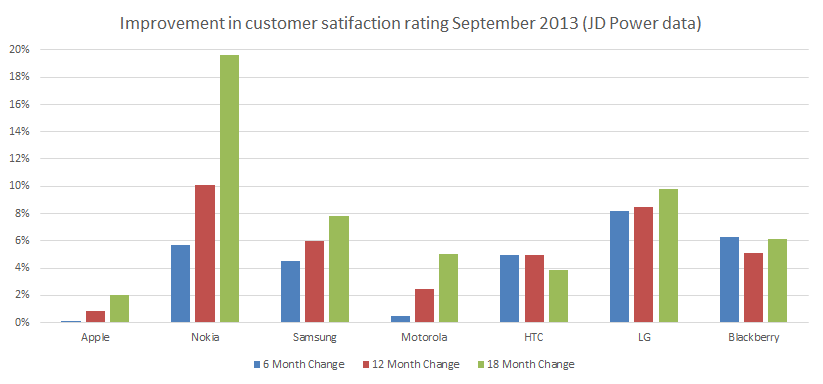 The table and chart above shows data customer satisfaction ratings data for AT&T, but JD Power also provide separate ratings for Verizon, Sprint, and T-Mobile.
Due to limited product ranging Nokia only features in the AT&T and T-Mobile data set. On T-Mobile Nokia is ranked 4th (805), behind Samsung (830), LG (815), and HTC (806), but it is worth bearing in mind the majority of Nokia devices on T-Mobile will be the lower cost Nokia Lumia 521, while other manufacturers will be ranked across a range of devices. As you might expect, customer satisfaction ratings are generally higher for more expensive devices).
JD Power data is based on a survey of 16.421 customers who have owned their smartphone for less than one year, with field research for the latest set of data conducted between February 2013 and August 2013. The study measures satisfaction across four factors: performance (33%), physical design (23%), features (22%), and ease of operation (22%).
Via: WMPowerUser