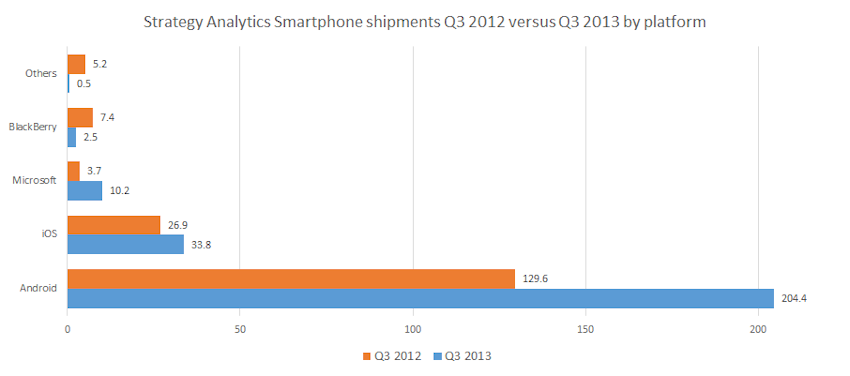 In terms of overall smartphone market share there are a number of interesting changes that are somewhat hidden by the continued growth of the smartphone market (from 172.8 million shipments to 251.4 million shipments). Windows Phone (2.1% to 4.1%) and Android (75% to 81.3%) have both made market share gains in the last 12 months. Both Android and Windows Phone growth has been driven by low cost devices. Aside from the massive volume difference, the other key difference between the two platforms is that Windows Phone is selling proportionally less high end devices than Android. This is, perhaps, not surprising, as selling a high end device now generally requires the conversion of a consumer from another smartphone platform, something that is regarded as more difficult than upgrading a consumer from a feature phone.
As in the last quarter, iOS market share has fallen, in this case from 15.6% to 13.4%. This is the result of more smartphones being sold at the low end of the market, rather than Apple loosing share at the high end of the market.
More startling is the decline of BlackBerry from 4.3% to 1%. In contrast to Apple, this is the result in decreased sales of both high end and low end devices. The new BlackBerry 10 platform, in its first true "full" quarter, has not performed well, but the sales of low end BlackBerry 7 devices is also falling.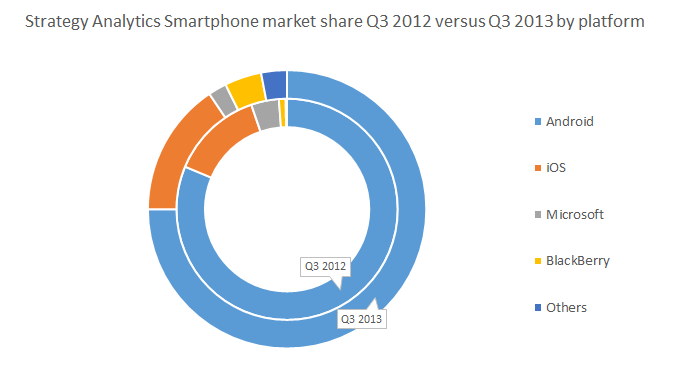 In a press release Strategy Analytics notes that Microsoft has doubled its market share from 2% to 4%, but that it is struggling to gain traction in several major markets:
"Microsoft shipped more than 10 million smartphones worldwide in a single quarter for the first time ever in its history during Q3 2013. Microsoft has doubled its global smartphone market share from 2 percent to 4 percent in the past year. Microsoft grew its smartphone shipments by 178 percent annually in Q3 2013 and it is currently the world's fastest growing major smartphone platform. Microsoft's growth is almost entirely due to Nokia and its steadily improving Lumia portfolio across Europe, Asia and the United States. However, Microsoft is clearly still at a low level of share worldwide and it is struggling to gain serious traction in several major markets like Japan, South Korea and Africa."