Affiliate Window - Conversion Rate
The Affiliate Window data is part of a regular report on sales generated through the Affiliate Window affiliate shopping network (made up of multiple retailers from multiple sectors). Sales made through smartphone devices represent 7.67% of online sales in October, with tablet devices responsible for 14.6%, and the remaining 77.73% being made through PCs (desktop, laptop, and other non-mobile devices).
Conversion rates (converting from a click to a sale) are higher on mobile devices (3.68%) than on non-mobile devices (3.48%), but tablets (5.03%) perform better than smartphones (2.45%). Affiliate Window broke down the smartphone data by platform and found that Windows Phone devices had a higher conversion rate (4.75%) that Android, iOS, and BlackBerry (2.43%). However, Affiliate Window does note that the volume (number of users) is very small for Windows Phone (around 2.2% of all mobile traffic, versus 68% for iOS, and24% for Android), and thus may not be representative.
We would also suggest that Windows Phone users may also be more likely to buy through the browser, due to app availability, and therefore may be more likely to be channeled through an affiliate link.

CloudZync - Loyalty Scheme Access and Zwallet
The CloudZync report, based on a poll of 2000 British adults, looked at consumer awareness around mobile wallets (74% awareness), how consumers were using mobile wallets, and want consumers wanted from mobile wallets.
Part of the report looked at the number of users accessing a loyalty scheme (e.g. Starbucks Card, Tesco Club Card) through their mobile device. Apple's iOS platform had the highest level of usage (48% of users), followed by Windows Phone (43% of users), BlackBerry (38% of users) and Android (32% of users).
The differences between the platforms can be explained by both ease of access to loyalty schemes from the respective device, but also the type of users for each platform.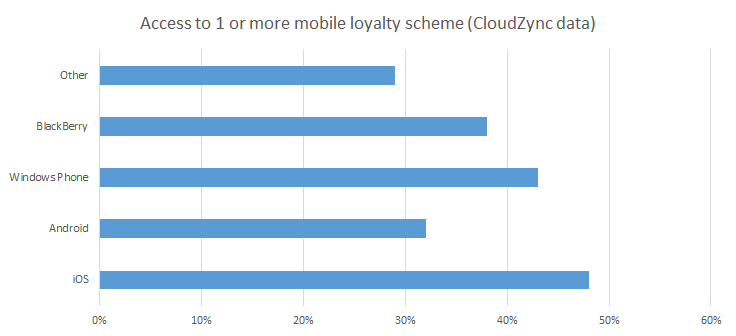 The CloudZync report was commissioned to follow in the footsteps of, and help promote, the launch of CloudZync's Zwallet product, which is available for iOS and Windows Phone, and provides a way to "pay for items, access loyalty schemes, discounts and gain exclusive cash-back offers and the latest deals using just your phone".
Digital wallets have a mixed history, but CloudZync believes it can drive adoption by providing a solution to "wallet bulge" by combining all a consumers loyalty card into a single digital wallet and by providing additional functionality not available with traditional plastic cards (e.g. track involvement in a scheme on device and receive special offers). This assertion is supported by a piece of data from the CloudZync report that suggests 8% of Windows Phone users "would be more likely to use a loyalty card or scheme if they could store all their cards in/access all their schemes from the same place".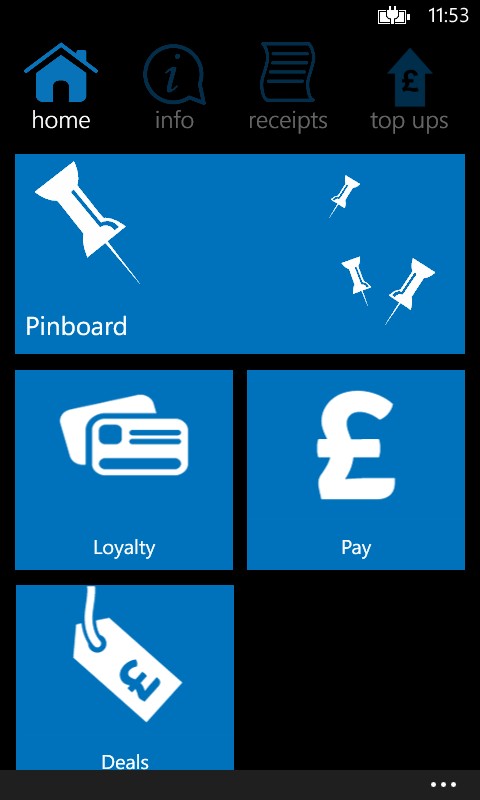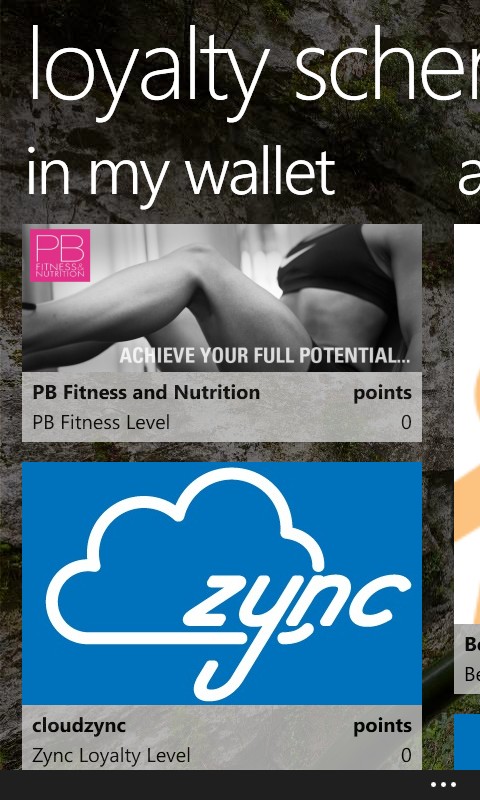 It's early days for Zwallet, which currently only supports a limited number of stores, but it does benefit from being retailer agnostic and has a set of well though out functionality.
Even ignoring the limited store support, it is open to debate whether Zwallet offers a superior consumer experience to traditional payment methods (e.g. card or cash) is open to debate. However, it is clear Zwallet is making a real effort to provide add-on services and functionality that can be considered to at least have the potential to tip the balance in favour of the digital wallet.
Windows Phone Store description for Zwallet:
Zwallet is a smart wallet which lets you pay for items, access loyalty schemes, discounts and gain exclusive cash-back offers and the latest deals using just your phone.

Zwallet eliminates the need for a physical wallet and lets you make purchases in store, online and over the phone, without sharing any bank or card details. It incorporates loyalty cards into one app, automatically adds reward points to accounts and lets you redeem points and the latest deals in store just by completing a transaction. Zwallet is brand new, and is currently available in 250+ participating stores. If you cannot find a store in your local area, then please keep checking as the number of stores accepting Zwallet is growing fast.

Zwallet is a free download from the Windows Phone Store