The two devices do need to be on the same WiFi network, but the appeal here isn't so much long distance remote access, rather it is about being able to access information on your phone via your PC. The app works by setting up a sever on your phone, which can then be accessed using any modern browser, using the IP address specified by the app (e.g. http://192.168.0.12).
The browser interface, with a Live Tile inspired design, is divided into four main sections: Contacts Manager (view contact, export contacts as CSV or vCard, dial a number, send SMS or email), Photo Albums (view photos from Photos Hub), Live Camera Shots (take live camera shots at specified intervals), and Microphone Recorder (record and play back up to one minute of audio).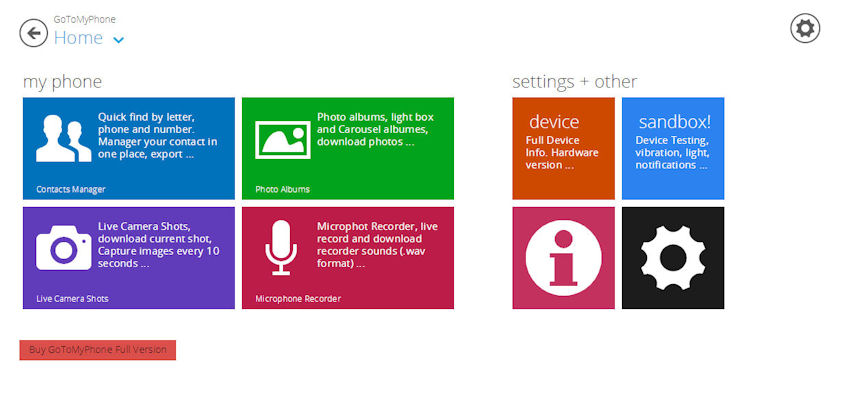 A number of other features (device information, trigger vibrate, trigger notification) are available via a secondary settings section. The functionality on offer in GoToMyPhone is largely dictated by what the Windows Phone platform APIs allow (i.e. what a third party app can access). It's for that reason there's no way to access previously received messages (SMS / MMS / Email), which would otherwise be an obvious use case for an application of this type. This does limit the usefulness and feature set of GoToMyPhone, but there's currently no way around this.
Similarly, GoToMyPhone must be running in the foreground for the remote interface to work. That means, in most instance, you'll need to start the app before accessing the browser interface, which rather negates the convenience of the remote interface. Nonetheless, the app is a clever concept and even the limited functionality on offer may appeal to some users.
For everyone else it should underline the potential of remote interfaces, and offers another example of how Windows Phone limited API set can work against the platfrom when it comes to creating innovative third party apps.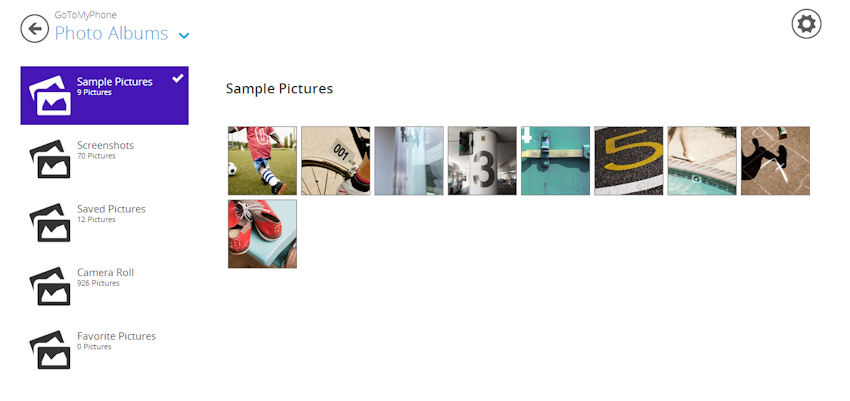 Windows Phone Store description:
A web-based interface for Windows Phone 8 powered devices. Using any modern web browser, you can access your Contacts, Photo Albums, Live Camera Shots, Microphone Recording, Device information and settings.
GoToMyPhone can be downloaded from the Windows Phone Store. A free trial is available (limited functionality), with the full app costing £2.49.